One of the things I love about the spring and summer is the ongoing inspiration to cook. Those who know me, know that cooking is not my go-to skill and the kitchen is definitely not my favorite room in the house. The bright colors of the spring and summer along the reopening of farms and farmers markets, however, gets me excited to get in the kitchen and create some delicious meals. My son is also a source of inspiration as he wants to be a chef and asks to cook any chance he can!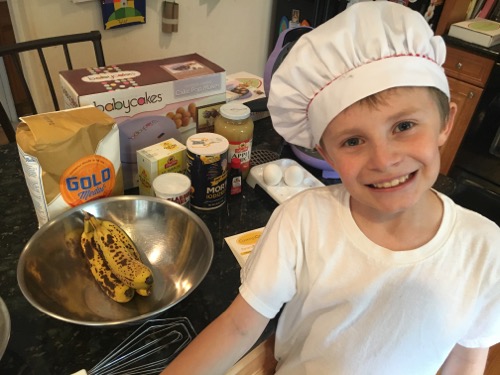 This spring has brought its fair share of rain and gloominess which has definitely made it harder to get inspired. The trees seemed to never bloom, and the ground appeared to never thaw. I needed something else to provide inspiration so I could help my son in the kitchen. That's when I thought of Cooking's Cool. We had reviewed their Winter Kit and had so much fun cooking so I knew they would offer what I needed to get excited about cooking again.
Cooking's Cool offers a kit for each season so I requested the Spring Kit. It contained:
Cooking's Cool Storybook with recipes
Kid sized cooking utensil
Pot holder
Cooking's Cool grocery bag for kids
Seasonal recipe cards
Craft
Bandana chef hat
Spotify Playlist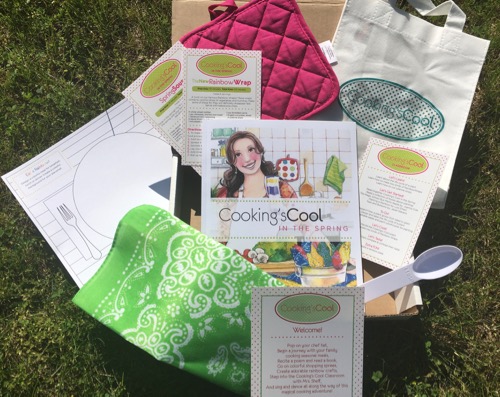 I also requested the Yellow Day Kit as the bright color immediately provided the inspiration I needed. This kit contained:
Cooking's Cool Storybook with recipes
Wooden spoon
Lemon squeezer
Cooking's Cool grocery bag for kids
Seasonal recipe cards
Create Your Own Lemonade Stand directions and craft
Bandana chef hat
Spotify Playlist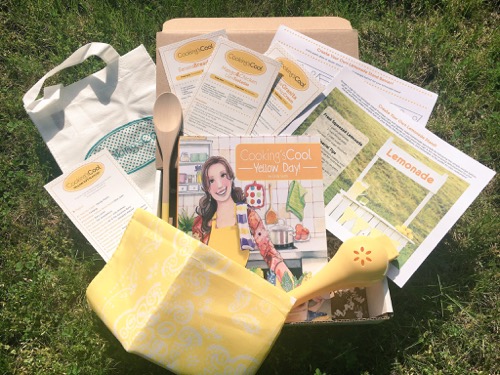 Get Inspired by Cooking's Cool
Inspires Creativity
The Cooking's Cool kits provide amazing recipes to follow but they also inspire kids and parents to add to or change them to make the meal their own. For example, when making the mango salsa from the Yellow Day kit, we added red pepper for a pop of flavor and color. We also added chocolate chips to our banana bread pops for a little extra sweetness. This touch of creativity inspires kids to develop their own recipes!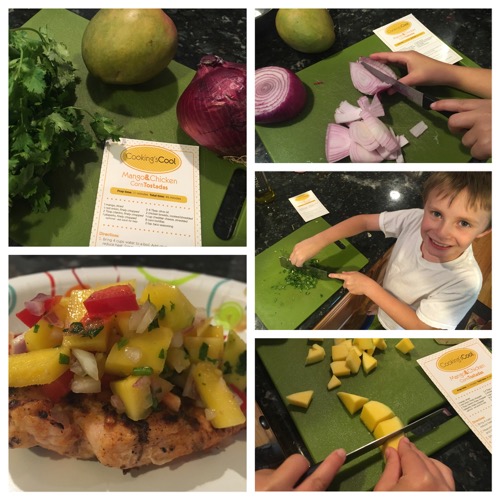 Inspires Curiosity
Cooking sparks curiosity. It gets kids interested in learning about new food, new cooking utensils and new techniques. My son was immediately intrigued by the lemon squeezer in the Yellow Day Kit which sparked his interest in running his own lemonade stand. Luckily, this kit also comes with a lemonade recipe and tips to have your own stand! He also loved learning about new vegetables like cilantro and fruit like mango.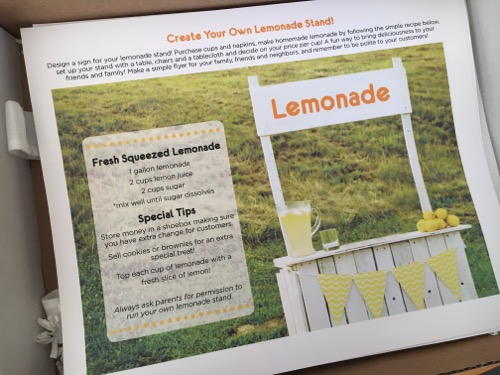 Inspires Family Time
Getting in the kitchen is the perfect way to spend time together as a family. With Cooking's Cool, kids are provided with their own utensils so they feel more apart of the cooking process. My son loved learning to cut vegetables with his dad and mixing the ingredients using his own wooden spoon. My little one also joined the fun as he loved stirring the ingredients together, and, of course, tasting the final product!
Inspires an Interest in Gardening
In the Cooking's Cool Spring book, Mrs. Sheff teaches her students all about planting vegetables and using them to make delicious and healthy meals. In the back of the book, there is space for kids to draw a diagram of a plant's life cycle as well as design their own vegetable garden and pots for planting. These are fun ways to get kids excited about planting their own garden and using fresh food in their meals.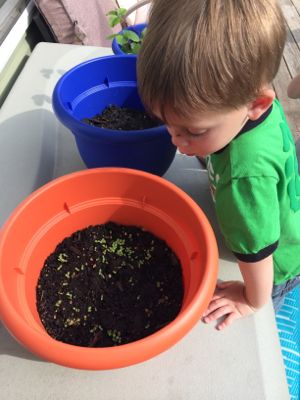 We cannot wait to make more of the recipes from our Spring and Yellow Day Kits as well as try out their other kits! My son wants to be a chef when he grows up, and Cooking's Cool is the perfect way to inspire that passion. To learn more and to order your own kits, visit the Cooking's Cool website.
You may also enjoy: