My son loves to color. He asks to color with me almost every day which I happily say YES to. Like most kids, when he first started coloring, staying inside the lines was not expected or even encouraged. When kids first learn to color, it's all about building fine motor strength and control along with sparking an interest in art. As kids get older and develop a hand dominance, coloring changes from scribbling on a page to unique works of art. Some kids develop a love of coloring while others decide they would rather play and build with Lego bricks. My son chose to color!
From crayons to markers to chalk, my son loves to color and create! He loves coloring books with his favorite characters as well as drawing his own pictures. In fact, in school he chooses the writing and coloring center every day and always comes home with new creations. I love enouraging his interest, skill and passion by finding him new ways to color. That's when I discovered Colour a Cape from Great Pretenders. I first saw this amazing concept at Toy Fair NY and knew my son would LOVE it. That is why I was so happy when they sent me Colour of Cape samples to try out!
We received the Superhero and Pirate capes while Monica also received the Butterfly wings so her daughter could spread her artistic wings as well. Each activity offers a unique coloring experience. There are no rules, patterns to follow or directions. Kids just color! It's so simple yet so perfect! Each cape comes with a set of vibrant markers perfect for coloring on fabric. Plus, the capes are reversible for even more pretend play fun. There are so many reasons to love Colour-a-Cape and here are just a few:
Benefits of Playing with Colour-a-Cape
Sparks Creativity
What I love most about the Colour-a-Capes is how it sparks creativity. As soon as we opened the capes, my boys were using their imaginations to come up with colorful and unique ways to design their new costume pieces. There is so much detail that coloring can take hours, days or even weeks to complete especially for kids who really take their time to decide how to color each detail.
Promotes Family Time
The Color-a-Capes are wonderful for bringing families together. My son loves enlisting the help of others to color and create his unique cape. Even though he tells everyone exactly what they need to color, it's still a fun experience for everyone. It also allows kids to be the creative leader in an activity instead of the parents. Coloring is also a fun way to get siblings to sit together and exchange ideas.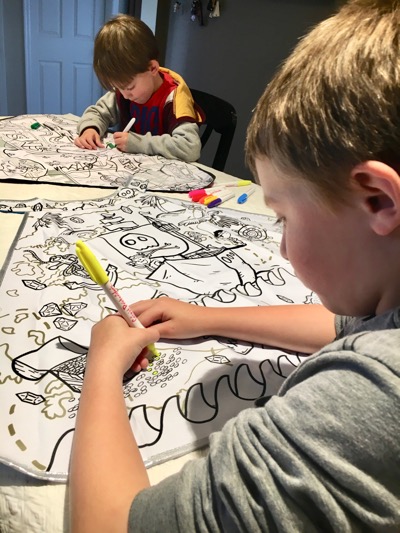 Enhances Basic Skills
Coloring helps enhance so many basic skills in children. We know that coloring can be calming and help kids focus but it also has amazing developmental benefits. While coloring, kids are building important fine motor skills such as control, manipulation, scanning and hand-eye coordination. Coloring also helps kids with color recognition, picture labeling and even story telling. These are all skills important for academic success.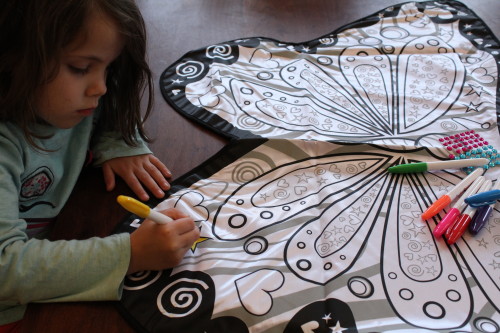 Encourages Pretend Play
Once the capes are complete, the adventure begins! Kids can put on their capes and become transformed into superheroes, pirates or even butterflies. They use their imaginations to create their own worlds full of magic, fantasy and wonder. Through play, kids are building their language, social and comprehension skills.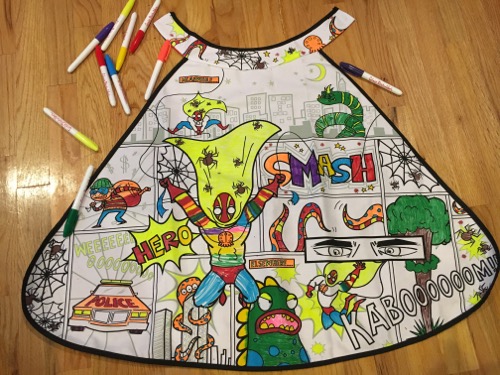 Learn more about the Colour Your Own Collection on the Great Pretenders website. Products range from capes to crowns to aprons and more with all costing $25 and under. What a fun way to color your own adventure!
Looking for pretend play items? GreatPretenders.ca revamped their site! Until June 7th receive 10% off with code 10%June2017. 
You may also enjoy: