One perk of being a boy mom is the continuous exposure to superhero movies. Growing up with a sister (no brothers) and a father who loved Star Trek NOT Star Wars, I was never really introduced to the world of superheroes. Of course I knew who Superman was and saw all the movies, but I was not aware of the MARVEL UNIVERSE until I had boys. Now, I am a huge Avengers fan and watch the movies all the time. We love making superhero crafts like Thor's hammer and Captain America's shield, and my boys have more superhero costumes than I can count. You can say that second to being a Disney family, we are a superhero family.
That is why we were so excited to see the new Guardians of the Galaxy Vol. 2 movie! To get ready for its release, we grew our own Groot. You heard correctly, we literally grew Groot right in our house. We have been long time fans of Uncle Milton as they offer toys and experiences that encourage a love of science. They take themes that kids love such as Marvel and Star Wars and turn that passion into learning. We have had the pleasure of reviewing several of their toys including our most recent experience with Grow and Glow Groot.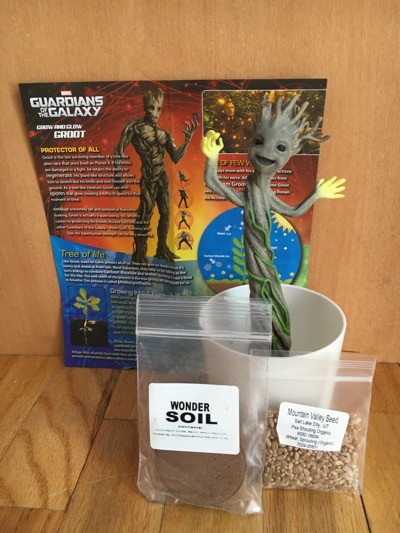 Grow and Glow Groot is part of the Uncle Milton Marvel Science line of toys. It offers kids a unique gardening experience while celebrating their love of the Guardians of the Galaxy. Grow and Glow Groot comes with a Groot in a pot, a bag of seeds (pole beans and wheat seeds), soil tablet and educational poster. Kids will love watching science come to life as Groot grows each day.
How does it work?
Step 1: Soak the seeds and beans for 10 hours in cool tap water.
Step 2: Place soil tablet in a container and add water. It was really fun to watch the soil magically expand.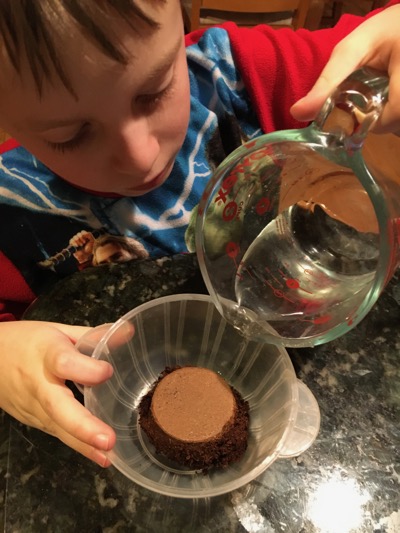 Step 3: Loosen soil using a fork or spoon.
Step 4: Add the soil to the Groot pot.
Step 5: Plant the seeds as directed in the manual.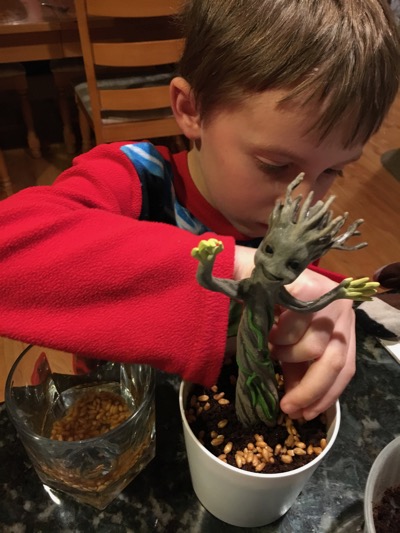 Step 6: Care for your plant as directed.
We loved watching our Groot each day and seeing how quickly he grew.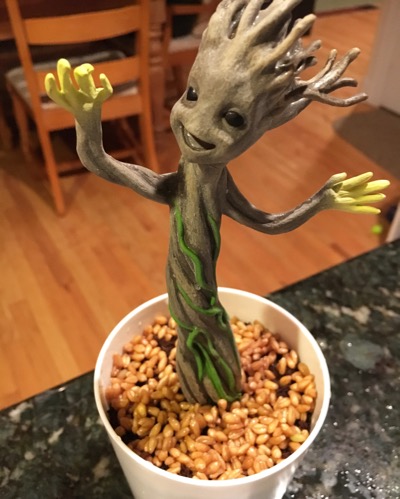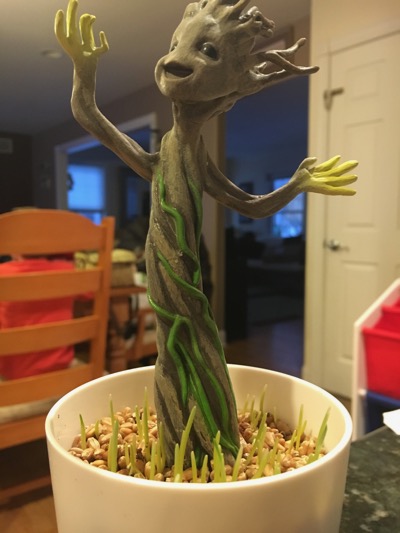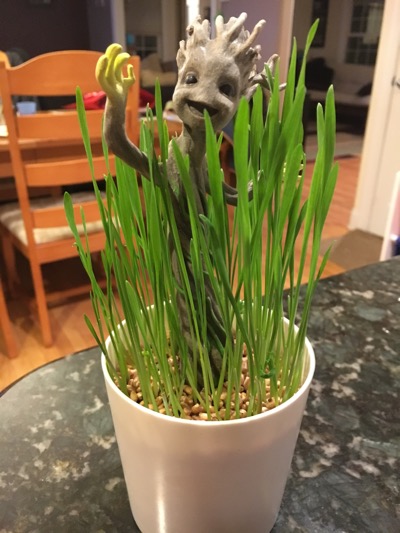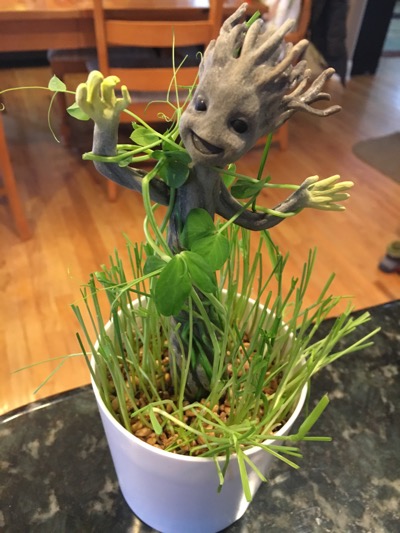 As Groot grows, he needs to maintained as the sprouts grow quickly. We trimmed him often and wrapped the tendrils around his arms as directed. Growing Groot was a wonderful way to teach my boys about growing plants but also about taking care of them. They learned to water him when needed and to let me know when his sprouts were getting too big and needed to be trimmed.
If you have seen Guardians of the Galaxy then you know that Groot is a the only surviving member of a tree-like alien race. He has the ability to regenerate his limbs as well as root himself into the ground. Groot can also emit spores that glow. To celebrate this unique talent, Grow and Glow Groot glows in the dark which adds to the fun.
In Guardians of the Galaxy Vol. 2, we fall in love with baby Groot who is both adorable and witty. The sweet face on Grow and Glow Groot reminds me of baby Groot whose smile melts your heart. Any Guardians fan will fall in love with this unique plant.
You may also enjoy: