Grow Wings with Insect Lore!
In New Jersey, there is nothing like pops of color that emerge in our garden after a cold and grey winter. Slowly purple appears in the creeping phlox to the pink of our butterfly bush. Our favorite color, however, is the orange on a butterfly's wing. We have always been fascinated with these creatures at Mommy University which is why we have compiled a list of Amazing Places to See Butterflies in NJ and have visited most of them. Each year, we stop by to feed butterflies at many of the locations, however, last year what became a transformative moment was watching their metamorphosis at home.
Insect Lore provided us with a sample of the Butterfly Garden Gift Set which includes mesh habitat, chrysalis station, pipette, feeding station and manual. After using the voucher to have the caterpillars sent to our home, every day my children ran downstairs to check on their guests as they consumed food, built their chrysalis and later emerged as Painted Lady Butterflies. Along this scientific journey, we used the stickers for artwork about the butterflies and learned about these unique pollinators. Only a few weeks from start to finish, this activity inspired the scientist in my children and held many benefits.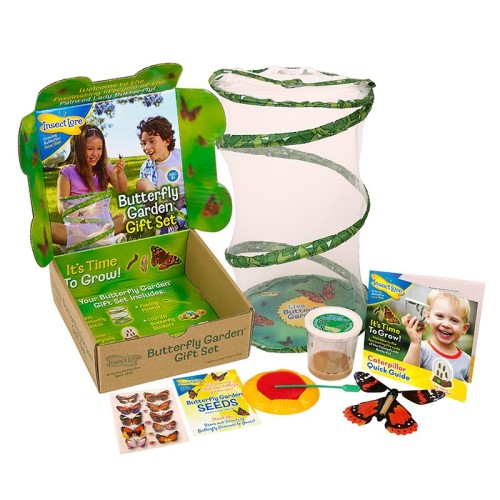 Let's Play Outdoors Giveaway
from Insect Lore
Small Steps Lead to Big Changes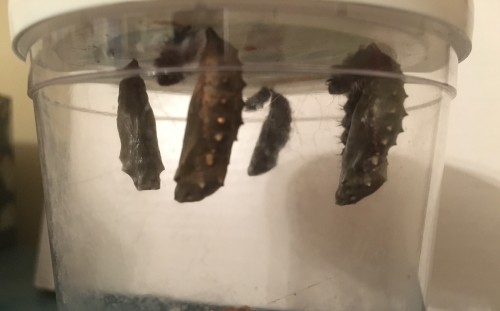 Our caterpillars arrived as little critters. They were small and hungry. Since I didn't know how big they were going to get I photographed them each day. Quickly they appeared to double in size as they ate the food provided in their container. The story of the butterfly in literature is often related to how we all can change and with little steps big changes can occur. My children were able to watch this happen before their eyes as within a few days became chrysalis.
Engaged in STEAM (Science, Technology, Arts and Mathematics)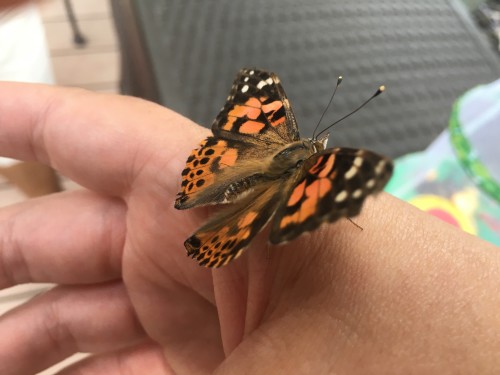 Observing butterflies invite children to understand life cycles as well as encourages them to understand the role of pollinators in the environment. While my son focuses on watching how they move and how they develop, my daughter enjoys drawing these creatures. Butterflies appeal to children with different interests while exposing them to a field they may not have thought of before.
Respecting Nature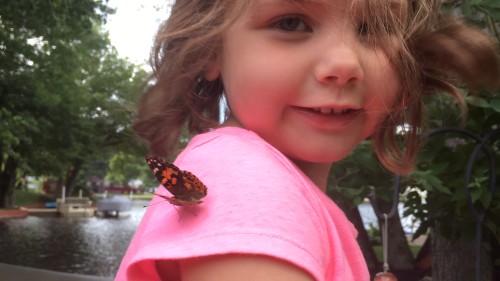 Ultimately, the bittersweet moment was releasing our Painted Ladies which we decided to do it at the lake so that they could enjoy all the surrounding flora and fauna. My children didn't want to let them go but part of supporting nature is recognizing what is best is that these ladies should be free. Opening the habitat, the first butterfly flew away immediately, while the second and third eventually gathered enough energy to leave, and our fourth stayed with us. We placed him on the butterfly bush where he could enjoy delicious nectar and fly when he had sufficient energy.
At the end of this experience my children requested more caterpillars from Insect Lore but sadly we were heading into the inconsistent September weather. Now, when they see butterflies, months later, they are still requesting more caterpillars. This successful activity will become an annual tradition in our household. We are now sharing with Mommy University readers the opportunity to win this awesome learning activity to engage your children.
Value of Let's Play Outdoors: Insect Lore Giveaway is over $25
Here are the rules and conditions for this amazing giveaway:
Participants MUST live in the United States.
The winner will be chosen by Rafflecopter.
The contest will run from May 11, 2017 through 12am on May 25, 2017.
The winner will be announced on May 25, 2017.
The winner will receive the prize directly from Mommy University.
The winners must respond within 1 day or another winner will be chosen.
To enter, participants can earn entries by: visiting the Mommy University Facebook page (likes are appreciated but not required), following Mommy University on Twitter, sharing the contest with friends, enter/share other MU giveaways, providing your email address and commenting on this blog post by answering the required question.
No purchase is necessary to win.
Your chances of winning are dependent on the number of entries received.
Enter here: a Rafflecopter giveaway

If you like this post you might like: