One of my absolute favorite things to do is visit Disney World. I love the magic, wonder and excitement. I love how it allows kids to be just kids and adults to be kids again. I get tears in my eyes as soon as I see the Walt Disney World sign and even more tears when I see the castle. Disney world makes me forget about "my worries and my strife."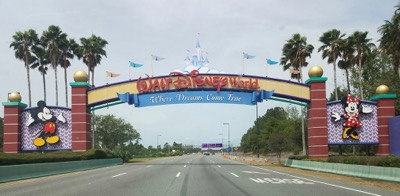 When I am not IN Disney then I am either planning a trip to Disney or thinking about planning a trip. I love choosing the perfect DVC resort, deciding on dining options and picking fast passes. I love making and picking out fun Disney shirts for my family and counting down the days until our next visit. I especially love throwing Disney Kids Playdates and showing my Disney Side in fun and unique ways. That is why I was so excited when I discovered Walt Life!
Some people love getting make up every month while others enjoy boxes of clothes. A wine of the month club is cool and so are movie clubs. For me, however, a box full of Disney magic every month is the way to my heart! (I think I just heard Disney fans around the world gasp and cheer for this amazing concept!) There is no better way to brighten a Disney fan's day then to sprinkle them with a little pixie dust.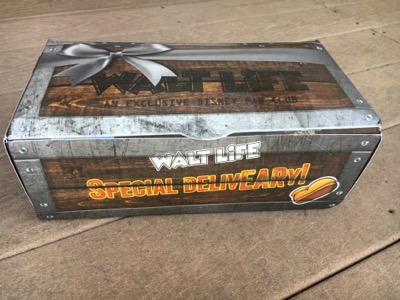 What is Walt Life?
Walt Life is a subscription box service that provides magical delivEARies every month for Disney fans. How cool is that? Each month the wonder and excitement of Disney is brought right to your doorstep. Walt Life offers 5 box options appealing to varied interests and budgets. Each box is available for a prince, princess or both (neutral). Boxes can also be designed based on age starting from babies to over 18. Here are the options: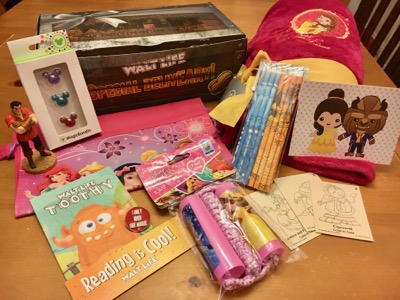 Magic Plus: At $48/month, this box is the most popular of the Walt Life boxes. Each deliEARy contains 4 surprise Disney items plus one Disney Parks item. This option comes with free shipping, discounts, exclusive Facebook membership and entries into a Disney gift card giveaway
Magic: At $39/month, this box comes with 4 Disney surprise items, free shipping, discounts, exclusive Facebook membership and entries into a Disney gift card giveaway.
Classic: For only $20/month, Disney fans will receive at their doorstop a box of 3 magical Disney surprises. This also includes exclusive Facebook membership and discounts.
Pin Collector: If you collect Disney pins, then this is the box for you! At only $18/month, you will receive an authentic limited edition Disney pin in the mail.
Pin Edition: For only $8/month, you choose this box instead that offers 1 trading pin each month.
I absolutely LOVED coming home to my Walt Life box on my front porch! After a rough day at work, getting sprinkled with some pixie dust was exactly what I needed. Of course I had to peek inside before my boys came home and I was so excited with what I found. As soon as the boys came home from school, we unboxed the magic which you can see in our YouTube video:
There are so many amazing ways to give this gift of magic. Of course you can buy it for yourself (no judgment here) but passing along the magic is a wonderful way to brighten someone's day. Here are some ideas to give the gift of magic!
4 Ways to Give the Gift of Magic
Disney Countdown
We love doing Disney vacation countdowns. It builds the excitement and anticipation for our trip. Since we book our trips so far in advance, there are months that go by before our vacation takes place. A fun way to countdown to the big day is monthly gifts from Mickey himself. The kids will love getting a monthly gift from Walt Disney World that will get them even more excited and ready for their trip. If you pick the Magic Plus package you even get a gift from the parks! What a great way to get ready for your magical vacation!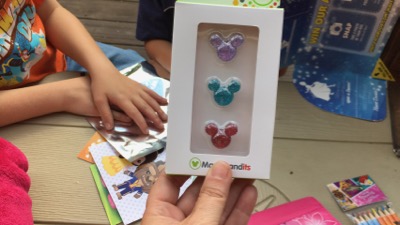 Celebration Present
I don't know any Disney fan who wouldn't LOVE a box of Disney magic delivered to their door to help celebrate a big occasion! The boxes can be designed based on gender and age so the items will fit the recipient. It's also available for all ages so you can give the gift of magic for a 3rd birthday, Sweet 16, college graduation or even an anniversary!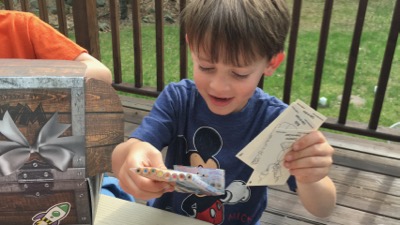 Surprise Vacation Announcement
Looking to surprise your kids with a Disney vacation? Send them a Walt Life box to share the news! Open the box ahead of time and add a little note about the trip inside. Make it even more memorable by recording their reaction.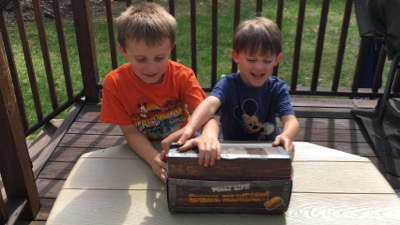 Get Well Gift
When someone is feeling down or ill sending a gift of magic can brighten their mood even if it's just for a little while. Opening a box of magic will help lift their spirits and make them forget about their worries for a bit. If they are not well enough to travel to Disney, then send the magic to them!
We LOVE our Walt Life box and cannot wait our next delivEARy! Order your box today on the Walt Life website!
You may also enjoy: