Updated for 2018!
One of my favorite late spring activities is strawberry picking. Being from the Garden State, there are plenty of options to choose from all with their own fun and unique spin on strawberry picking adventures. Not only do families get to experience the fun of picking their own fruit, many farms also offer exciting festivals to celebrate this delicious treat.
At Mommy University, we believe that spending the day at the farm is a brain boosting experience for the entire family. There is so much to see, do and learn. This is especially true during strawberry festivals. Families not only learn about growing and picking strawberries, they can also enjoy hayrides, farm tours, petting animals and much more. Here is a list of the some sweet strawberry festivals in NJ this spring!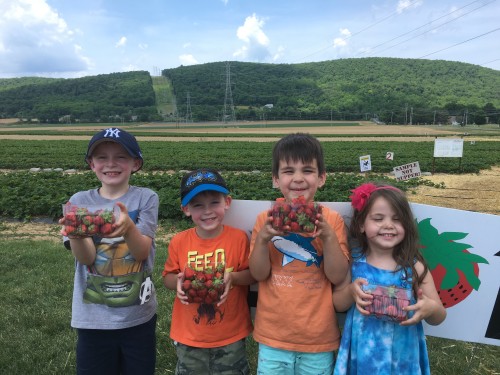 Sweet Strawberry Festivals in NJ
Johnson's Corner Farm
Located in Medford, Johnson's Corner Farm offers Strawberry Festival Weekends on May 25-27 and June 1-3. Families will enjoy hayrides, live music, fresh strawberry treats, farm activities and more. On Friday nights families can also enjoy a Classic Car Show!
Alstede Farms
Every Friday and Saturday in June, families can head to Alstede Farms in Chester for their exciting Strawberry Harvest Festival. The events take place from 11am-5pm and entrance is FREE. Farm activities are an additional cost and can include hayrides, pony rides, bounce house, wagon train rides and more. Sweet strawberry treats will also be available for purchase. In addition, families can also enjoy a Strawberry Pancake Breakfast on June 3 8am-12:30pm.
Donaldson Farms
I have been attending a Strawberry Festival at Donaldson Farms in Hackettstown since my first son was only 2 years old. This family owned farm offers a wonderful event the entire family will love that includes hayrides, activities for the kids, sweet treats, strawberry picking and much more. Strawberry Festivals take place every weekend in June 9-July 1.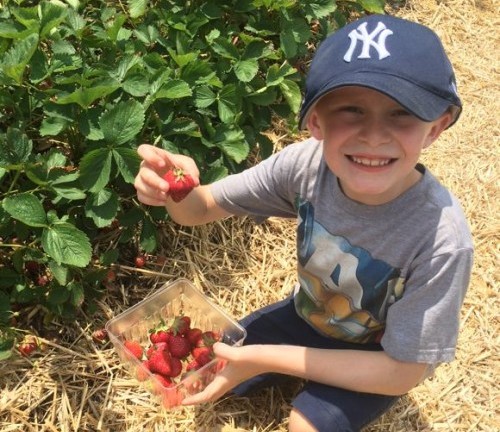 Oceanport Lion's Club Annual Strawberry Fair
This is a unique strawberry celebration taking place May 30 – June 3 in the parking lot of Monmouth Park Race Track. At the Strawberry Fair, families will enjoy rides, games and attractions. All Lion's Club proceeds will be donated to charity. Parking is free and admission is only $2. Ride tickets are an additional cost.
West Cape May Strawberry Festival
Sponsored by the West Cape May Business Association, this Strawberry Festival is a sweet experience for all ages. Taking place on June 2, this event will offer sweet treats for all while celebrating strawberry picking season.
Von Thun Farms
On June 9-10 10am-4pm, families can head over to Von Thun Farms in South Brunswick for their exciting Strawberry Festival. Admission for pick-your-own and the festival activities is only $12.95/person. Festival activities include straw maze, pedal course, hayrides, flower pot bowling and more. Admission also includes a credit for 1 pound of FREE PYO strawberries!
City Green's Annual Strawberry Festival
On June 2 10am-2pm, families can head over to Farm Eco-Center in Clifton for an amazing strawberry festival. Guests can enjoy family activities, arts and crafts, live music and more!
I hope you have a sweet time at these amazing Strawberry Festivals! Keep checking back as we will add more as we find them. Know of a festival? Leave it in the comments section below!
You may also enjoy: