If you follow Mommy University, then you know that I am a HUGE Disney fan. We travel to Walt Disney World about twice a year, love watching Disney movies, sing Disney songs all the time (especially Moana), play Disney games and have enough Disney toys to fill our own toy store. That is why I was so excited to be chosen again by Disney Moms and Disney Parks to host a Disney Kids Preschool Playdate.
Before my box of magical party supplies arrived, I started thinking about what my party theme would be. Last year, I focused on the Disney parks so I wanted to do something a little different yet still inspire families to plan a trip to Disney World. Once I "unboxed the magic" (which you can learn more about here), I had a better idea of what we wanted to do. I also asked my kids for their input which added to the fun and magic of the playdate.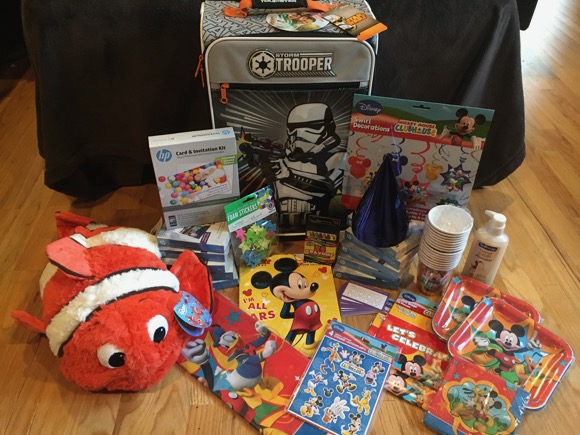 On Saturday, April 8, 2017, we invited friends and family over for a magical Disney Kids Preschool Playdate. Before our guests arrived, my boys helped set up the house. In my post about planning your own Disney playdate, I mention using what you have at home, and that is exactly what we did. We took out our favorite Disney toys and stuffed animals and turned our house into a magical Disney wonderland.
I also enlisted the help of two of my favorite toy companies: Wonder Forge and Just Play Toys. Both companies make amazing Disney toys and games that I just knew would be the perfect addition to our playdate. Not only would the kids have fun playing together, they would also be learning at the same time!
If you are (or have been) a parent of a preschooler then you know maintaining their attention for prolonged periods of time can be difficult. That is why I chose to have several stations for the kids to play and interact. I allowed the kids to freely choose where they wanted to play and what they wanted to play with. Amongst the unstructured play, I offered 3 structured activities that the kids loved!
Disney Kids Preschool Playdate Magical Activities
Play Stations
Around my play room, I had various play stations set up for the kids to enjoy. It was fun to see what kids gravitated towards and how they played together to create their own magical worlds. I had 4 stations: Mickey and Minnie, Coloring, Moana and Lion Guard. I offered toys, books and games that the kids really enjoyed!
Mickey and Minnie Station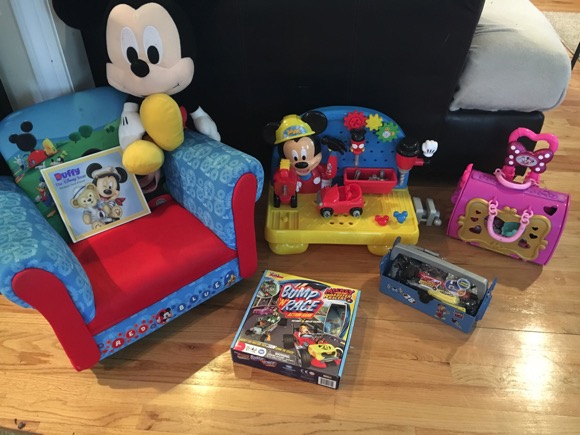 Moana Station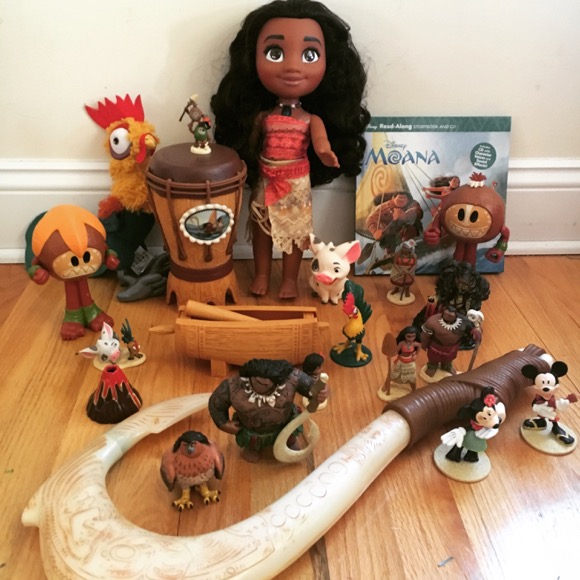 Lion Guard Station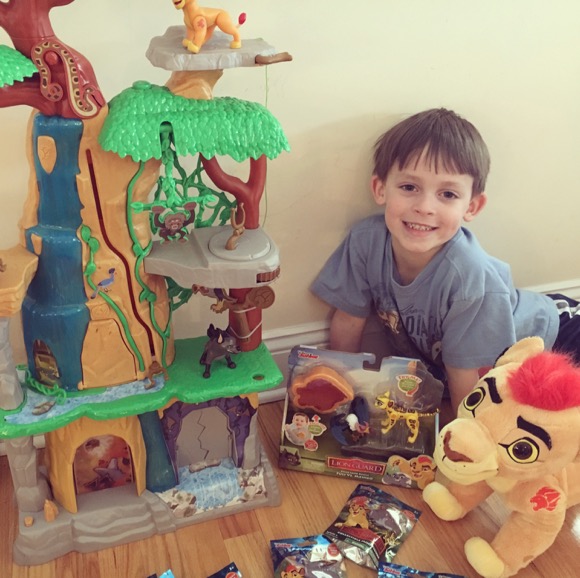 Coloring Station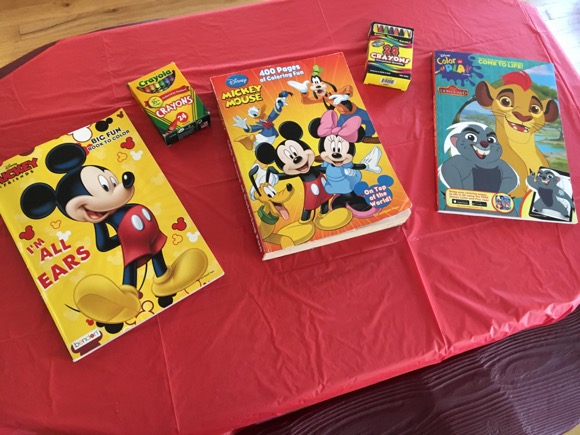 Sorcerer Mickey Hat Craft
One of the craft ideas provided by Disney Moms was to make Sorcerer Mickey hats. We were provided blue party hats and star stickers. I picked up some more stars at Michaels and set up our table for this fun craft. This craft really added to out tablescape as well. We covered our table with the provided Mickey tablecloth then added paper placemats I picked up at Dollar Tree. I also had a fun Mickey centerpiece that I scooped up after a retirement party. My boys had a blast setting the table up before their friends arrived.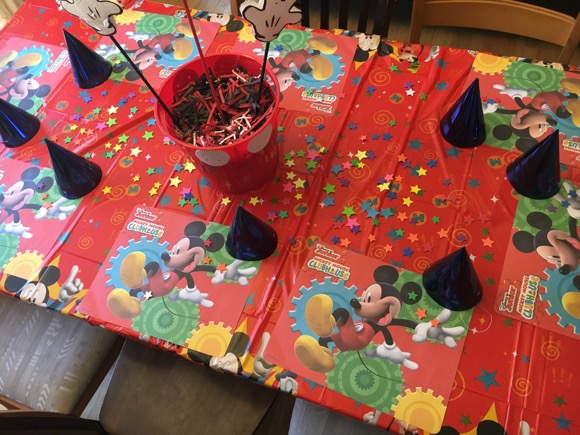 As kids arrived, I let them know about the craft on the table, but it wasn't until almost everyone had arrived that the kids began to navigate over to the table. I loved watching their unique spin on decorating. While my son wanted to use a pattern of blue and green stars, others wanted to make sure pink was the prominent color. The kids then loved wearing them around the house as they played with the toys and enjoyed the games.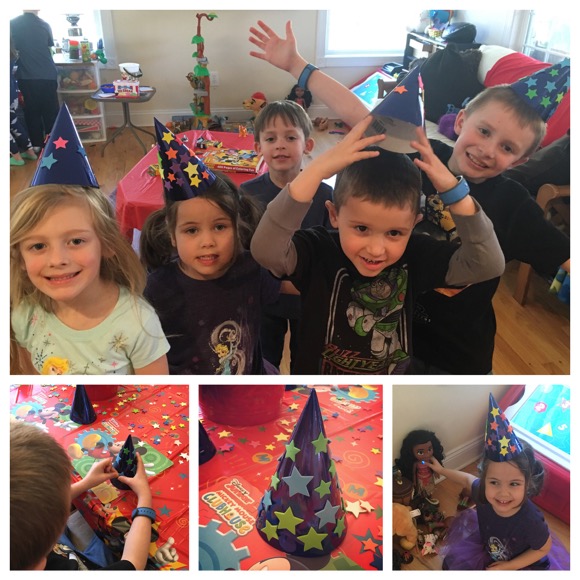 Hidden Mickey Hunt
The Hidden Mickey Hunt Game was one I had been planning since my last party. I had adorable Mickey heads with little pockets in them that were perfect for hiding around the house. When my magical package included Hidden Mickey Hunt Scorecards, I knew this game would be the highlight of our playdate. I filled each Mickey with pictures of rides and experiences at the parks along with pictures of iconic Disney characters. Then I hid the Mickeys around the room.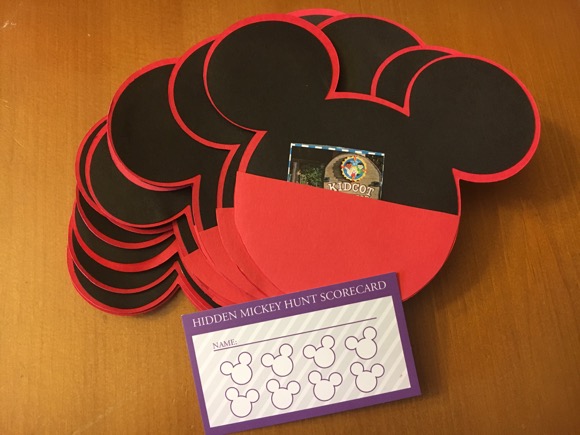 I also turned this game into Disney Parks trivia game. In another room, I set out pictures of each of the Disney Parks (Magic Kingdom, Epcot, Hollywood Studios and Animal Kingdom). As the kids found a hidden Mickey, I took out the picture and asked them to name the ride, experience or character, then all the kids had to run to the park where it could be found! I loved how the Disney moms and dads got involved in the game too!
Decorate Your Own Cupcakes
At the end of the party, I set the table up for a fun cupcake decorating activity. Each child received a Mickey wrapped cupcake and a cup with white icing. I then went around the table and asked what color icing each child would like. I added some magical drops of food coloring, and the kids had their own icing to put on their cupcake! Next, the kids used various sprinkles to decorate their cupcake and make it unique. I am not sure if they had more fun making them or eating them!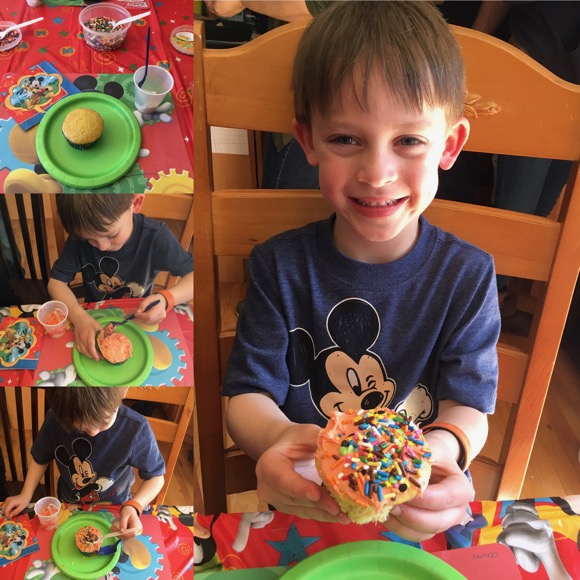 Storm Trooper March
After eating cupcakes, the kids made use of the beautiful day and played outside. I gave each child (and parent) a Storm Trooper mask which were provided by the Disney Store in Willowbrook Mall in NJ. I am not sure who had more fun, the kids or the adults!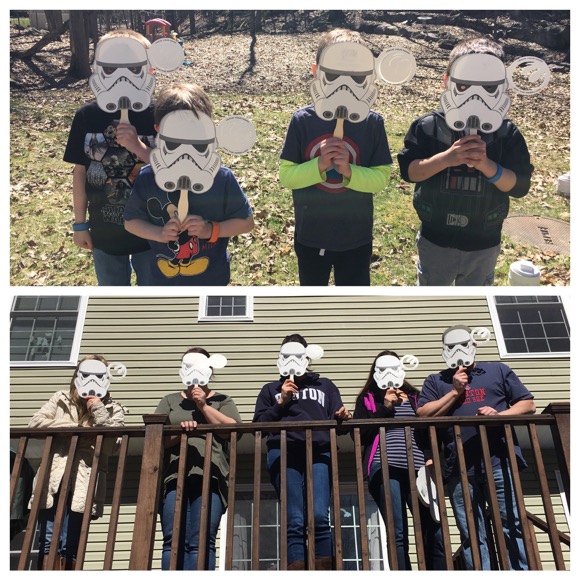 Don't forget the magical favors!
As the guests left, they received goodie bags filled with some Disney magic. Each bag included a bottle of Mickey bubbles, a Disney themed Play Pack (from Michaels for only $1/each) and a Disney Blind Bag donated by Just Play Toys. Each family also received a pack of HP Social Media Snapshots paper so they can capture all their Disney memories!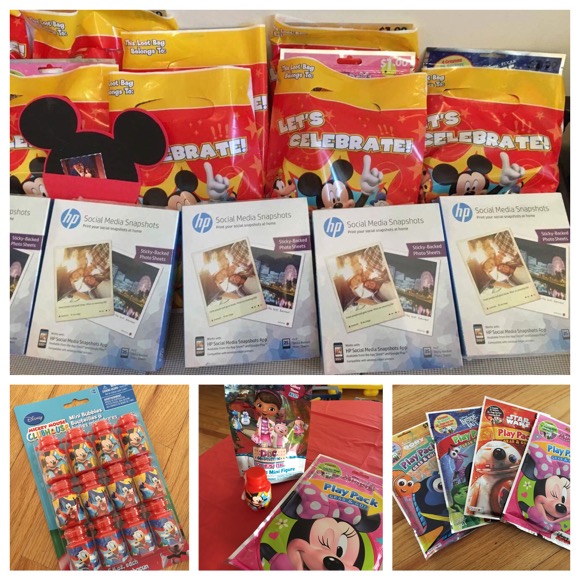 We were so honored to be chosen to host this amazing event for our friends and family. When Disney is involved, the magic truly is endless!
For more pictures of our party, check out our Facebook photo album.
You may also enjoy: