Summer is an important time for kids to have fun, play and make new friends! This, however, can be difficult for kids with special needs. Not all activities, camps and programs accommodate children with unique needs making summer fun difficult at times. It is also important to prevent the summer slide especially for children with learning needs who often experience more academic regression than same-aged peers. That is why Mommy University has put together a list of summer programs and camps that cater to children with special needs.
The guide contains a variety of services and locations, assuring there's an appropriate setting for just about every family that wants one. This list includes day and overnight camps that work with kids having a wide range of needs. From developmental delays such as autism to difficulties with social awareness to cognitive delays to even a camp for children with cancer, these programs offer children the opportunity to learn, play and grow all summer long!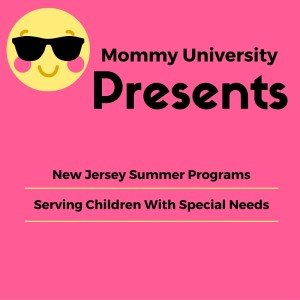 The Arc
The Arc of New Jersey is the state's largest organization advocating for and serving citizens with intellectual and developmental disabilities and their families. During the summer, there are a variety of Arc camps. They include:
In addition, individuals with special needs ages 7-20 can attend Camp Jaycee, a residential camp in Effort, PA. The camp offers activities such as boating, swimming, games, sports, crafts, nature and more. For information on other Arc programs please visit Arc website.
Camp Fatima
Since 1968, Camp Fatima has offered a unique one week sleep away summer camp for children of all needs and abilities. What's even better is that there is NO CHARGE for this camp. Each camper is assigned their own counselor allowing for 24-hour care. The camp staff also includes a team of registered nurses, lifeguards and administrators. Campers will enjoy true a summer camp experience while being cared for by a supportive staff. To apply, please visit their website.
Stepping Forward Counseling Center (SFCC)
Stepping Forward Counseling Center is located in Nutley. They provide excellent mental health services from trained staff including child counseling , behavior therapy and CBT. With a 3:1 staff ratio, day programs, ABA Camp, teen programs and sleepaway camp, SFCC is a wonderful way for individuals ages 3-21 to gain life and social skills while improving emotional stability. Please visit SFCC website for more information.
Children's Specialized Hospital
Children's Specialized Hospital offers various camps and programs located all throughout New Jersey. They offer over night camps, OT camps and so much more. Here is the list:
Pals Paradise Day Camp
Overnight Camp Kresge
BECOME Program (formerly Camp Open Arms) – For kids ages 4-13 who would benefit from Constraint Induced Movement Therapy
Camp Chatterbox Overnight Camp – For kids ages 5-22 who use Alternative and Augmentative Communication Devices
Please visit Children's Specialized Hospital website for more information.
DCCF Summer Program 
The Developmental Center for Children and Families located in Denville offers a program that is designed to benefit children who have difficulties with communication, sensory regulation, social behavior and learning. Programs are available for children ages 3-21 making it a perfect for individuals ready to graduate high school who still need help with life and social skills. Please visit DCCF website for more information.
Camp Oakhurst 
Camp Oakhurst offers an amazing summer experience across 15 acres near the New Jersey shore. It offers programs for 500 physically disabled children, teens and adults each year through a summer camp and year round respite programs. Please visit Camp Oakhurst website for more information.
Camp Harbor Haven 
Camp Harbor Haven is located in West Orange. They work with children with various disabilities and needs but they do require a meeting prior to enrollment. Harbor Haven offers swimming, sports, arts and crafts, science projects, social skills groups, speech, OT and more. Please visit Camp Harbor Haven website for more information.
JCC Camp Chaverim 
JCC, located in Bridgewater, offers a special needs camp called Chaverim. Its goal is to offer campers with special needs a typical summer camp experience while integrating with peers. It offers an individualized program based on need including ABA services. An intake process is required. Please visit JCC website for more information.
Camp Excel
Camp Excel has two locations (Bergen County and Monmouth County). They offer specialized programs for children with ADHD, Asperger's and Social Skills Challenges. Campers will have fun while developing appropriate social skills and social awareness. Please visit Camp Excel website for more information.
Sensory Taekwon-do
Sensory Taekwon-do has two locations, one in Bergenfield and another in Waldwick. They accept children with Autism, PDD, ADHD, Dyslexia and Memory Disorders. Please visit Sensory Taekwon-do for more information.
Camp Merry Heart
Located in Hackettstown, NJ, Camp Merry Heart (an Easterseals program) offers an overnight camp for individuals with disabilities ages 6-96. Since 1954, this camp has been offering recreational activities for individuals of ALL abilities. Campers can enjoy a splash pad, games, crafts, sports, gardening, hiking, biking and much more. For more information, please visit their website.
Happiness is Camping
Located in Hardwick, NJ, Happiness is Camping offers a camping experience for children ages 6-15 diagnosed with cancer along with their siblings. This is a residential camp that provides medical care along with recreational activities. Did I mention it is FREE? To learn more and to donate, visit their website.
There are many wonderful opportunities listed in this guide, run by passionate and dedicated professionals intent on providing summer camp experiences similar to what many of us enjoyed growing up. Many of the programs listed here are free, or offer some form of financial aid.
If you know of a special needs camp that we missed please leave a comment below.
You may also enjoy: