Exploring nature has a calming influence on my preschoolers. It engages all of their sciences and sparks their curiosity. We have found that nature centers encourage this interest by promoting science, an appreciation of nature and protecting the environment. Throughout New Jersey, there are many nature, environmental and science centers which we enjoy touring.
In Mountainside, the Trailside Nature & Science Center is a multi-story building with plenty of spaces that meet different types of learners. Dominating the center of the building is an American Beech tree that extends from the basement to the top floor with animals for children to find as well as signs that offer different scientific facts. This space is FREE and due to its large size is perfect to bring the family. Trailside also offers lots of learning opportunities through workshops, classes, camps, and Scouting programs which are all affordable. We wanted to highlight amazing spaces that your family will enjoy!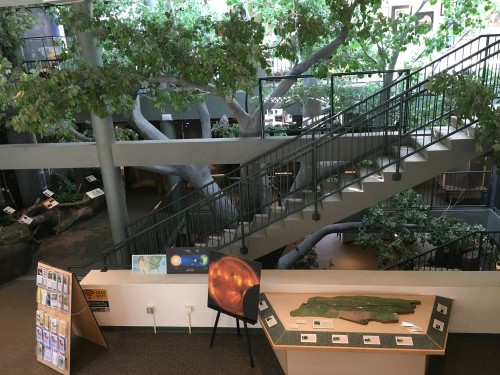 Mommy University Presents
Awesome Spaces at Trailside Nature & Science Center
Explore Dioramas
Throughout the Trailside Nature & Science Center there are dioramas that exhibit the various wildlife in New Jersey. Walking through the main entrance, your children can find taxidermied rabbits which sit above live snakes. It helps children to see and understand what they might find in the forest as well it makes for a wonderful I-Spy.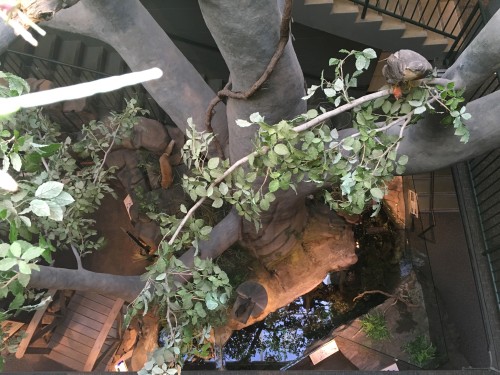 On the tree, there are several birds, nests, and other animals that enhance the conversations you can have with them about wildlife. The dioramas cover the forest, wetlands, and the meadow to name a few. Each one offers a multitude of hands on activities to keep children engaged.
Peek at The Night Theatre
One of my personal favorite spaces was a brief show in the Night Theatre. While the theatre only seats twelve people, the presentation lasts a few minutes. From owls to raccoons to moths, the program explores the creatures of the night. Some toddlers and preschoolers might get scared but that this program is kid friendly.
Explore the Discovery Room   
If you are visiting the Trailside with preschoolers and younger, then you must stop by the Discovery Room! This space is all about touching and interacting. From building toys to figurines to puzzles to a fossil dig, children will love this hands-on space.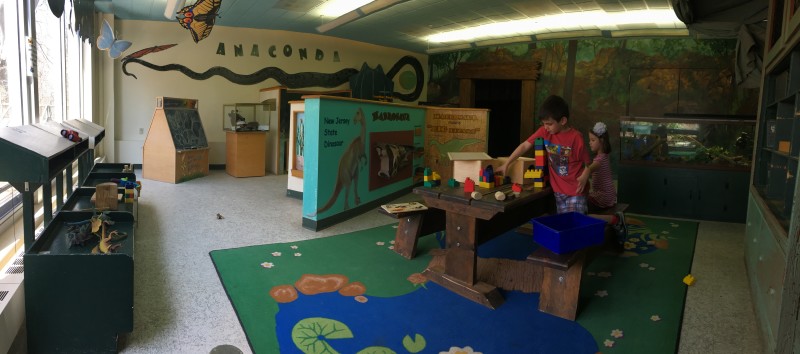 Read in the Library
On the top floor of the Trailside Center is a sitting area with access to books about the environment, science and nature. It is a comfortable space and appears to be a perfect place to relax and read a book.
Learn about the Lenape
Children can sit inside of a wigwam and learn about the Native Americans of New Jersey. The Lenape tribe have their own language, culture and components of their lives years ago.
Get Outdoors
Nature Centers are designed to promote a greater understanding of the environment.However, this is done to encourage us to go outdoors. Outside the nature center are trails that you can enjoy by walking or biking. There are picnic tables to take a break and enjoy lunch. Next to the tables, is an outdoor display of various animal tracks. Another favorite part of Trailside? Within five walking minutes is the Loop Playground which has two separate spaces and is very popular!
We made a video to highlight some of the things you will see at Trailside Nature & Science Center, however, there is still more available to families!

Trailside Nature & Science Center is located at 452 New Providence Road, Mountainside, NJ.
If you like this post, you might like: