Exploring the diversity of egg-cellent Easter events in New Jersey just became more interesting after hopping aboard the Easter Bunny Train Ride in Phillipsburg. It combines trains, egg hunts and the Easter Bunny in one beautifully fun afternoon activity that will have something for each member of your family.
When children are young, parents seek out events that will make cherished memories. Since my children have ridden on Thomas and Polar Express, they recognized Delaware River Railroad Excursions. They may have actually squealed with delight. This, however, was our first Easter Bunny Train Ride so each of us was excited to learn what this adventure entailed. After listening to music at the train station, we watched the train pull up and I knew that this train experience would not disappoint.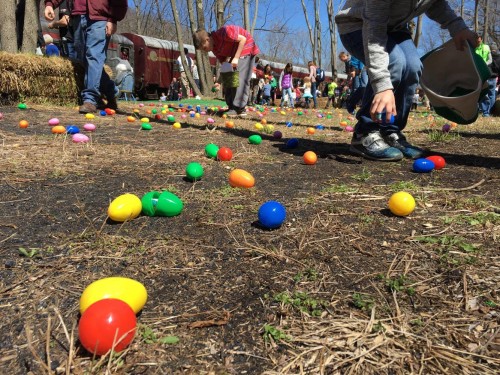 Mommy University Enjoys
Hopping Aboard the Easter Bunny Train Ride
Train Excursion to Lime Kilns
Children love trains! My children skipped down the path to board the train because they were so excited for this New Jersey experience. Personally, I felt like the length of the ride was perfect to reach the Lime Kilns. It was enough for them to be excited, and since the Easter Bunny Train Ride includes entertainment during the ride, they remain engaged the entire time. While you can locate many egg hunts throughout the garden state, very few entail such a unique journey to get there.

Diversity of Entertainment
After boarding the train, within minutes two Easter Bunnies walk from opposite ends of the train so that all the passengers spend a few minutes with him. He will pose for a short period of time either sitting next to the family sharing the seat or stand in the aisle as photos are taken. Following quickly is a banjo player that sings songs about the Easter Bunny or trains as well as a juggler that kept my kids captivated as they caught some of the balls he was throwing in the air using their Easter baskets. The staff and volunteers interacted wonderfully with everyone and were absolutely enthusiastic.
Easter Egg Hunt
The train ride pauses at the Lime Kilns which is known as one of the largest groups of historic kilns known to exist in New Jersey. In front is a small patch of grassy terrain overflowing with eggs where children can select four eggs each. The fact that everyone walks away with eggs in their baskets means children just need to decide which eggs to grab. The eggs are filled with candy, erasers, stickers, tattoos and small trinkets. The Easter Bunnies both take a seat in the middle of the space so that families can photograph their children with one or both. One Easter Bunny is all white and the other is grey and white so, in theory, you could take photos with both bunnies if you wanted to as the kids don't spend a long time selecting their eggs.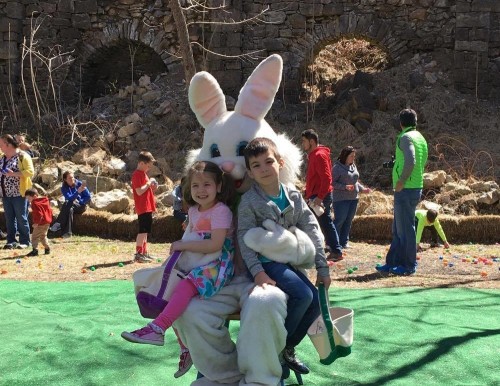 We have visited the Polar Express and Thomas the Train at this location, and like the others mentioned, the Easter Bunny Train Ride is first-rate entertainment for the whole family. Well organized with friendly conductors, it will bring a smile to your children's eyes. Easter Bunny Train Ride is April 13, 14 and 20 at 11am, 12:30pm, 2pm or 3:30 pm. Ticket prices are $18 for adults, $12 for children and infants are $4. Tickets for the Easter Bunny Train Ride are on sale now and available by calling Ticketweb toll-free 866-468-7630, or by visiting 877trainride.com.
If you like this post, you might like: