Mommy University is so excited to partner with LeapFrog to bring you reviews on their brain boosting learning toys and systems.
I have always been a big fan of LeapFrog. Their toys offer endless opportunities for learning through play which is why my kids' rooms have always been filled with their products. Each LeapFrog toy, including the electronics, offers multi-sensory learning fun with its bright colors and catchy sounds and tunes. They capture children's attention which enhances their love and interest in learning.
We were recently asked to review the LeapFrog LeapStart Interactive Learning System. We were provided the Kindergarten and 1st Grade system which is perfect for stimulating young minds. This system is geared for ages 5-7 years old but it can also be a great fit for older kids who need to enhance basic skills or for little ones who need to be challenged. The set comes with one system and a sampler book. Parents can purchase additional books separately. The LeapStart System is also available for Preschool and Pre-Kindergarten aged children.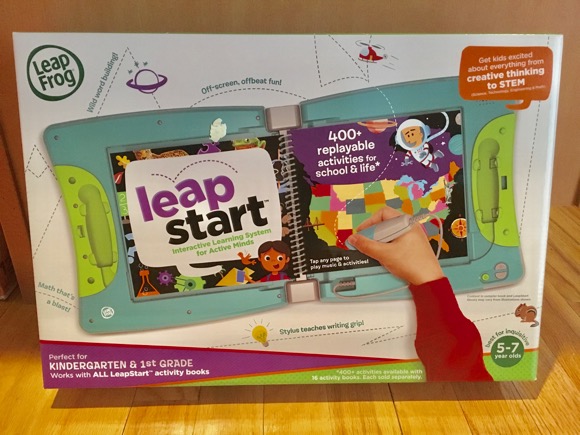 LeapStart grows with your child and their interests. They have activity books to spark curiosity in any child. From learning about space to building vocabulary to enhancing reading skills, there are activities to encourage any child to learn through play. LeapStart works with activity books but learning can start before a book is even placed in the system. I love that as soon as you open the system, kids can pick up the stylus and engage with the interactive liners. Then the fun continues as you snap in different activity books.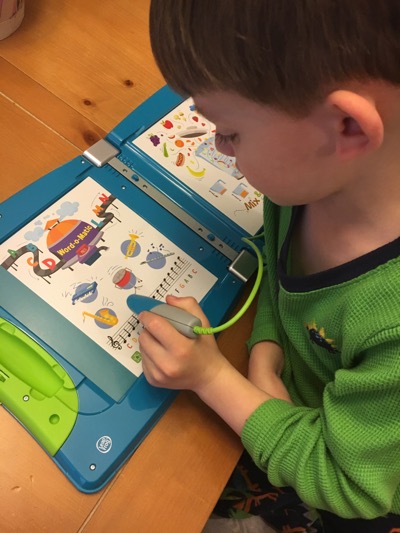 The LeapFrog LeapStart offers so many amazing benefits for children. Like all LeapFrog toys and games, the LeapStart System is an affordable way to introduce kids to learning as well as reinforce skills learned in school. It is perfect for at-home learning but would also make a wonderful addition to a classroom. LeapStart would also help enhance speech and occupational therapy sessions as it encourages the use of language as well as visual tracking and scanning. Here are some more benefits of playing with LeapStart.
5 Benefits of Playing with LeapStart
Complements School Curriculum
Let's be honest, kids can give us a hard time with homework or reading each night. It may not be all the time, but we have all experienced the homework struggle at some point. With LeapStart, kids can reinforce their academic skills in a fun and unique way. Instead of fighting over flash cards, your child can practice math facts in a way that enhances their interest and desire to learn. The multi-sensory activities also make reading easier for kids who may struggle with decoding and/or comprehension. The LeapStart System truly complements the school curriculum helping to build academic success and confidence.
Helps Develop Independent Learners
Although it is important to help our children with their homework and projects as well as help enhance their weaker areas, it is equally important for them to become independent learners. With the LeapFrog LeapStart System, kids can play and learn without needing the support of their parents. The interactive games and activities provide the needed feedback allowing kids to learn what they have done wrong and how to fix it. Kids can also learn at their own pace and focus on topics that interest them.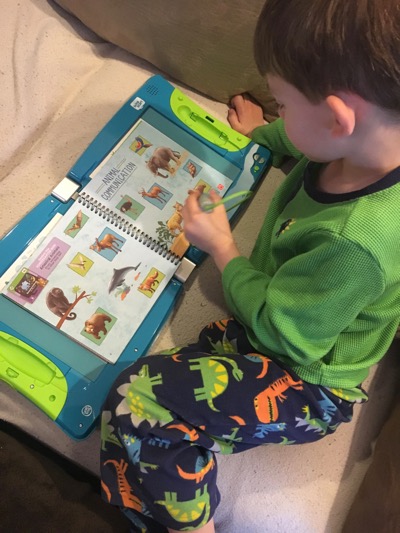 Offers Hands-On Multi-Sensory Learning
As soon as the child touches the stylus to the page, a new world is unlocked. Little learners will choose their path in play which offers hands-on learning fun. Kids will hear sounds, songs and words that enhance learning. The LeapStart System addresses the academic needs of visual, auditory and kinesthetic learners all in one place. One child may enjoy the colorful pages while another is more engaged by the sounds it makes when touched by the stylus. While others learn best by constantly moving their hand and being in control of the learning process.
Multiple Ways to Play and Learn
The LeapStart System offers multiple ways to play and learn which helps engage a variety of children. Kids can simply use the stylus to tap on items on the page or they can get more involved by playing games. The games are also available in levels allowing kids to work on their own ability level while also feeling success. There are so many ways to play on each page that kids could have a different experience each time they play and learn. This encourages kids to keep coming back to their LeapStart to learn!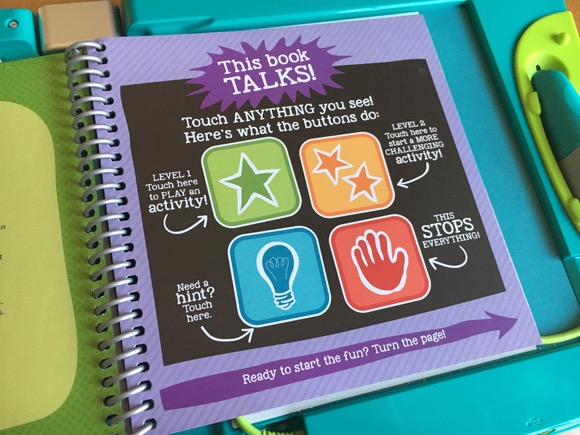 Allows for Learning On-the-Go
The LeapFrog LeapStart System is perfect for learning ANYWHERE ANYTIME! The all-in-one system even has storage for 2 books. It fits nicely in a backpack making it perfect to bring on vacation, on an airplane or to grandma's house. LeapStart is also perfect for learning during long road trips or while waiting for doctor's appointments.
The LeapFrog LeapStart Learning System for Kindergarten and 1st Grade can be purchased for under $30 using our Amazon affiliate link. The activity books can also be found on Amazon. For more information, please visit the LeapFrog website.