It's not called the Garden State for nothing! New Jersey offers some amazing opportunities to explore gardens whether it be fruits and vegetables or gorgeous flowers, there is something for everyone to love and explore! There are so many gardens, arboretums, nature centers, farms and garden centers in NJ that it would be impossible to mention all of them in this article so I decided to focus on some places that we find fascinating.
Mommy University Presents
Amazing Gardens in New Jersey
Camden's Children's Garden, Camden
Managed by the Camden Garden Club, the Camden Children's Garden spans 4 acres encouraging young children to explore the natural world. Unlike other public gardens, the Children's Garden has specific spaces dedicated to learning through play. Children can take a ride on the Arrow River Train, visit the Storybook Gardens, or test their observation skills in the Tree House. Open from the spring into the fall, but during the summer hot months make sure to bring a swim suit so the kids can run through the splash pad. Check the garden's calendar for special events like musical performances and movie night.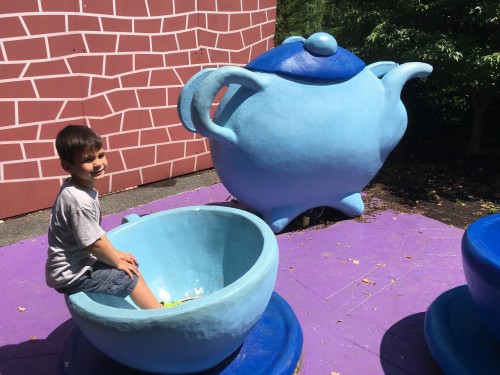 Cora Hartshorn Arboretum and Bird Sanctuary, Short Hills
Through the work of the Short Hills Garden Club, the Cora Hartshorn Arboretum came to fruition to protect over 16 acres of woodlands including 3 miles of trails. Home to over 40 species of trees and wildflowers, this space is also a refuge for wild birds. Within the stone house children can look at animal exhibits, take a stroll to look for birds or take a kid class.
Duke Farms, Hillsborough
Originally a private estate owned by the tobacco tycoon, J.B. Duke, Duke Farms was donated by his daughter, Doris. Following her death in 1993, to protect endangered species including the flora and fauna, Duke Farms was established. Duke Farms hosts many low-cost educational programs to promote families to have an appreciation of nature. In addition to the workshops, they host FREE festivals such as the Maple Sugaring Festival (March) and the Monarch and Meadow Festival (August).  You can also just visit to enjoy a walk, ride bicycles, or stop in and see the stunning orchids. It also has the Farm Barn Cafe which we have enjoyed twice now and completely recommend.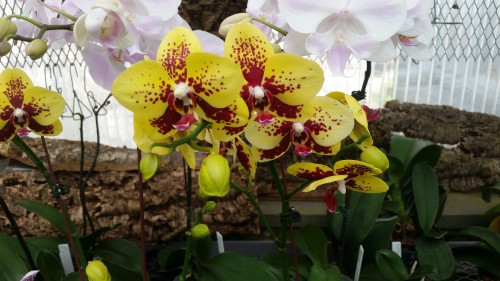 Frelinghuysen Arboretum, Morristown
The Arboretum is well-known in the Morris County area for its long history to the Frelinghuysen family. Transformed from a private estate to an arboretum in 1971, it has been hosting educational programs throughout the calendar year. Around the holidays visit the Gingerbread House display, and in the spring there is the Seedlings program for young children. At any time during the year, you can tour the garden, and for a small cost, participate in the Photo Scavenger Hunt or participate in the Family Backpack.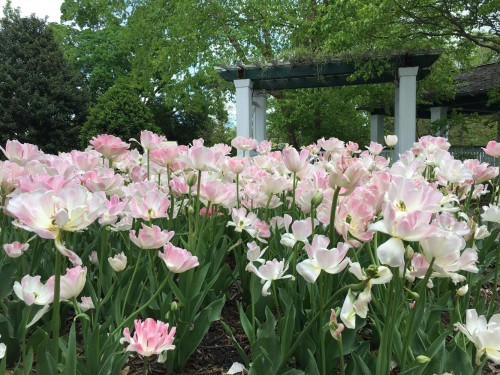 Grounds for Sculpture, Hamilton
Spanning 42 acres in Hamilton, the Grounds for Sculpture is a unique integration of art and gardens. Established in 1992, this amazing space offers permanent sculptures as well asrotating indoor and outdoor art exhibits. There are hidden nooks that can easily be overlooked so when you visit you will want to spend the day at this phenomenal space. While you can visit throughout the calendar year, each visit offers a completely different experience.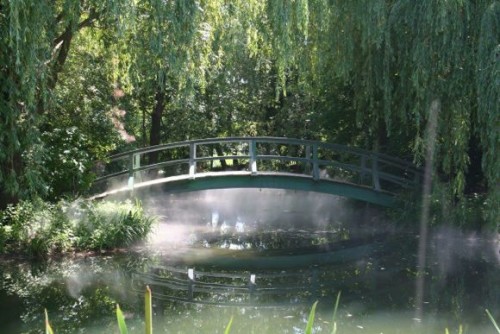 Hunterdon County Arboretum, Lebanon
On 135 acres in Lebanon, George Bloomer established the Hunterdon County Arboretum in the 1940's. The arboretum contains 20,000 square feet of gardens as well as 32 acres for the natural wildlife. This is a wonderful space to go on hikes, relax at the gazebo or enjoy a picnic. The gardens are open from sunrise to sunset.
New Jersey Botanical Garden, Ringwood
The NJ Botanical Gardens  covers 96 acres of open space as well as organized gardens which means that there is plenty to see during each visit. There are over a dozen gardens including: wildflower garden, lilac garden, magnolia walk and an octagonal garden. You can visit most days throughout the calendar year from 8am to 8pm (6pm in the winter). Check the calendar for events such as the weekly nature walk that takes place on Sundays. While there is no admission fee, there is a parking fee of $5 ($7 for non-registered NJ cars) on the weekends and holidays.
Presby Memorial Iris Garden, Montclair
Did you know that the largest collection of Iris flowers exist in New Jersey? The Presby Memorial Iris Gardens has over 10,000 irises with over 1,500 varieties spread out over 7 acres. The 26 beds of flowers is often times called "rainbow hill" especially when they bloom in May. While these gardens are impressive, they do have a short bloom time in May. However, pay attention to their calendar because there are plenty of activities and events to encourage you to visit.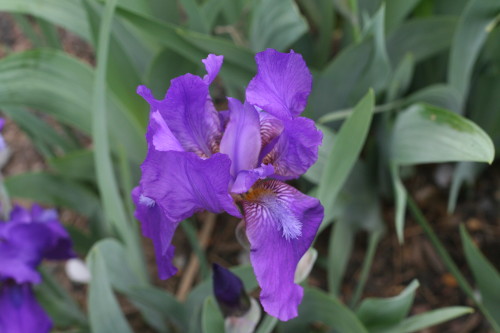 Reeves Reed Arboretum, Summit
A public space dedicated to the conservation of our environment as well as the education of families in New Jersey to appreciate and care for nature, the Reeves Reed Arboretum is a special place in Summit. Your kids may enjoy the Discovery Saturdays where they can learn a different topic each week for a nominal fee or workshops on fairy houses, nocturnal neighbors and plants. Your child can also have a unique birthday party here as well! While there is no cost to visit the grounds, there is a suggested donation of $5. The Arboretum does have specific days and hours it is open so we recommend checking their website.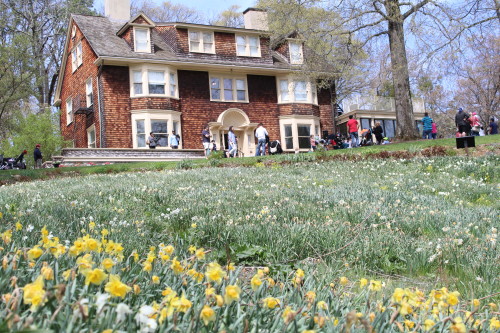 Ringwood Manor, Ringwood
The Ringwood Manor not only contains a stunning architectural building but boasts lovely surrounding gardens. If you prefer a guided tour, check the website as they usually offer a two-hour tour in the summer on Sundays. The fee is $3 for tours, and children 5 and under are free.
Rutgers Gardens, New Brunswick
The extensive Rutgers Gardens contains many stops such as Pollinator Garden, Rain Garden, Shade Tree Collection and even a Community Youth Garden. Open 365 days a year from 8:30am til dusk, you can enjoy the surrounding nature of register to take classes. There is a cost for classes and workshops which helps sustain the gardens.
Sayen Gardens, Hamilton Square
From dawn to dusk every day, you can enjoy the Sayen Gardens which is a FREE garden. Next to the charming 1912 bungalow, sits 30 acres of botanical gardens that include azaleas and rhodendrons.
Van Vleck Gardens, Montclair
A former private estate, Van Vleck was later transformed into a space that the public can enjoy every day of the year from dawn to dusk. It is FREE for anyone to enjoy which makes it a great place to visit with young children. Throughout the year, Van Vleck hosts many educational programs which do have a minor cost. If you become a member, the programs are reduced in cost. From bird watching to maple sugaring, there are lots that families can learn by attending the workshop or just enjoying the natural space.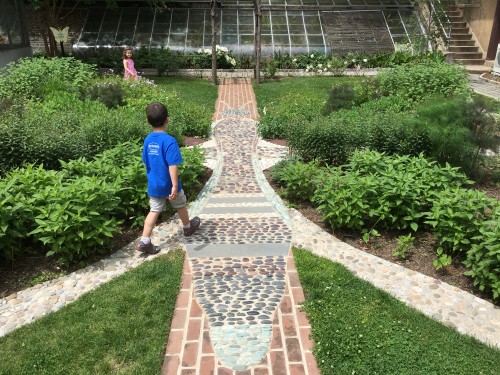 Bonus:
Storm King Art Center, Mountainville, New York
Located in the Hudson Valley in Mountainville, the Storm King Art Center is an art museum as much as natural garden spanning over 500 acres. The founders of the Storm King wanted to capitalize on the natural landscape that includes hills, ponds, and meadows as the background for massive sculptures.
Longwood Gardens, Kennett Square, PA
Enjoy 400 acres of spectacular views at Longwood Gardens across the border in Pennsylvania. Overflowing with learning opportunities through formal classes or leaisure strolls, this space also contains extensive floral exhibitions and is known for its Christmas displays. This is not free to visit, and due to its sheer size plan on spending a few hours at this location.
What is your favorite garden to visit?
You may also enjoy: