We are so excited to partner with Peaceable Kingdom to bring you this amazing Easter giveaway!
We have all struggled to fill the Easter Baskets for our youngest children with candy-free ideas, and at Mommy University we challenge ourselves even further to find options that are educational. When we were introduced to Bunny Bedtime at Toy Fair this year, we knew this was a perfect item to include in a two-year old's basket. As well, it is a perfect introductory game to begin involving your children in family game night.
Bunny Bedtime includes one board, five wooden puzzle pieces and 1 wooden bunny mover as well as a guide for parents with helpful suggestions. The purpose of this game is that a young player will help the bunny get to bedtime by rolling the dice which allows the bunny to advance. At each stop, the player will help make decisions about her bedtime routine.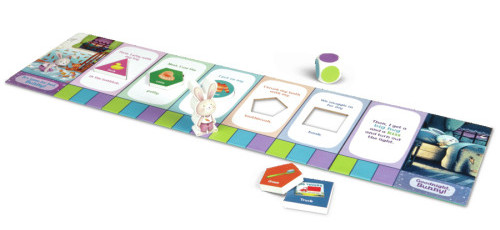 Two year olds struggle to make decisions but this game is designed appropriately to challenge children. Peaceable Kingdom also enables children to learn about shapes and colors. They are problem solving as well as expanding their vocabulary. We were so impressed with the Bunny Bedtime game, it is one of our highlighted toys in the 2017 Easter Basket Guide. Mommy University is very happy to partner with Peaceable Kingdom to provide a fun giveaway this Easter that you and the kids will love. One lucky winner will win the Bunny Bedtime game.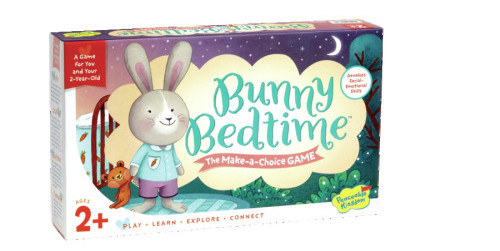 So now that you are all excited, here is what you need to know to enter:
Here are the rules and conditions for this amazing giveaway:
Participants MUST live in the United States.
The winner will be chosen by Rafflecopter.
The contest will run from March 26, 2017 through 12am on April 7, 2017.
The winner will be announced on April 7, 2017.
The winner will receive the Bunny Bedtime game directly from Peaceable Kingdom.  We cannot guarantee that the Bunny Bedtime game will arrive prior to April 16, 2017.
The winners must respond within 1 day or another winner will be chosen.
To enter, participants can earn entries by: visiting the Mommy University Facebook page (likes are appreciated but not required), following Mommy University on Twitter, sharing the contest with friends, sharing another Easter post and commenting on this blog post by answering the required question. One FREE entry can also be given when this option is chosen.
No purchase is necessary to win.
Your chances of winning are dependent on the number of entries received.
Enter here: a Rafflecopter giveaway

If you like this post, you might like: