Mommy University is honored to partner with Feld Entertainment to bring you the final season of Ringling Bros. Circus.
For some, the circus is just another event they get tickets for once or even once a year. For many, however, the circus is an experience that creates lifelong memories and traditions!
I first attended a Ringling Bros. show over 30 years ago. I was just a child but I still remember the excitement and anticipation that filled the arena before the show. My father loved the circus and enjoyed taking us every year. It became a tradition I really looked forward to. As we got older, however, school, sports and, well, life got in the way and the circus was not an event we went to as often. It wasn't until after I had my first child that this family tradition was renewed.
About 6 years ago, my father told me the circus was coming to town. His face lit up like a child on Christmas Day. He wanted his grandson to experience the magic and wonder of Ringling Bros. so for my dad's birthday, I got tickets for the upcoming show at the Prudential Center in Newark. He was ecstatic. I will never forget that show. I am not sure who was more excited, my dad or my son. Not only was it a spectacular event, it was one we enjoyed together as a family. We created new memories that I hold very dear to my heart.
My father passed away about 4.5 years ago so that was his last circus. I have honored his love of the Ringling Bros. Circus by continuing to take my boys to the show each year. We have created even more memories that will last a lifetime. This is why I am so sad to see this show come to an end. Each year it has brought new adventures and excitement to the grand stage. We were lucky enough to see last year's final show with the elephants which was breathtaking yet emotional.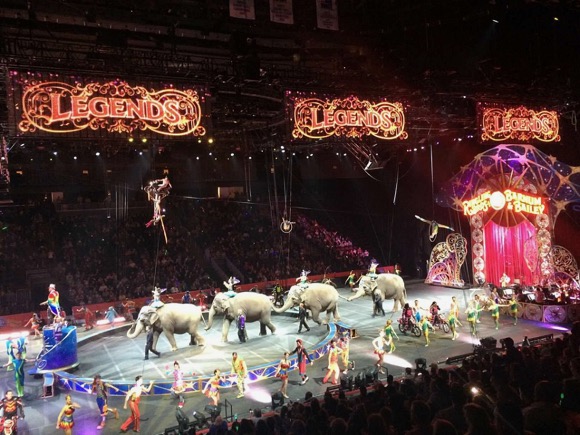 When I heard the Ringling Bros. and Barnum & Bailey Circus was closing, I was so upset. I could not believe their 146 year tradition of bringing family entertainment to all was coming to an end. I just knew we had to be at this show. I was not sure what to expect as I knew there were no longer any elephants which was always the highlight of the show.
When I entered the arena, it was filled with excitement, anticipation and wonder. The ring was set up differently as there was only one surrounded by ice. There were large colorful spheres hanging from the ceiling that moved up and down as if they were dancing. The theme was Out of This World, and that it was!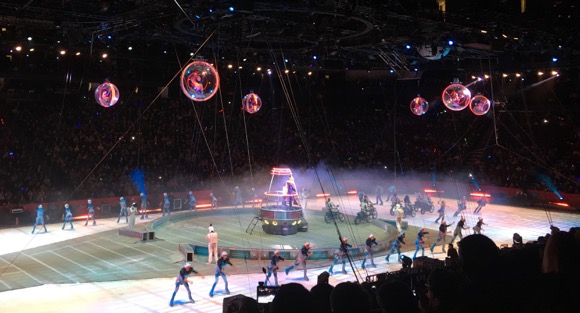 The final Ringling Bros. show was more theatrical than those from year's past. Of course there were animals such as lions, tigers and the magnificent horses, but there was so much more. From dancing acrobats hanging from the ceiling to ice skaters gliding on the ice to amazing contortionists, there was so much to see and admire. The staging, lighting and costumes added to the experience with their bright colors, unique designs and amazing technology.
Guests were blasted into outer space from start to finish with this spectacular show. The high-flying acts took families on an intergalactic journey as they soared, flipped, balanced and swung through space while the clowns offered a comedic and lighthearted element to the show. Classic acts were also highlighted amidst some new thrilling performances. My boys loved the astronauts that blasted into space while my husband loved the comedy act that literally performed upside down hanging from the rafters. I loved every minute of the circus but there were some acts that really caught my eye and had me sitting on the edge of my seat.
Out of This World Acts at Ringling Bros. and Barnum & Bailey Circus
Double-Wide Flying Trapeze
I absolutely loved the trapeze act which had me sitting at the edge of my seat the entire time. The breathtaking tricks and incredible bravery was inspiring. I especially loved when one brave artist flawlessly performed a quadruple somersault.
Heilongjiang Provincial Acrobatic Troupe
Traveling all the way from China, this phenomenal Acrobatic Troupe made its US debut in the Ringling Bros. Circus Out of this World show. This ice acrobatic performing group started in 2005 and have been amazing audiences ever since. I loved the addition of ice skating into the Ringling Bros. show as it added a new performing arts dimension. From human pyramids to skating on stilts to flipping off trampolines, the Heilongjiang Provincial Acrobratic Troupe will take your breath away!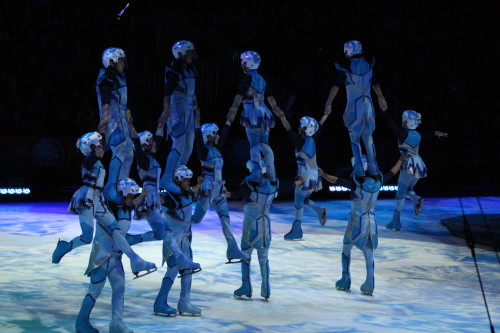 Aerialists
When you first arrive, you will find spheres hanging from the ceiling that resemble planets. My son said there were people inside them but I couldn't imagine how that would be possible. BUT he was right! When the fabric was removed, the audience was awed by aerialists performing high above the ring. They performed with great strength, grace and beauty. It was one of my favorite parts of the show.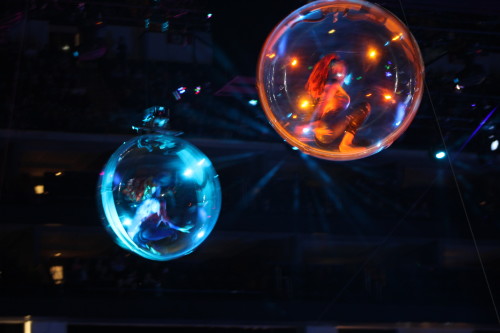 Big Cats
One of my favorite acts at a Ringling Bros. and Barnum & Bailey Circus has always been the Big Cats. I am always amazed by their beauty and skill along with the bravery of the trainer. Alexander Lacey is no stranger to training big cats as his family raised more than 11 generations of lions and 9 generations of tigers. Did you know Alexander communicates with the cats in English AND German? Who knew big cats could be bilingual! These magnificent creatures put on an amazing display of artistry and power.  You can see a video of the act on my Periscope page.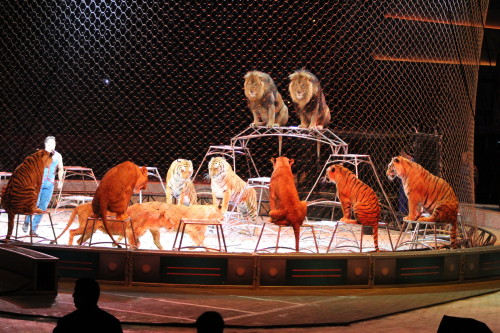 Spacewalk by Simet Troupe
The show begins with the breathtaking spacewalking performance by the incredible Simet Troupe. Dressed as astronauts, the skilled entertainers performed a gravity-defying wheel act on their one-of-a-kind Giant Semaphore. This spectacular performance will have you sitting on the edge of your seat and holding your breath with each new move. It was the perfect way to "blast off" the show!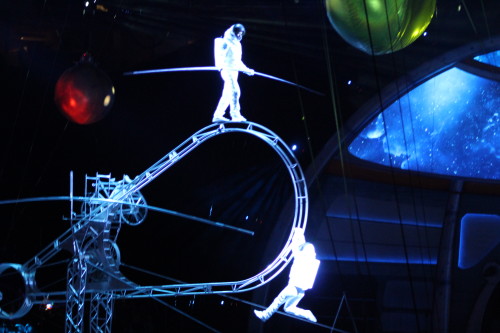 We absolutely loved this new show and hope everyone has the opportunity to see it. The Ringling Bros. Circus comes to an end May 21, 2017. To see when the show will be near you, check the Out of this World schedule. You can also check out Circus Xtreme which takes place through May 7, 2017.
You can check out our highlights video below!
Thank you Ringling Bros. and Barnum & Bailey Circus for bringing joy to families for over 140 years. You will always have a special place in my heart and the hearts of millions of fans all over the world!