Updated for 2021!
Only the best individuals ride on trains and the Easter Bunny is no different, as several railway companies offer special events that highlight this favorite time of the year. At this time of the year, we are all struggling with the never-ending winter blues. The hints of Easter begin to introduce color, the idea of hope and renewal. Riding on an Easter Train will entail staring out the window as signs of Spring emerge!
Each Easter Train ride offers different experiences, so we have compiled a listing that provides you with insight into which train might be the one that intrigues you the most or ride them all! The beauty of living in the Garden State is the large options available and trains are no different. So hop on board to make this a family tradition!
Amazing Easter Trains in New Jersey
Delaware River Railroad Excursions, Phillipsburg
Ride the Easter Bunny Train Ride and visit with the Bunny. Your ride will wind along the scenic Delaware River leaving from Phillipsburg on this train ride to reach site of the historic Lime Kilns. Near the Lime Kilns is a beautiful little glade filled with Easter Eggs where each child can select four eggs filled with candy or toys. Children will have the opportunity to take photos with the Bunny at the Egg Patch as well as a meet and greet on the train. You can read our review here!
2021 Dates: March 27, 28 and April 3 at 11am, 12:30pm, 2 pm and 3:30 pm
Fares: Adult $18.00, Child $12.00 (ages 2 to 12), Lap Sitter $4.00 ( 2 and under- no child carriers allowed- child must sit in your lap)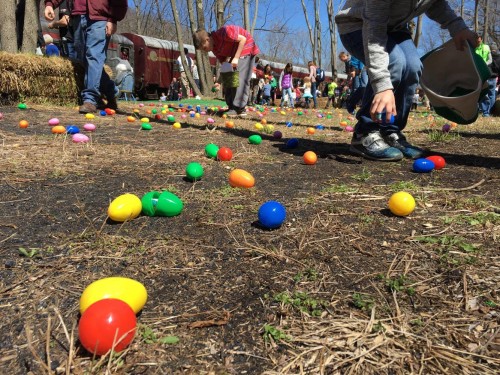 Whippany Railway, Whippany
Join the Easter Bunny and train crew on the 28th Annual Easter Bunny Express through northern New Jersey! The Easter Bunny will greet everyone during the 45-minute round trip train ride so make sure to bring your camera to capture photos of the exciting event. The money goes directly to support the Whippany Railway Museum. Don't be surprised if special guests also appear this year! Ticket prices include admission to the museum as well as seeing the outdoor operated model trains.
2021: This event is suspended at this time due to Covid-19.
Fares: Adult $17.00 & Child $12.00 (ages 3 to 12) on Coach, Adult $20.00 & Child $15.00 (ages 3 to 12) on Jersey Coast Car, Lap Sitter FREE ( 1 and under)
Black River and Western Railroad, Flemington
The Easter Bunny Express is a 25 minutes relaxed trip from Flemington to Ringoes during which each guest gets to meet Peter Cottontail and take a photo. There will be an egg hunt at the Ringoes picnic grove where each child can get 5 eggs. Children are asked to bring their own bag or basket to collect the eggs.
2021 Dates: March 27, 28 and April 3 at 10am, 12pm and 2pm
Fares: $19.99/adult and $14.99/child
Bonus:

New

Hope

& Ivyland Railroad, New Hope PA
Leave the New Hope station for a 45 minute round trip scenic excursion on the Easter Bunny Express. The Easter Bunny visits each child delivering special treats as well as pose for photographs taken by their staff photographer. Children will ride on a diesel locomotive and enjoy the signs of spring from the windows.
2021 Dates: March 20, 21, 27, 28 and April 3 and 4 at 11am, 1pm, and 3pm.
Fares: Prices Vary
You may also enjoy: