We are so unbelievably excited and honored to partner with the Academy of Natural Sciences in Philadelphia. Mommy University was provided a membership in exchange for sharing with our readers all the amazing Academy adventures for the entire year including brain boosting exhibits, events and programs. I hope you will follow us along this incredible journey!
It's a ribbiting time!
As much as my family has traveled the globe, there has always been the calming sounds of frogs. From Puerto Rico to Malaysia, the diverse chirping of amphibians has become a soundtrack to nature. We have been looking forward to the Frogs exhibit at The Academy of Natural Sciences of Drexel University since it was announced. Currently, this space enables visitors to observe over a dozen different species of frogs as well as engage in several activities that increase our understanding and appreciation of these iconic creatures.
Mommy University Presents
Five Things We Learned at Frogs: A Chorus of Colors
How Nature Protects Itself
Frogs are not predators of large animals. In fact, they are more susceptible to consumption. By visiting the Frogs exhibit, my four year old was able to identify the concept of camouflage. She developed a better understanding of this concept after a visit to the Cart of Curiosity which demonstrated how this survival strategy works. Carts of Curiosity are set up in different spaces of The Academy and some are dedicated to the Frogs exhibit. It was explained how Frogs camouflage themselves. Children can test their ability to find frogs hidden in nature.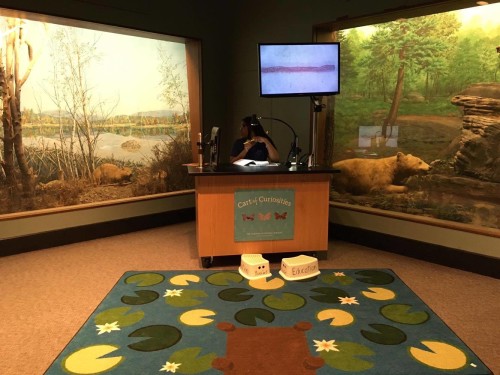 Afterwards, my daughter was able to watch the Ornate Horned Frog disappear in it's habitat.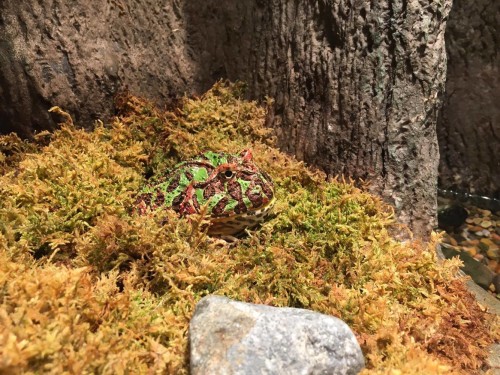 As well, we learned that brightly colored frogs like the Tomato Frog and the Dart Poison Frogs make poisonous secretions which protect them.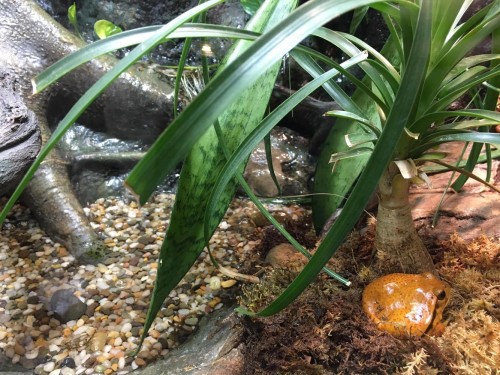 The Role of Metamorphosis
While my daughter learned about camouflage, my son was learning about metamorphosis as we observed tadpoles swimming in water. In fact, we enjoyed looking at the different stages from tadpole to froglet to frogs. It was also interesting to find out that the length of time for these stages can be impacted by the weather.
Listening to Nature's Soundtrack
A favorite activity included Create Your Own Chorus, where visitors can press different buttons to produce overlapping sounds of various frogs. The music is what you might overhear in the soundtrack of a movie or if you went camping.
Advancing Science
How cool is it that these small creatures are helping with the advancement of science? Since frogs absorb water and other material through their skin, they are considered an indicator species. When the environment changes with an increase of pollutants, frogs are one of the first species disappearing.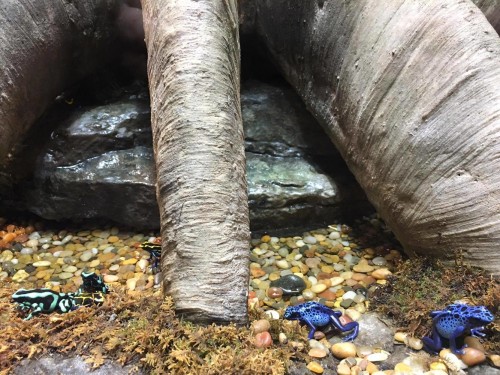 Engage in Fun Facts
Do you know what is the maximum number of eggs that one species can produce?
Do you know the difference between a frog and a toad?
Do you know what is the largest frog and how big it can become?
These are all answers we learned together by visiting the Frogs: A Chorus of Colors! We know the answers but there are no spoilers in this post.
This new exhibit at The Academy of Natural Sciences of Drexel University runs until May 14, 2017 offering a whole new experience for families to enjoy together. By running from display to display, your children will observe differences in size, color, texture and sounds of frogs. They also will be able to watch videos of how these creatures move differently. This exhibit offers a rare opportunity for children to enhance their observation skills by focusing their attention on this ribbiting riveting species. If you want a preview of some of what you will see, click on the video below!
For more information go to 
http://www.ansp.org
Want to win tickets to see Frogs: A Chorus of Colors? Of course you do! We are so excited to partner with the Academy of Natural Sciences to bring you this awesome giveaway!
Here are the rules and conditions for this amazing giveaway:
Participants MUST live in the United States.
The winner will be chosen by Rafflecopter.
The contest will run from March 4, 2017 through 12am on March 21, 2017.
The winner will be announced on March 21, 2017.
The winner will receive the tickets directly from the Academy.
The winner must respond within 2 days or another winner will be chosen.
To enter, participants can earn entries by: visiting the Mommy University Facebook page (likes are appreciated but not required), following Mommy University on Twitter, sharing the contest with friends, providing an email address, sharing our YouTube video and commenting on this blog post by answering the required question.
No purchase is necessary to win.
Your chances of winning are dependent on the number of entries received.
Enter here: a Rafflecopter giveaway

You may also enjoy: