Updated: At this time Pocono Princess LLC is closed until further notice.
Like most children, my daughter became fascinated with Frozen as she pretended to be Elsa and Anna. Upon hearing "Let It Go" she would pretend to have the powers to freeze and lift her hand as though she could wield this super power. As parents, we enjoy watching our kids leap into a show or movie that grabs their interest. There is always that threshold where you go insane listening to the same song 1,000 times on a Sunday morning marathon, but nonetheless we share a smile when we hear what has captured their imagination.
There are often opportunities to see these favorite characters locally. Pocono Princess LLC is a privately owned company that can bring characters to life at parties or private events that allow your children to explore their own imagination. Recently, they hosted Tea with a Princess at Dansbury Depot in East Stroudsburg, Pennsylvania. In one afternoon, my daughter was able to meet four princesses over tea which included: Snow White, Ariel, Anna and Elsa. In addition to the royal hosts, a special guest stopped by the festivities! As invited guests to Tea with a Princess, my daughter was able to enjoy a unique experience that offers several learning benefits.
Benefits of Enjoying Tea with a Princess
Encourages Imaginative Play
After receiving our assigned number, my daughter was able to have a few minutes with the princesses. Dressed in her Anna costume, she was thrilled to meet another Anna! Greeting four princesses can be difficult, but each actress spent a few minutes with her talking. Wearing costumes of all different characters, kids are participating in pretend play. My daughter didn't travel to Pennsylvania but rather a special festivity with royalty.
Promotes Positive Social Skills
The event was organized so that the invited guests sat together at tables where they can sip "tea" (or apple juice as we tend to call it), enjoy a snack and use the crayons to color images of princesses. I enjoyed that the set up allowed the girls to talk to each other. From what I could overhear, there was a conversation about their outfits, favorite characters and their artistic skills. Parents were seated on the perimeter nearby in case any of the children were nervous but I think most kids enjoyed this opportunity to practice their social skills through play.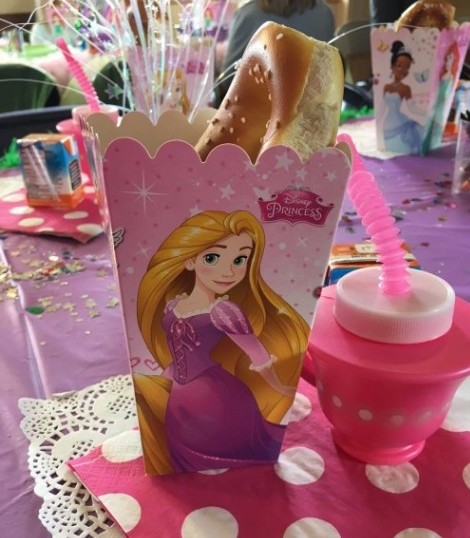 Supports Art Appreciation
As the children waited for all the guests to be seated, they were coloring a page at their seat. My daughter was very thorough with her coloring but I also enjoyed that the Pocono Princesses sang songs. The sing-a-longs included "Let It Go" as well as "For the First Time in Forever" which included our favorite snowman, Olaf! The event introduces different artistic elements to children through acting, singing and drawing.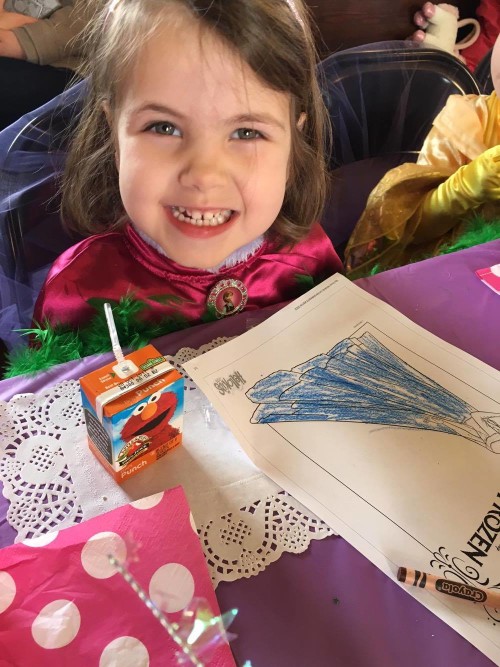 My daughter had a wonderful time at Tea with a Princess! She was able step into a pretend world with other princesses for an afternoon event. Leaving the program, she carried her plastic tea cup souvenir and her Elsa coloring as well as the memories of playing with friends.
Serving the Poconos, greater Lehigh Valley, and Northwestern New Jersey, Pocono Princess LLC is a privately owned company that offers performances for birthday parties as well as private events. For more information, please visit their website.