Sadly, this establishment is now closed.
Mommy University is so excited to partner with It'z-a-Buffet so we can share with you all about their brain boosting fun.
Remember that time you went out to eat and you got to enjoy your food while having an intelligent conversation with your significant other? Of course you don't remember because if you are a parent the last time you had a meal in peace was…well, who knows when that was. Before I had kids, my husband and I enjoyed eating out a lot. We continued to eat out when we had kids but a lot less frequently. As they get older, it has become even more difficult to entertain them when we go out.
For those who don't know, I have 2 boys who are very active. They need to move around and explore their environments which makes going out to eat difficult to say the least. They used to be entertained by the coloring pages the restaurants provided but now they finish the tasks so quickly that they get bored. I bring books, coloring activities and games, but they still end up fighting or under the table. I am not a believer in handing them electronics at the table so finding ways to keep them entertained can be a struggle. That is why I was so excited when we found It'z-a-Buffet located in Newton, NJ and even more excited when we were invited to be guests to one of their special events.
Itz-a-Buffet allows kids to play, explore and have fun while parents get to enjoy a delicious meal. Amazing right?! This unique dining establishment offers a 5-level indoor playground that will keep kids entertained for hours. The structure can be explored independently or parents can join the fun with their kids. In my opinion, the playground is perfect for kids ages 3-10 years old but younger kids can be guided by parents while older kids can also explore and play with their siblings.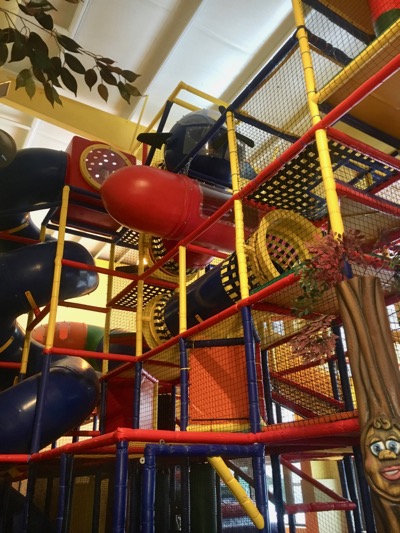 The buffet offers a wide variety of dishes making it perfect for everyone in your family. They provide kid friendly choices like macaroni and cheese, chicken tenders, mini burgers, pasta and more. The chef will also make personal pizzas upon request. The buffet also offers delicious entrees and sides for adults such as pork, chicken francese, penne vodka, salad, wings, roasted vegetables and more. What I love is that the buffet is different each visit making it a new experience each time we dine.
5 Reasons to Visit It'z-a-Buffet
Enhances Gross Motor Skills
The 5-level playground offers so many opportunities for kids to enhance gross motor skills. Whether is it climbing the rope net, crawling through the tubes or maneuvering through the obstacles, kids are building strength in their legs, arms and core. While playing, kids also improve their balance, coordination and motor planning.
Promotes Social Interactions
Every time we visit It'z-a-Buffet my boys make new friends while exploring the playground. While playing, kids learn to take turns, communicate appropriately and take direction from others. I love watching my boys come up with fun games with their new friends such as tag and hide-and-go-seek.
Sparks the Imagination
As kids play, they create their own worlds. They pretend they are being chased by dragons or they are saving a princess at the top of the castle. They can be climbing a volcano or digging tunnels underground. The pretend play opportunities are endless as kids explore the indoor playground at It'z-a-Buffet.
Play AND Eat
The best reason to visit It'z-a-Buffet is getting to play AND eat at the same place. Families don't have to eat at one place then drive somewhere else to let the kids play and have fun. It'z-a-Buffet offers seating right next to the playground so kids can come and go as they please as parents enjoy a delicious meal. Parents are close enough to the action to call their kids down to eat their veggies then let them play again. Parents can also join the fun by making their way through the playground with their kids!
Special Events
It'z-a-Buffet is not just a place to enjoy a meal and play as they also offer special events and birthday party options. We recently attended their Family Valentine's Day event which included the buffet, playtime, character meet and greets, face painting and balloon artists. It was a fun way to spend the day together as a family.
We cannot wait to play and eat at It'z-a-Buffet again soon! To learn more about pricing, parties and special events, please visit their website.
You may also enjoy: