Mommy University is excited to partner with Skylands Stadium to bring you all the winter fun Frozen In Ice has to offer!
Ever wonder what people could do with over 100 tons of ice? Create a Frozen Carnival of course!
This winter head on over to Skylands Stadium in Augusta, NJ for a frozen adventure you won't soon forget! Frozen In Ice is a winter wonderland full of interactive ice sculptures the entire family will love. Open through February 26, Frozen In Ice: Carnival offers fun games, activities and more. It is the perfect way to spend a winter day (or night). We were recently invited to explore Frozen In Ice during opening weekend. We had so much fun and wanted to share with you are favorite activities.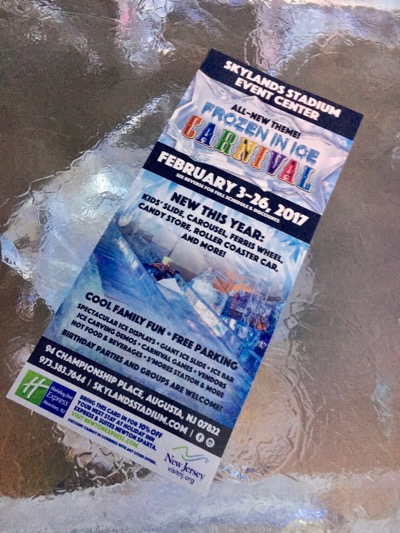 5 Must Do Experiences at Frozen In Ice
Ice Maze
To enter (and exit) the Frozen In Ice main event, guests have to make their way through an ice maze. My boys not only loved finding their way through the maze but also enjoyed touching the ice. It was a true multi-sensory experience that can be enjoyed over and over again.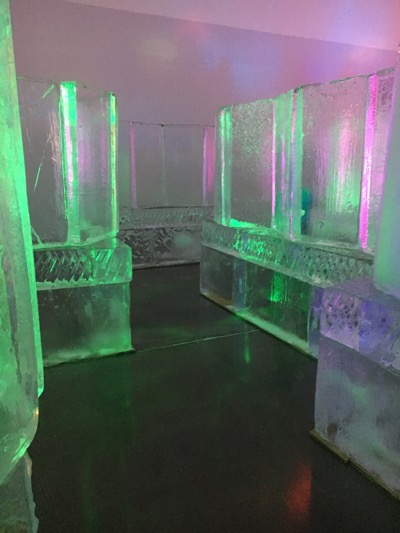 Ice Slides
Inside Frozen In Ice is a winter playground. With a carnival theme, families will enjoy interactive ice sculptures and plenty of photo ops. Our first experience, of course, was the ice slide. There are 2 slides available. One that is 50 feet long with a 36″ height requirement, and the other is a small kids' slide. My boys enjoyed both but liked the giant slide the most.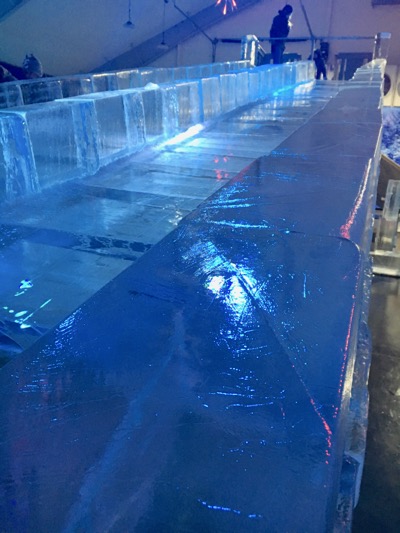 Ice Games
After the thrilling slide experience, we headed over to the row of ice games. Frozen In Ice has 4 ice games for the entire family to enjoy. Each game offers a great opportunity to enhance motor, visual and spatial skills. My younger son amazed us with his ability to stand up a bottle by using a ring hanging from a wooden pole, make a slap shot and break an ice plate. He did so well that he even won a FREE play card for the carnival games!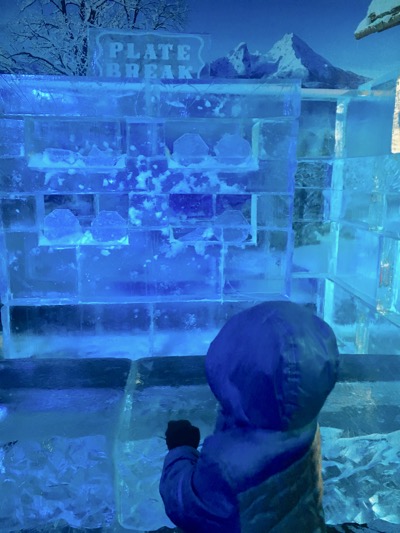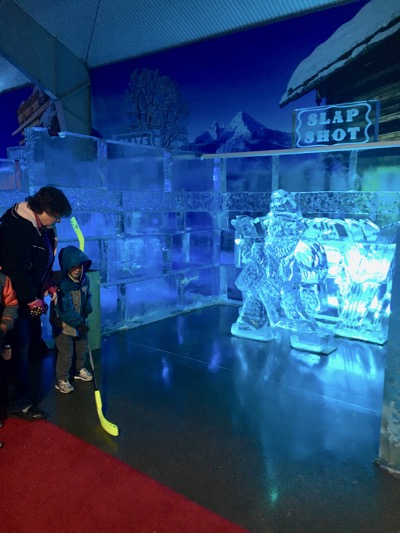 Ice Sculpture Photo Ops
Frozen In Ice offers amazing ice sculptures to admire, touch and take pictures of (or on). From an eagle to a horse to an Indian chief to even a giant Friendly's shake, there is so much to see and feel. There were also several sculptures that offered amazing photo ops. My son loved taking a picture in the ice carnival ride car while both boys enjoyed hopping on the ice carousel!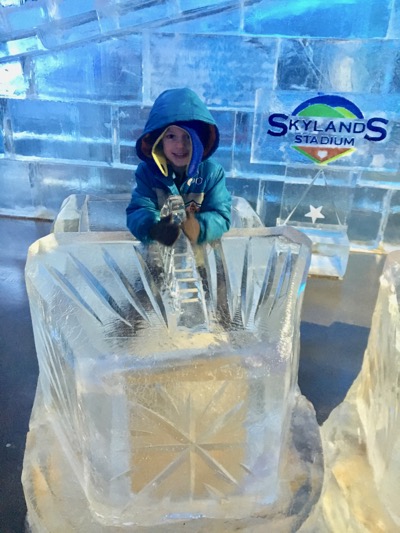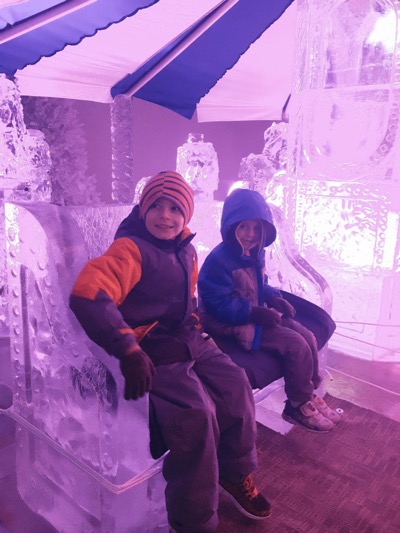 Outdoor Experiences
We had a blast exploring the indoor displays at Frozen In Ice, but we also enjoyed what Skylands Stadium offered outside. Believe it our not, we went outside at one point to get warm. Outside families can watch ice carving demos as well as enjoy s'mores by the fire. It was a fun and tasty family experience!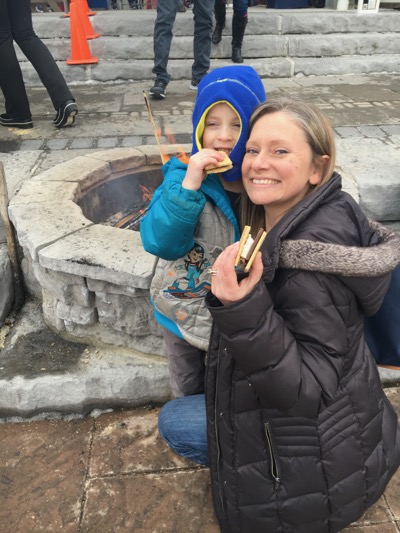 Tips to Enjoy Your Day
It is quite cold inside the event center so make sure you dress in warm clothes including gloves and hats.
I also recommend ski pants. They not only keep you warm but make sliding down the ice slide even more fun!
Bring your own s'mores items. Although you can purchase a kit at the event like we did, you can save some money by bringing your own chocolate, marshmallows and graham crackers. Frozen In Ice provides sticks to use free of charge.
Attend on a discount day or pick up a coupon at your local Walgreens.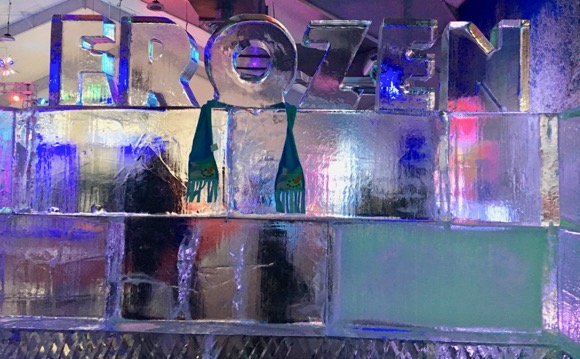 Ways to Save
Tickets cost $20/adult and $15/child. This can be pricey for a family of four which is why I suggest taking advantage of their 3 ways to save.
Walgreens offers coupons for $5 off adult tickets. They cannot be combined with other offers.
Visit Monday – Thursday and save $5 on adult tickets and $3 on kid tickets.
Visit on a promotional day: Wednesdays – Kids are FREE; Thursdays – guests get a hot dog and beverage with admission; Fridays – get 3 carnival tickets with admission; Sussex County Day – February 12 (discounts for Sussex County residents); Valentine's Day ($25/couple)
Check out our YouTube video for a sneak peek at all the action!

For more information visit the Skylands Stadium website. Also, check out the rest of our pictures on our Facebook page!
You may also enjoy: