Who inspired the name for the famous toy Lincoln Logs?
Who coined the term OK?
Who inspired the creation of teddy bears?
The answers to each of these questions is a different President. The position, role and impact of the POTUS has shaped our nation's progress (as well as our culture). The beauty of living in New Jersey is that we do have a phenomenal amount of quality learning opportunities. From living museums to historical locations, your family has the ability to actually walk in the footsteps of our founding fathers.
This year, take advantage of another holiday that's dedicated to the accomplishments of all of our Presidents. Have some birthday cake, wear period clothing or meet reenactors, but definitely enjoy the history that surrounds us every day at one of these unique events. And just in case you were curious, the answers are Abraham Lincoln inspired the name for Lincoln Logs, Van Buren was known as "Old Kinderhook" and Theodore Roosevelt didn't kill a bear cub which inspired the creation of teddy bear as a childhood toy.
Mommy University Presents
2020 Brain Boosting President's Day Events
A Conversation with Mary Todd Lincoln
Historic Allaire Village, Farmingdale
February 15, 2-3 pm PM
Cost: $20
Enjoy this interactive conversation with the first lady of the United States and learn insights about Abraham Lincoln.
Presidents' Day for Kids
Crane House & Historic YWCA, Montclair
February 17, 10 – 12pm
Cost: $15 per child
Using hands on activities and crafts, children can learn about past presidents at this drop off event. From the scavenger hunt to weaving demonstrations to the Rules of Civility by the hearth, there will be plenty for families to enjoy as well as learn.
Morris Museum, Morristown
February 17 11-1 PM
Cost: General Admission
After walking through the Mega Model Trains and the Aerosol:Graffiti exhibit, you can bring the kids to see the historical paintings of Washington and Lincoln. As well, they will be hosting a special President's Day craft.
Grover Cleveland Birthplace
Caldwell
February 18 1-4 pm
Cost: FREE
Visit the home of the only US President born in the United States, Grover Cleveland! His home is open to the public on President's Day, where you can learn about this Jersey native. Learning about the history of his youth is further enhanced as children can try on period clothing.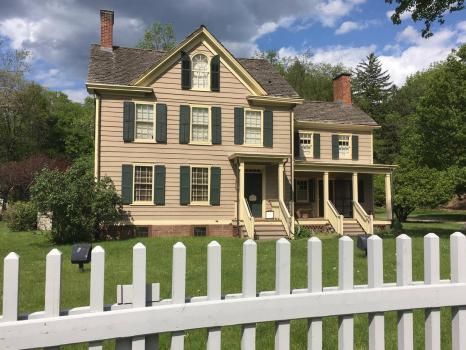 George Washington Birthday Party
The Washington Crossing Visitor Center Museum, Titusville
February 16 12-4 pm
Cost: FREE
Are looking for a historical birthday party? Have some cake and sing Happy Birthday to the first President at 3 pm! There will be lots of children's activities including participation in Let's Draw George!
President's Day: America the Beautiful, Love Your Land
Essex County Environmental Center
February 17 1-4 PM
Cost: $35 per child
Children will learn how to conserve resources and preserve nature with projects that include recycled materials.  Children will explore their attachment to this great country and its land.
George Washington Birthday Celebration
The Dey Mansion, Wayne
February 22 11 AM – 5 PM
Cost: $5 per person
Have some birthday cake to celebrate George Washington's birthday! Learn more about the first president as well as see special appearances by the militia.
BONUS:
President's Weekend
The National Constitution Center, Philadelphia
February 17
Cost: Free Admission on Monday
During President's Day weekend, the National Constitution Center rolls out the red carpet of learning activities so that children can develop a deeper appreciation of the President's role. On Monday, there are Presidential Costume Contests to activity tables to the Kids Town Hall where they can meet Thomas Jefferson and Abraham Lincoln. There is plenty of fun opportunities here!
You might also like: