My daughter has talked about becoming a Princess since she was two without any introduction of royalty in our home. She is surrounded by a fantastical world where good always wins, hard work is admirable, dreams are worth chasing and love empowers us. These are lessons she has since learned from Tiana, Rapunzel, Anna and the Disney universe. During our visit to Disney World, I knew that a trip to Bibbidi Bobbidi Boutique (BBB) would be a unique experience that would allow her to step into for a day.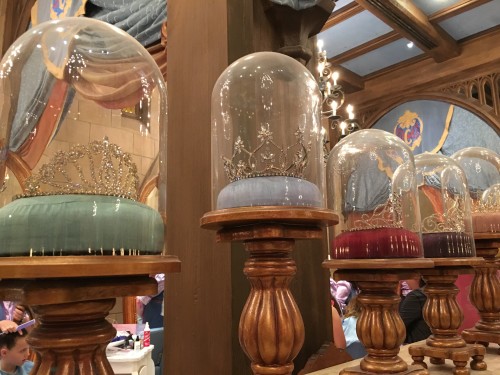 The two locations of Bibbidi Bobbidi Boutique include Magic Kingdom within Cinderella's castle and Disney Springs. They offer the same packages with slight differences that may be easily overlooked based on your schedule and goals. At Magic Kingdom, it is a smaller space so it can feel more crowded and the appointment times can fill up quickly as I overheard the receptionists continually turn people away. It is recommended, like all things at Disney, to book in advance and you may consider scheduling next to a Fast Pass to meet some of the princesses. If you do this, you will want to leave sufficient time between the BBB time especially if your appointment is later in the day when they can be running behind schedule.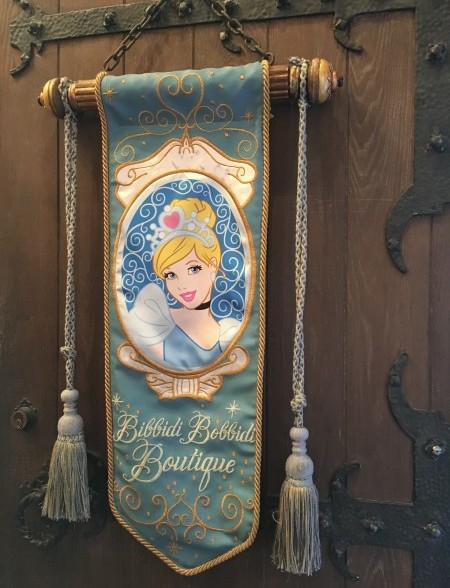 While my daughter's time slot was in the afternoon they were running on time and since she opted for the traditional princess updo it was not time-consuming. Our Fast Pass to meet Elsa and Anna was an hour later which lead to maximum photo opportunities (see below).
There are several packages which range in price from $59.95-$199.95. If you want to purchase the largest package which includes the princess gown (but not the shoes) you can spend the money; however, we preferred the basic package and brought our own outfit. We carried a Cinderella dress we purchased at the Disney store on clearance (and yes with a coupon!) as well as some silver shoes.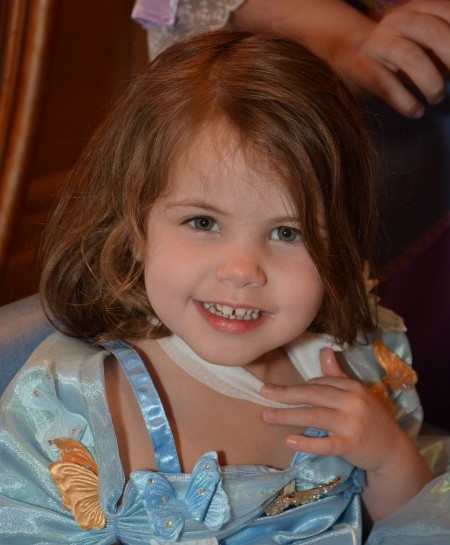 Arriving at BBB, the space is alive. It is loud and crowded, but it is so much fun. Following check in, my daughter was escorted to the back where she could change into her dress and shoes. My daughter who loves wearing nail polish decided that she didn't want that this time and proceeded to tell every Fairy Godmother that she passed.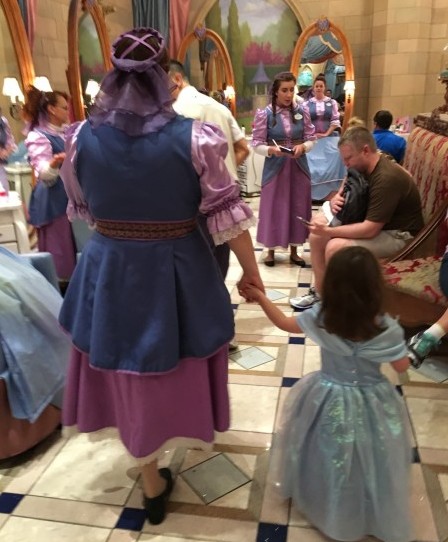 My daughter's Fairy Godmother let her know each step as it was happening. She consulted her on hair style. As her hair was being brushed another Fairy Godmother asked who her favorite princess is but since my daughter couldn't decide she received several stickers.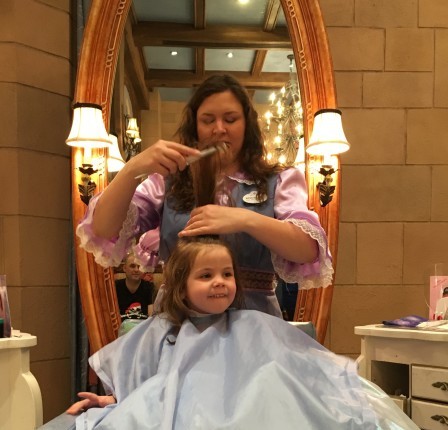 Throughout her experience a Memory Maker photographer walked through the Boutique taking photos of the transformations. Within this post you can easily decipher the photos from my camera and the professional ones.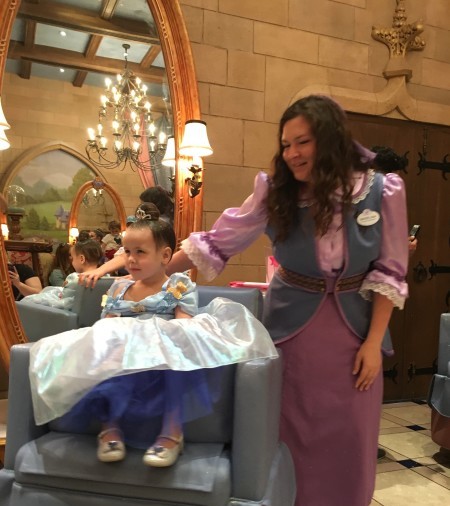 After the hair style, nail polish, make-up and sash which is all provided in our package is the magic moment. My daughter who has not seen any of this being done is now swung around to face the mirror so she can have fairy dust sprinkled on her head as her Fairy Godmother says, "Bibbidi Bobbidi Boo."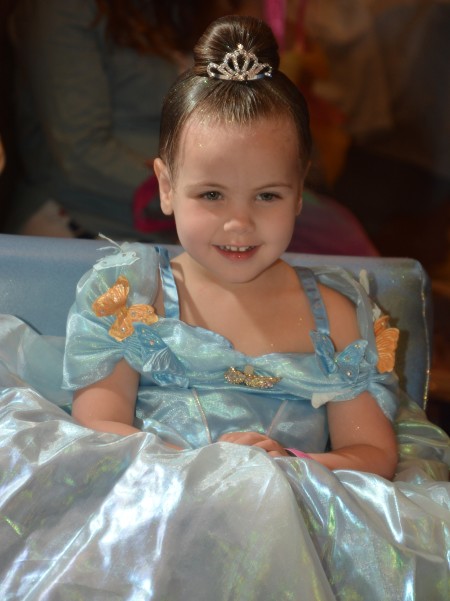 As a mom who does not subscribe to the Princess philosophy but rather dreams of a galaxy far far away, I admit it was adorable. There is nothing like seeing their eyes light up as they see themselves in their own fairy tale. Our next stop was the shop across the path for a photo session to capture her moment and then quickly afterwards a visit to Elsa and Anna.
A Few More Things:
Since my daughter refused nail polish and make-up, her Fairy Godmother placed this plus her hair comb in a bag that they provide you. Several months later she took out the make-up would apply each day.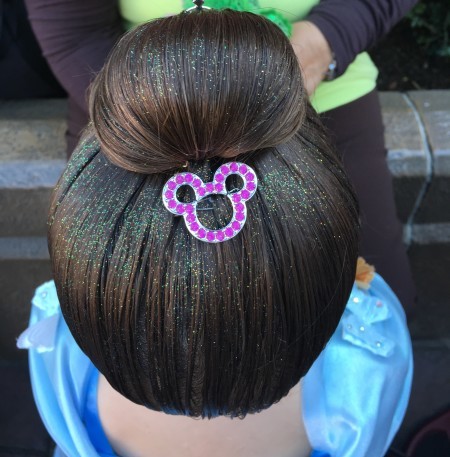 I was concerned with my daughter's age. At the time my daughter was a few months short of four years old but was patient and managed the distractions well. I did see another girl who did not appear three years old and she was not handling the experience well. Several Fairy Godmothers attempted to calm her by reading fairy tales to her. I appreciate the effort they invested so that she could have her princess experience.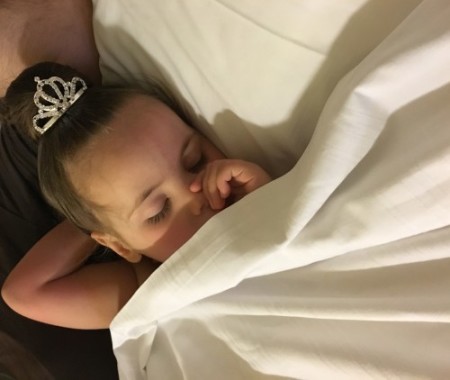 My daughter's hair is slightly below her shoulders but they were able to put in the traditional bun. The hair is lacquered with hairspray so if you prepare well and your daughter can withstand the itchy scalp it can be maintained for three days. If you attempt this you will need hairspray to touch up. Our attempt lasted a second day as we enjoyed the lunch at Akershus with several princesses.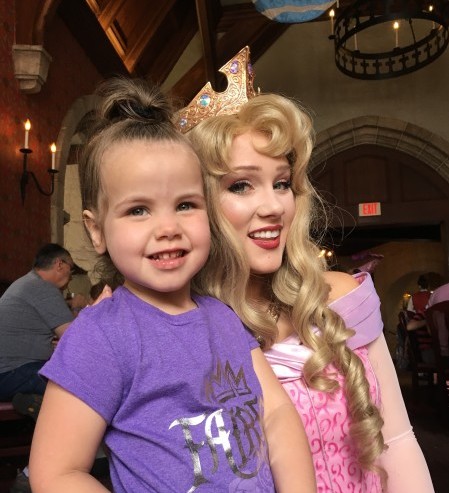 At the end of the first day, the tiara came out. At the end of the second day, my daughter was done with the updo. I am surprised that my daughter could wear her hair up for this long. While the hair doesn't last, the tiara is put away, the nail polish chips, the memory of that day as she spends time with a Fairy Godmother will always be cherished. I have no problem admitting I am a proud cheap-skate, however, if she wanted this experience again I would be more than happy to let her have another Bibbidi Bobbidi Boutique moment.
You may also enjoy: