Mommy University is so excited to partner with Jennifer of WDW Vacation Planners to bring you this post!
This April will be our 8th trip to Disney World. I have been in charge of every trip which includes booking the hotel, making restaurant reservations and choosing Fast Pass times. Although this is a lot of fun, it can be very time-consuming and exhausting. As a Disney Vacation Club (DVC) member, I had not entertained the idea of using a Disney travel agent as I always go through DVC to book our room. This year, however, I decided to step outside my comfort zone and give up the planning reigns, and I am so happy I did.
This trip, my mom and stepdad are vacationing with us so we decided to use Jennifer of WDW Vacation Planners to book their room and meal plan. Not only is she a great agent, she is also my friend. My husband and I had already booked our DVC at Beach Club and Polynesian so we were all set. As I started to work with Jennifer to plan my parents' vacation, however, she showed me all the ways a Disney travel agent can help that I had never thought of.
Besides quickly and easily finding a resort for my parents in their price range, Jennifer was very attentive to what we wanted to get out of our vacation. Even though we have visited Walt Disney World many times, I still had questions about things such as the dining plan which we had never done before. It was so wonderful to have someone so knowledgable to talk to and bounce ideas off of. I am not sure I would ever book a Disney trip without the help of Jennifer of WDW Vacation Planners again!
5 Reasons to Use a Disney Travel Agent
It's FREE
Did you know there is no extra fee to use a Disney travel agent? That's right! Whether you book your trip straight from Disney or through a certified agent, the price will be same. Disney agents are paid directly from Disney so there are no hidden fees or charges. In fact, in some cases, you will get even get special perks such as free mini golf passes.
Insider Tips
Disney travel agents don't just plan vacations, they also go on them (a lot)! That is why they are the perfect people to ask about all your Disney needs. Although I have been to Disney many times, Jennifer still knew so much that I had yet learned. She also provided tips based on her past experience. Disney travel agents can tell you all the ins and outs of a Disney vacation which will make it even more magical!
Saves Time
Before using Jennifer, I would plan out all my dining and fast passes myself. I would wait by my computer or phone until the exact time of opening and feverishly begin the planning. It was a stressful experience especially when the system shut down and I spent and entire ride to work on the phone. For this trip, I gave up the reigns and let Jennifer book my dining. I still had a say, of course, as I picked the places I wanted to eat but Jennifer made all the reservations. I have to say, it was really nice to not stress about getting on the computer at exactly 180 days out.
Keeps You Organized
I thought I was organized until I worked with Jennifer. It's amazing how organized a Disney travel agent can be. Right from the start, Jennifer provided detailed and easy to understand information for our trip. For my parents, she provided a spreadsheet that compared hotels and their prices. It made the decision simple and quick. Recently, she sent me another spreadsheet to choose Fast Passes. Being organized makes choosing the right magical adventure much easier.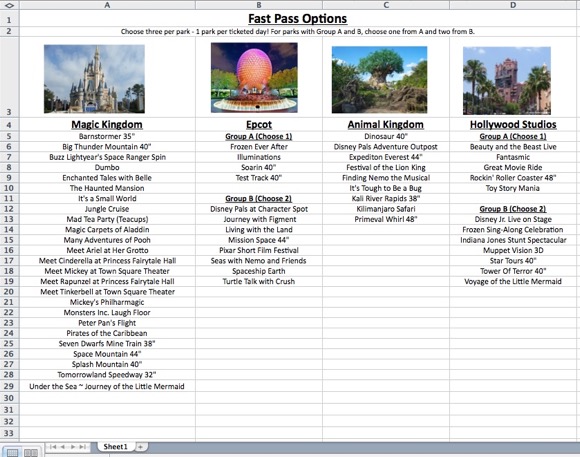 Always There When You Need Them
Have a question about what to pack? Want to change a dining reservation? Realize you forgot to book a princess meet and greet? No worries! Your Disney travel agent can help. No need to wait on the phone or search through the website to find answers or change plans. Jennifer was wonderful in helping us choose and change dining reservations, and I am sure she will do the same with our upcoming Fast Passes.
These are just a few out of the many reasons to use an amazing Disney travel agent when booking your next magical Disney vacation. To contact Jennifer of WDW Vacation Planners visit her Facebook page. You can also call her at (973) 224-2604 or send an email to jennifer@wdwvacationplanners.com.
You may also enjoy:
30 Day Educational Disney Countdown: Planning, Parks and More
10 Educational Experiences at Magic Kingdom
Magical Experiences Outside the Park
Celebrating Easter in Walt Disney World