We are so excited to work with Disney On Ice and Feld Entertainment to bring you all the magic Disney has to offer families! Updated for the Fall 2017 Dare to Dream show!
Themes that are often found in Disney films focus around love, family and kindness. Walt Disney has always imagined a magical world in each iconic film that was made since his animations came to the silver screen. His films and the stories told in the Disney universe encourage us to dream. Whether we realize it, to have a dream is not always encouraged or accepted. Thus this year's Disney on Ice production, Dare to Dream, has a strong statement that is reinforced with select stories to remind us to be bold and brave in our lives.
Traveling throughout the United States, Disney on Ice provides families with compelling performances of the tales we love. The show will not portray the entire story but rather excerpts or abbreviated interpretations. For the children who know every line, they highlight the stories well, and when children may not be as familiar with a story, it is presented in a manner that they can understand and won't feel left behind. In every Disney on Ice show, families will be entranced by stunning costumes, perfect choreography and our favorite music accompanied by gravity defying ice skating.
After watching Dare to Dream in January 2017 which was our fifth Disney on Ice production, we were invited to watch the updated show in November 2017. The earlier production had Tiana while Frozen was removed, however it now features Cinderella, Rapunzel, Anna and Elsa as well as Moana which had my daughter very excited. Stringing these stories together conveys the larger message to our children that dreams are important.
 Mommy University Presents
Dreams Disney On Ice Inspires
Dreams of Success
There are four stories told in Dare to Dream, however our favorite was the new addition to Disney on Ice that is Moana.  Although, this is the first story I am sharing Moana closes the entire show with stunning visuals and popular songs.  Maui appears singing his signature song, but the largest presence will be Tamatoa who lights up the entire place with his shiny decorations.  Disney on Ice channels creativity by using symbolism in scenery to represent Te Fiti and Te Ka.  My favorite part happens to be when Gramma Tala's spirit animal, the stingray, skates across the stage.  Moana reminds us to remain tenacious that success comes with hard work.
Dreams of Love
It is not uncommon for us to not feel accepted at points in our lives but with the strong support and love from others as well as our own strength we realize we will be fine.  Despite Anna's optimism in Frozen, her sister Elsa has to accept herself and the love from others.  Frozen remains one of the most visually stunning with  snowflakes landing on the audience as Elsa learns to "Let it Go".
Dreams of Courage
Cinderella defies her wicked step-mother to embark on a trip to the ball to meet the prince. With a visit by her fairy Godmother and a little "Bibbidi Bobbidi Boo" she is now prepared to ride the carriage to the grand event. Her dreams do come true because she has the courage to follow her heart, and what takes place are two amazing moments in the performance. The carriage ride is beautiful but the horses pulling the carriage are mesmerizing. The dance at the ball is a large-scale number that is impressive.
Dreams of Finding Yourself
The last story is the tale of the dreamer herself: Rapunzel. Another favorite in our household and popular among the 3-4 year old population, this is an abbreviated version of the movie. You will hear Mother Gothel singing "Mothers Knows Best" as well as the awesome "I Have a Dream" at the Snuggly Duckling scene. The striking imagery of Tangled has recreations especially with the lanterns being featured. Rapunzel knows in her life that something is missing and her dream becomes to find herself. She learns who she is as well as other characters truly discovering themselves.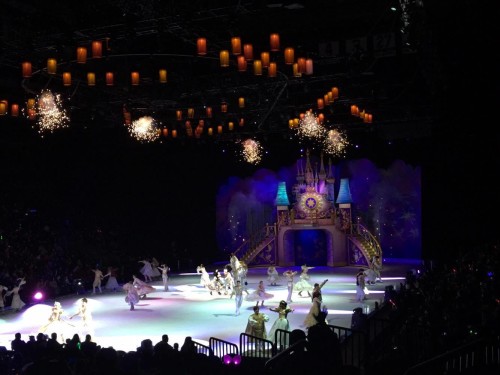 Threaded together is that each of these dreams is accomplished with the presence of love. There is love of their prince, but also of family, friends and nature. What I find most interesting is that Disney on Ice puts these stories together, and we begin to see a theme emerge that becomes powerful conversations we can have with our children so that they dare to dream.
You can follow the Disney On Ice on social media to see more highlights from their shows:
Facebook: www.Facebook.com/DisneyOnIce
Twitter: www.twitter.com/DisneyOnIce
Instagram: www.Instagram.com/DisneyOnIce
YouTube: www.YouTube.com/DisneyOnIce
If you like this post, you might like: