When you wish upon a star…
Everything's Gonna Be Alright.
Just like literature, music has the power to recall strong memories that define a moment. As we stand in an elevator and hear a song from our childhood or a song from a dance we attended, music forms connections between our past and other people. There are songs that can easily be mistaken for poems which is why it doesn't surprise me that some songs are finding their ways into the laps of children in mesmerizing illustrated books.
It doesn't matter if the music is country, jazz, reggae or rock, the message of the songs used in books has a beautiful meaning that children can understand and appreciate. It also adds a new element to their understanding of self-expression. In some cases, there might be a debate if the song or the book came first; however, it doesn't matter because the intersection of art, music and poetry makes these books a wonderful addition to your home. We have included Amazon affiliate links to make finding these amazing books quick and easy!
Mommy University Presents
10 Awesome Books Inspired by a Song
Forever Young by Bob Dylan
An iconic voice in sound and message has been incorporated into the children's book Forever Young. Bob Dylan's music became anthems for the Civil Rights movement and he was awarded the Nobel Prize in Literature, but this book carries the simple idea to teach children to respect others. For Dylan fans, the illustrations hold clues to experiences from his life. Songs like "Blowin' in the Wind" and "If Not for You" are also children's books if you want to continue to explore his music.
What a Wonderful World by Bob Thiele and George David Weis
As a jazz fan, the raspy voice of Louis Armstrong is easily recognizable. What a Wonderful World has an uplifting message that makes you smile. Bold illustrations in this book highlight each line of the song with strong imagery that furthers highlights a positive message. The diversity represented in the book is perfect for preschool children. Sadly, the book doesn't include a CD but I think this is a perfect bridge to teach children about jazz music. Side Note: This song was played at my wedding so it holds a special place in my heart.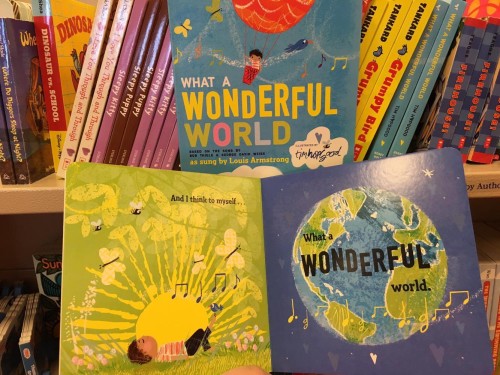 Octopus's Garden by Ringo Starr
The sweet sounds and innocence of The Beatles is captured in the Octopus's Garden. The stunning illustrations and bright colors highlight the dreamy impact that children can embrace their imagination. If you pick up the book/CD combination, you can listen to Ringo sing or read the book. If you are gifting this book, add an octopus! If you are a Beatles fan, there is "Yellow Submarine" as a book as well.
Over the Rainbow by Harold Arlen and E.Y. Harburg
If this song holds a special place in your heart, then Over The Rainbow is a great book to add to your child's library. The song won an Academy Award from The Wizard of Oz so this is a song they will hear many times. The surreal imagery and calm tone makes this a wonderful book to read before naptime.
Every Little Thing by Bob Marley and Cedella Marley
The tropical sounds of reggae music have always inspired me to feel at ease, and Bob Marley is the most iconic artist of this genre. His message of love and acceptance is also brought to life in Every Little Thing by his daughter. The illustrations are of a boy that maintains a positive enthusiasm for life. Three little birds help him along his journey where he is reminded that everything is going to be alright. If Bob Marley is your music, then also check out "One Love" which has also been made into a book.
You are My Sunshine by Jimmie Davis
There are songs we identify instantly and You are My Sunshine is a song that a lot of moms sing as a lullaby to their infants. This song has been reinterpreted by many artists and has now been illustrated into a children's book. Several children are shown cuddling with their favorite stuffed animals which makes this another book that is perfect before naptime.
A Coat of Many Colors by Dolly Parton
The story of Dolly Parton has always moved me as she has overcome extreme poverty through talent and resilience while still giving back to the community. One of her most revealing songs "A Coat of Many Colors" is the story of her mom sewing her a coat of scraps which became her most treasured item. I love how this book promotes that material items are nothing compared to the love of family.
When You Wish Upon a Star by Leigh Harline and Ned Washington
Winning best song in 1940 from the animated film Pinocchio, you can now read a book that has been inspired by the lyrics we have heard thousands of times. When You Wish Upon a Star is sold with a CD but the lyrics don't match the book. The dreamy imagery will please any Disney fan as a book to read before bedtime.
Pete the Cat Wheels on the Bus by James Dean
Everyone's favorite blue cat is back to in this illustrated story of the classic children's song Wheels on the Bus. A lovable character connects the words to the song as the book contains lyrics to this iconic song. Pete is the coolest feline so he brings a fun element to many songs such as "Old McDonald Had a Farm" and "Twinkle Twinkle Little Star."
Puff the Magic Dragon by Peter Yarrrow and Lenny Lipton
The beloved song of Puff the Magic Dragon has been sung for decades yet it was only in the past decade converted into a children's book. The dreamy hues of greens and blues has a calm tone that complements the song. This book is sold with the CD which can add a new layer to story time.
Check out our other amazing book lists: