Mommy University is so excited to partner with Shawnee Inn and Golf Resort to share with you all their fun family adventures.
We were recently invited for a return visit to the Shawnee Inn and Golf Resort for a winter getaway. We had so much fun exploring the hotel this summer that of course we said YES! Located in Shawnee on Delaware, in the heart of the Pocono Mountains in gorgeous Pennsylvania, Shawnee Inn and Golf Resort offers year round fun for the entire family. The winter is an especially exciting time to take a trip to the Poconos!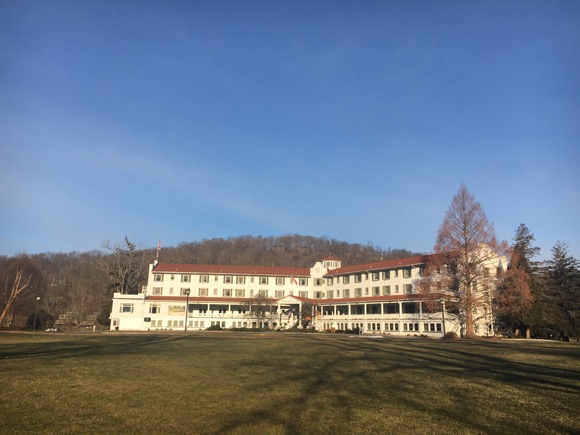 Built in 1911, Shawnee Inn offers 80 guests rooms in the main inn each with their own unique style and layout. I love that each room is different making each visit a new experience. Our room for this stay was completely different from our first stay. It offered 2 queen beds, dresser, flat screen television, mini-refrigerator and coffee pot. We also had a full bathroom with bath products from Emma's Friends. This trip we also took advantage of the luxury pillow menu by ordering a memory foam and body pillow to use for the night FREE of charge.
Shawnee Inn and Golf Resort offers opportunities for adventure along with wonderful ways to relax and unwind. We experienced both each day during our visit. We enjoyed a guided nature walk then took a nap in our cozy room. My boys also let out some energy at the pool then relaxed in the game room with a fun puzzle. A winter getaway at Shawnee Inn is perfect for a family that is on-the-go but also perfect for a family looking for a weekend of relaxation. There are so many reasons to visit Shawnee Inn this winter but here are our top 5!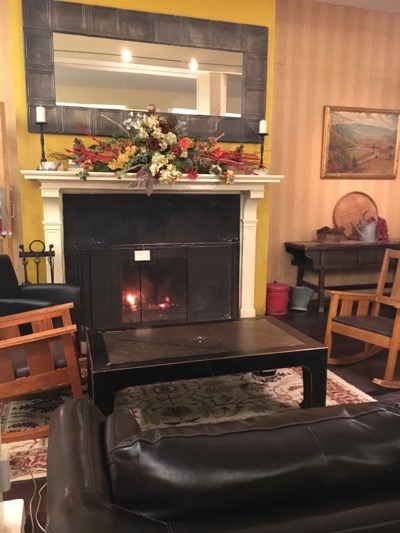 5 Reasons to Visit Shawnee Inn This Winter
Ski and Stay Packages
Shawnee Inn offers great Ski and Stay packages for the entire family. Located just minutes away is gorgeous Shawnee Mountain Ski Area that offers 23 slopes and trails, 2 terrain parks, 6 lifts, 4 carpets and snow tubing. Shawnee also offers wonderful learn to ski programs for all ages. With this package guests receive all-day lift tickets to ski or snowboard. A full hot breakfast is also included. We enjoyed the breakfast buffet during our visit which was amazing. It offered everything you could possibly want for breakfast including an omelet station. It is the perfect way to fuel up before hitting the slopes.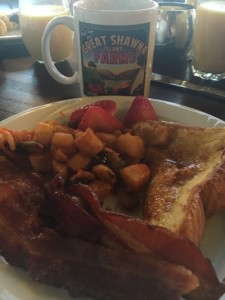 Guests can take a shuttle to Shawnee Mountain Ski Area or drive themselves as it is only 3 miles down the road and parking is FREE. Shawnee offers lessons for ages 3 and up but reservations should be made in advance to ensure participation. There is also a warm lodge to relax in between runs or while waiting for the kids to finish their lessons.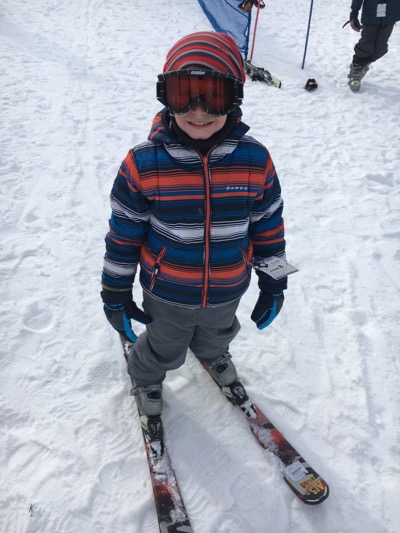 Outdoor Adventures
It might be cold, but that does not mean you have to stay indoors! During the winter, Shawnee Inn continues to offer outdoor adventures such as guided hikes, hayrides and evening walks. You can also explore the grounds on your own or just sit and relax at the waterfront on one of their benches.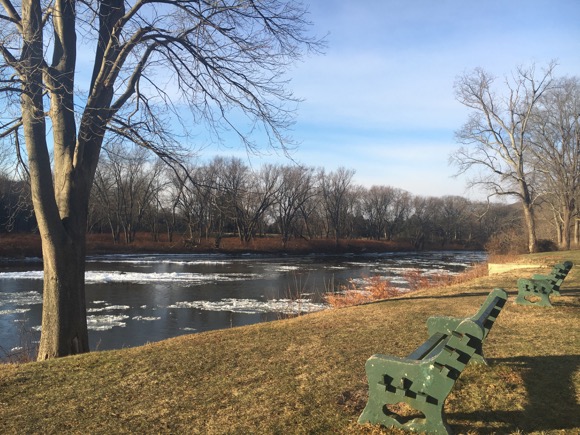 During our visit, we enjoyed a private guided walk around the grounds. Our guide shared with us the history of the resort and taught us about the trees found on the property. He also explained to my kids what shelf-ice was and why it was dangerous. Our guide was very engaging and showed so much care and interest in the resort which made the experience even more interesting.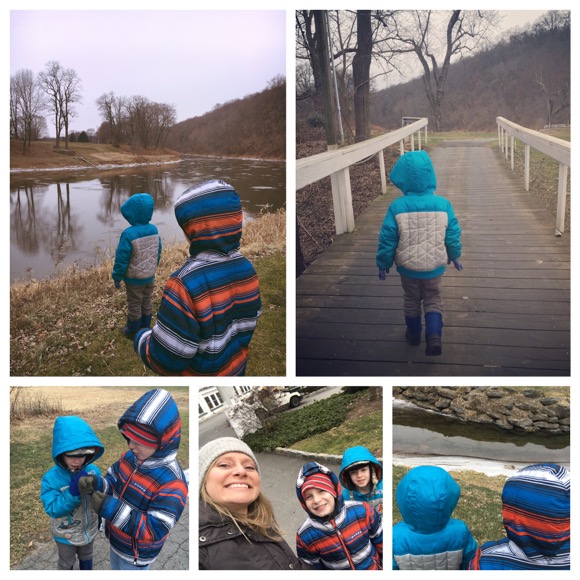 Family Game Night
Guests of Shawnee Inn can enjoy quiet nights in their room with a game or more lively evenings in the game room. At the front desk, guests can borrow a variety of board games as well as puzzles which are perfect for family bonding. Games can also be played by the lobby fire making it a cozy evening for everyone.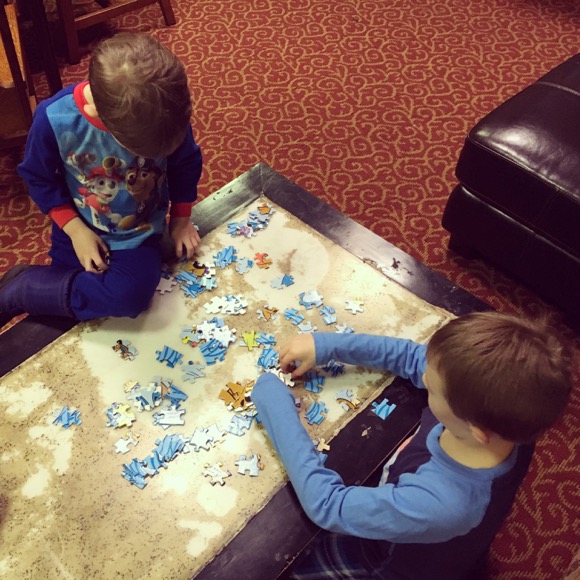 Another fun game night experience is playing pool or ping-pong in the game room. Since our last visit was mostly spent outdoors, we completely missed this hidden gem in the resort. It is located on the main level, down the hall from the lobby, and can be used by any guest of the hotel. My boys had fun learning how to play pool then playing with some new friends we met during our stay.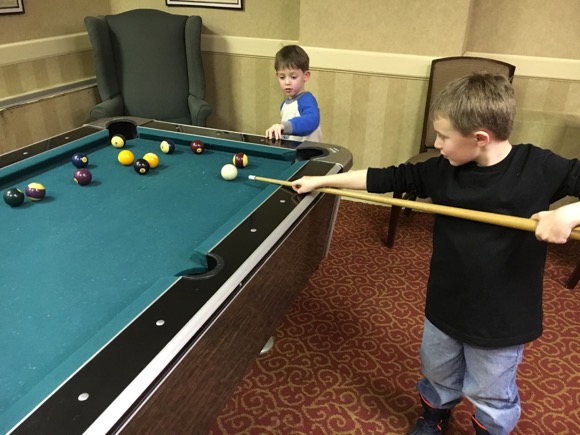 Daily Activities
Besides daily hikes and walks, Shawnee Inn and Golf Resort also offers a list of daily activities that appeal to all ages. From a tour of the Shawnee Craft Brewery to outdoor archery to live music, there is always something to keep families entertained even in the winter. They even have a campfire with s'mores (weather permitting). The list is posted each morning in the lobby. You can also find the list on their website so you can plan ahead of time which experiences you would like to enjoy.
Pool Time
My kids' favorite adventure at Shawnee Inn during our winter trip was splashing around in the pool. They loved it so much that we went twice in one day! Shawnee Inn offers a large indoor pool and adult only hot tub that is open until 10pm each night. There are lounge chairs all around the pool for parents to relax in while they watch their kids jump, swim and play in the pool. The hot tub also has a perfect view of the pool for even more relaxation.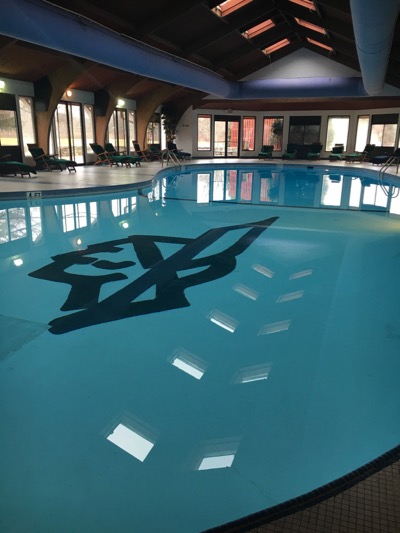 We absolutely LOVE Shawnee Inn and Golf Resort, and we know you will too! To learn more, please visit their website. Also, check out our Facebook page for more pictures of our stay!
You may also enjoy: