For some, the first sight of snow makes them retreat into their homes, but for many it is a sign of the greatest season of the year, Ski Season! In my article 10 Benefits of Skiing, I mention all the amazing reasons families should hit the slopes like building confidence, enhancing motor skills and developing an appreciation for nature. Whether it's cross country, downhill, moguls or, what I enjoy, a calm ride down the bunny slope, skiing brightens up a winter day for so many people especially those in the Northeast!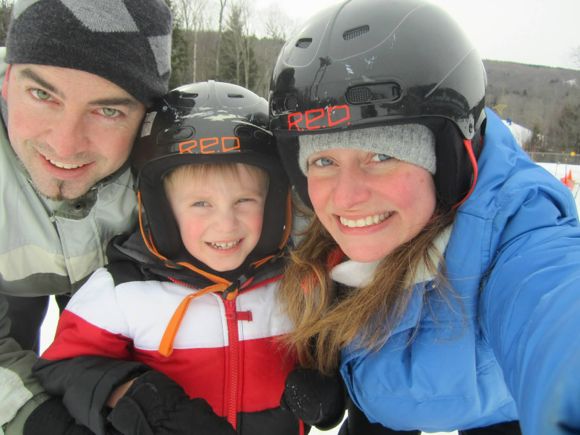 Being a resident of New Jersey, I have had the pleasure of experiencing some amazing ski mountains in and around my state. North Jersey offers some fun ski adventures, while a short drive to the Poconos or New York also offers an array of outdoor skiing fun. Since so many families are looking for amazing places to go skiing, I thought it would be helpful to put together a list of some of the amazing ski mountains that are easy to access for my fellow NJ residents!
Amazing Places to Ski In (and around) NJ
New Jersey
Mountain Creek
If you are looking for excitement and adventure this winter, then Mountain Creek is the place for you! With over 167 acres of trails on 4 mountain peeks, there is something for everyone. Mountain Creek offers 46 trails ranging in difficulty as well as 8 lifts from magic carpets to high-speed quads. Mountain Creek also offers an over 67 acre Terrain Park with 12 specific trails ranging from entry-level to advanced features. Mountain Creek is open through March with day and night skiing/snowboarding available. Want more adventure? Check out the Drop Zone Snow Tubing Park with more than 30 lanes of exhilaration.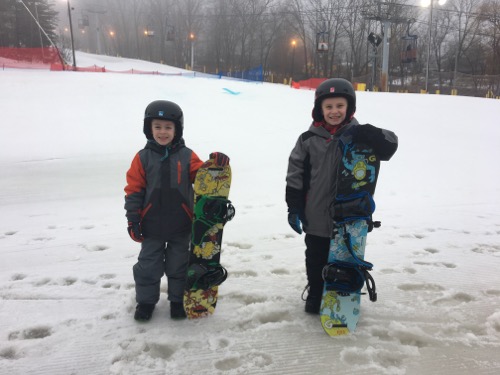 High Point Cross Country Ski Center
If cross country skiing is your passion then head up to High Point Cross Country Ski Center in Sussex, NJ. The Center offers 5 trails ranging in length and difficulty. Make sure to check the website before visiting to ensure the trails are open. Don't know how to cross country ski but want to learn? High Point Ski Center offers private and group lessons for all levels. They also have a Youth Ski League for kids ages 12 and under. Equipment rental is also available.
Campgaw Mountain
Located in Mahwah, NJ, Campgaw Mountain offers family adventures all winter long with skiing, snowboarding and tubing. The mountain features: 3 magic carpets, 2 double chair lifts, 13 trails, a freestyle terrain park and 10 tubing lanes. Campgaw offers day and night skiing and is open daily. There are also plenty of options for lessons for mountain goers ages 4 and up. Racing programs are also available for ages 8-18.
Washington Crossing State Park
Located in Titusville, NJ, the Nature Center at Washington Crossing State Park offers exciting brain boosting adventures for the entire family. This winter you can enjoy a Cross-Country Ski Workshop where you will learn all about the different types of cross-country ski equipment and how to choose your first pair of skis. After the indoor lesson, participants will enjoy an outdoor ski lesson as well. Check the website for dates and times.
Palisades Interstate Park
Enjoy a day of cross-country skiing at Palisades Interstate Park in Alpine, NJ. There are close to 5 miles of designated trails ranging in difficulty and length. Hiking trails can also be used for skiing adventures. Skiers must bring their own skis as rentals are not available at this site. Visit their website to download a map and brochure of the trails.
Poconos, PA
Shawnee Mountain
Shawnee Mountain Ski Area is an amazing ski location that caters to the entire family! With 23 slopes and trails, 2 terrain parks, 6 lifts, 4 carpets and snow tubing, there is winter fun for everyone. Shawnee also offers wonderful learn to ski programs for all ages but I especially LOVE their children's programs. Kids as young as 3 years old can hit the slopes at Shawnee this ski season. They offer mommy and me, private, group, full day and half day programs to meet every ski and snowboard need and interest. Shawnee offers day and night skiing allowing families to enjoy the mountain ALL DAY!
Camelback Mountain
With over 160 acres to explore with 39 trails and 16 lifts, ski goers from all over can't help but love Camelback Mountain. Located in Tannersville, PA, in the heart of the Poconos, Camelback offers winter adventures for the entire family. Lessons are available for ages 3 years old to adult, and kids can participate in private, half-day and 90-minute beginner lessons. Have a 4th or 5th grader? They can ski for FREE at Camelback Mountain with the Snowpass program. Looking for even more adventure? Then check out the Galactic Snowtubing experience which offers a nighttime light show across 42 lanes of tubing.
Jack Frost Big Boulder
Jack Frost Big Boulder offers two amazing mountains for even more winter fun and excitement! Jack Frost boasts 20 trails and 12 lifts while Big Boulder offers 15 trails and 10 lifts. Winter sports enthusiasts can enjoy day and night adventures as Jack Frost is open most days 9am-4pm while Big Boulder is open most days 3pm-9pm. Snow tubing can also be found at both mountains. Jack Frost Big Boulder offers lessons for individuals ages 3 and up. They also offer an amazing adaptive program that provides individuals with disabilities and special needs the opportunity to learn to ski.
Montage Mountain
Located in Scranton, PA, Montage Mountain offers 26 trails ranging in difficulty from beginner to advanced with 7 lifts along with a terrain park. Montage Mountain offers ski and snowboard packages along with snow tubing adventures. What's unique at this mountain is the newest winter sport, air boarding. The mountain offers lessons for children and adults which can be done day or night. There is also an adult race league for those that are really daring!
Blue Mountain
With 40 trails and 16 lifts open day and night, Blue Mountain in Palmerton, PA will get any skier and snowboarder excited for winter adventures! What I love is that Blue Mountain offers experiences for everyone! Lessons are available for ages 3 and up, and adaptive lessons are available for individuals with visual impairments, developmental delays or deafness. Adults ages 70 and up and children ages 5 and under receive FREE season passes at Blue Mountain. Child care is also available for parents who want some time to hit the slopes alone!
New York
Hunter Mountain
Hunter Mountain in Hunter, NY may be a little farther of a drive from NJ, but it is packed with winter fun. With 67 trails, 13 lifts and 3 terrain parks, Hunter Mountain offers all day fun for individuals of all ages and levels. There is also a snow tubing park with over 20 chutes along with a Mini Tubing Park for children. Hunter Mountain provides lessons for children and adults. Guests can enroll in private and group lessons, camps and workshops as well as join competition teams.
Mount Peter
I am surprised that I only recently learned about this amazing ski destination as it is just over the New York border in Warwick. Originally started in 1936 by Macy's to show off and sell ski fashion, Mount Peter offers winter fun for the entire family. It has 14 trails, 5 lifts and 1 terrain park. It also offers a snow tubing area including the Little Tikes Tubing Play Area for kids under 42 inches tall. Mount Peter employees over 125 ski instructors so individuals of all ages and levels are sure to get an amazing learning experience when enrolling in a lesson. In fact, Mount Peter offers FREE lessons for beginners
Holiday Mountain Ski and Fun Park
Take a road trip to Monticello, NY for an exciting ski adventure for the entire family. Holiday Mountain Ski and Fun Park is a small mountain with 7 trails, 2 lifts and a new magic carpet which makes it perfect for learning to ski. Day and night skiing is offered. Group, private and semi-private lessons are available and begin at age 3.5 years old. Snow tubing is also available every Friday, Saturday and Sunday.
So what are you waiting for? Pack up the kids and hit the slopes!
You may also enjoy: