Mommy University is so excited to partner again with Shawnee Mountain Ski Area to share our learn to ski experience!
From the moment we pulled up to Shawnee Mountain Ski Area, my kids were beaming from ear to ear. They didn't care that it was freezing. All they cared about was learning how to ski. Although both of my boys have skied before and have taken lessons, I believe you can never have enough help and support when learning to ski. That's why when Shawnee Mountain offered my boys lessons again this year, I had to say YES!
My boys first took lessons at Shawnee 2 years ago. My little one's feet were so small he barely fit in the boots but he was excited and ready to learn. My older son, however, was more apprehensive and nervous but after his lesson, he was so proud of himself and what he had learned. I loved seeing the pride and confidence on his face so I decided to take them to Shawnee again for lessons to kick off the ski season. Plus, January is Learn to Ski month so it was perfect.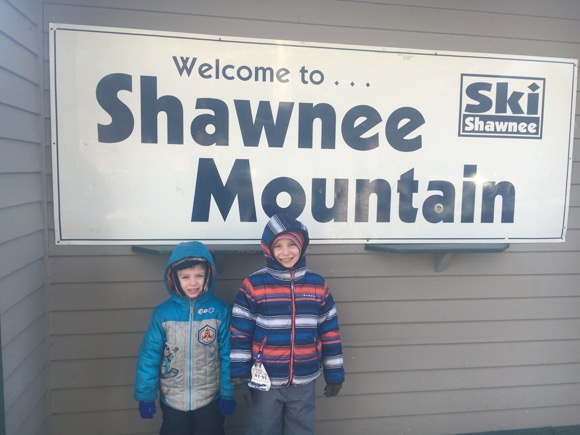 Shawnee offers a variety of options for lessons such as private, group, half-day and full day. My boys were enrolled in the one hour small group lesson. From the moment we arrived, everyone was incredibly attentive to my kids' needs and abilities. From the receptionist to the person providing the equipment to the instructors, each Shawnee employee was engaging, enthusiastic and truly interested in my boys.
How does the lesson work?
After signing up and picking up our equipment, my husband and I brought our boys to the designated ski lesson line. They were placed in groups based on ability/experience and age. This allowed them to not only interact with same-age peers but also learn at their level and pace. My boys both said goodbye and off they went. We were asked to come back in one hour.
Now what?
Wondering what to do with a whole hour to yourself? As a parent, this can feel like a vacation! There are so many options depending on your interest. My husband chose to hit the slopes. He enjoyed taking the lift to the top of the mountain which provided spectacular views. He felt the cold fresh air on his face as his zipped down the mountain. He was reminded of his youth when he used to ski all winter with his friends without a care in the world.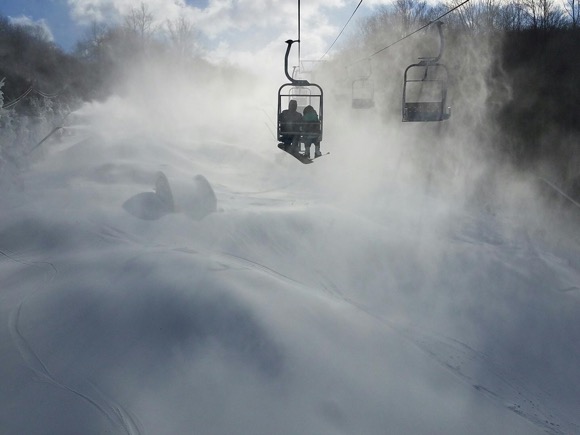 I, on the other hand, headed straight to the lodge. Although I enjoy ski blading, I felt like relaxing inside in the warmth was the perfect way to spend some time alone. It was recommended that I visit the Hickory Licks Restaurant and order an "adult" hot chocolate. That was great advice as I thoroughly enjoyed some me time with a delicious Butternip.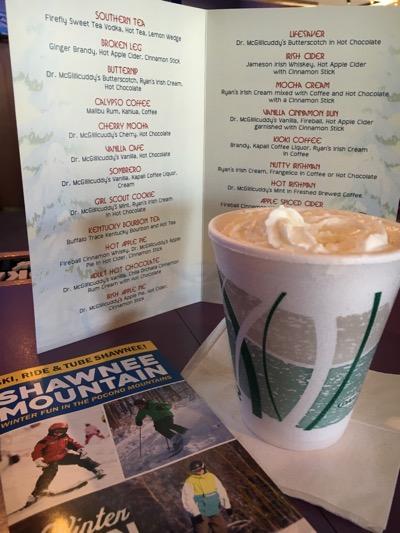 Why lessons?
You may be wondering why you should sign your kids up for lessons instead of teaching them yourself or letting them learn by doing. Although learning to ski with a parent can be fun, let's be honest, we are not always the best teachers. We have great intentions but skiing is a skill. It's an art form. Let's be honest, it's hard! I say leave it to the professionals then just reinforce what they have learned later.
5 Reasons to Learn to Ski at Shawnee
Variety of Lesson Options
Shawnee Mountain offers a variety of ski lesson options that cater to ages 3 and up as well as all interest and ability levels. Half and full day options (3 and 6 hours) are available for kids ages 4-15 years old (SKIwee, Mountain Cruisers and Young Riders). SKIbaby and Mommy and Me programs are available for little ones (age 3). Do your little ones want to learn to snowboard? Shawnee also offers WEEriders and WEErider Park. Group and private lessons are also available every day for ages 6 and up.
Designated Area for Lessons
Shawnee provides designated areas for lessons. They are roped off from the rest of the mountain making them safe from other skiers who may be going too fast (or too slow). It also ensures a safe number of people in each area allowing for more space to learn. Lastly, as a parent, I feel much more comfortable leaving my child knowing they are in a safe and secure area surrounded by staff.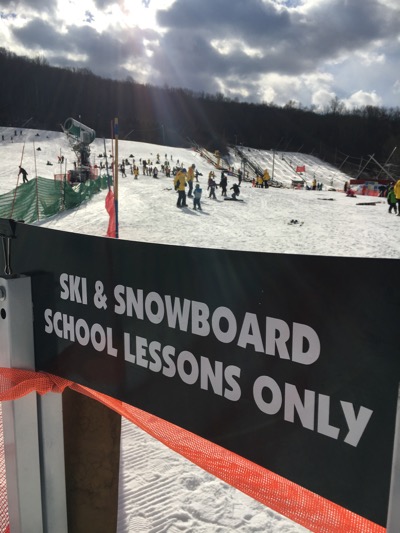 Teaches Proper Technique and Terminology
"Just point your skis that way." "No, lean this way." That may make sense to you but not to your new skier or snowboarder. Lessons let kids learn the proper technique to not only be a good but a safe skier. It also teaches the proper terminology which enhances skills AND vocabulary. After their lessons, my kids were telling me all about what they had learned including the names for each move. They also showed me when they hit the mountain again with their dad.
Builds Confidence
Skiing is a fun and exhilarating sport but it can also be difficult and scary for some kids. My older son was not ready to learn at age 3 like my little one but at age 5 Shawnee was able to decrease his fear and increase his confidence. After his first lesson 2 years ago, my son left beaming with pride and was no longer afraid of the sport.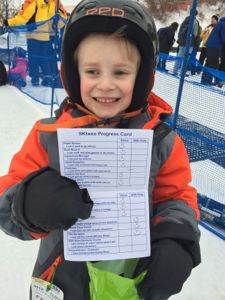 He skied last year with greater confidence thanks to the team at Shawnee. This year, I wanted him to work on his technique more since he was no longer as afraid or apprehensive to learn. My son went into his lesson ready to learn and came out an even stronger skier. It is wonderful as a parent to watch my son learn and grow in such a positive way. He left his lesson with even more confidence than before!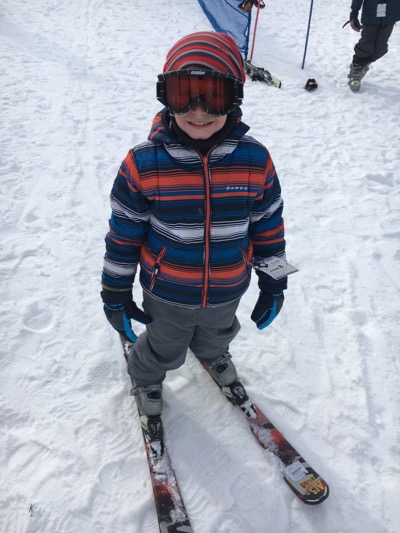 It's Fun (of course)
For kids to learn, it is important for them to have fun and be engaged. At Shawnee, the instructors immediately take an interest in the kids so a great rapport is easily established. This allows kids to feel comfortable and ready to learn. As I watched my kids in their lessons, I saw them beaming from ear to ear. Not only were they increasing their skills but they were having fun while doing it!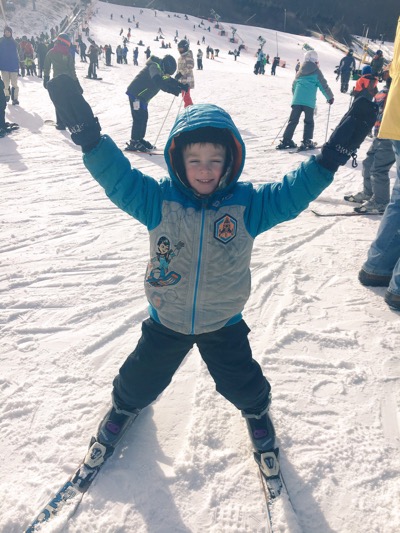 Did you know that January is Learn to Ski Month? To celebrate, Shawnee Mountain is offering a special Learn to Ski or Snowboard package for only $69 that includes lift ticket, rentals and group lesson. For more information about this and other great Shawnee events and programs, please visit their website!
Check out all of our photos from our Shawnee Mountain adventure in our Facebook Photo Album!