Mommy University is so excited to partner with Paint Party Farm to bring you information on their brain boosting fun as well as offer this amazing giveaway!
Are you ready for a NEW experience?
The Paint Party Farm is a great place to have fun with your friends (or make new ones), relax and unwind, or simply discover your inner artist. It is situated on an old farm in rural Ringoes, New Jersey offering a picturesque setting. According to their website, their mission is "to provide children a tailored educational experience where the students have the ability to discover and explore their full potential in a relaxed setting." This aligns perfectly with Mommy University's belief in learning through play and experiences.
Paint Party Farm offers a variety of fun and unique experiences for all ages. From Mommy and Me classes to fundraising events to summer camps, there is something for everyone to enjoy. They also offer private parties for kids and adults. During a kid's party, guests are able to paint a masterpiece on the first floor with the guidance of a painting instructor, while the adults can stay and relax on the second floor. Parents can also set up some games outside while the children are painting (weather permitting). After painting, guests can then explore the farm. You will even get to see the animals such ascows, chickens, geese and goats. The best part is that each child takes home their unique designs as a party favor.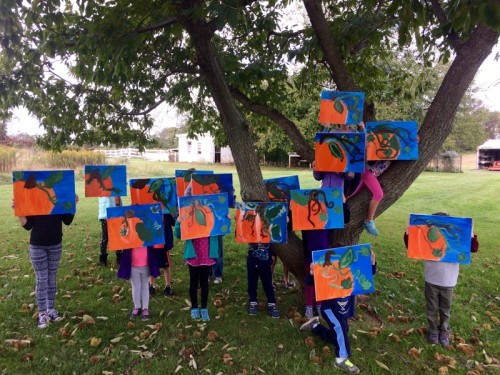 Mommy University Presents
Benefits of Visiting Paint Party Farm
Invites Children (and adults) to Express Themselves
Both kids and adults will have a blast at a Paint Party Farm event. The Paint Farm Studio is lively, educational and fun making it the perfect brain boosting experience. A different image is created at each class so every time you visit, you're in for a new art adventure. For parties, the birthday child gets to pick the painting from Paint Party Farm's gallery and with the guidance of staff they will learn a new medium and techniques to express themselves. Kids and adults will be encouraged to express their own unique personalities as they paint. This also helps enhance creativity and imagination.

Enhances Art Skills
The Paint Party Farm is still an art class and that means even if you know don't know anything about art, you'll walk away with a meaningful painting as well as a new experience! Even veterans of the craft can vouch for adult painting classes and just how educationally different they are.  No matter the age or the experience, everyone can leave gaining new skills.  For example, my kids loved painting their turkeys and I enjoyed painting my Christmas Ornament.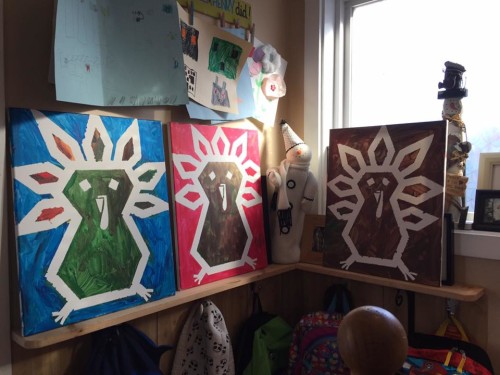 Engages Children in a Multi-Sensory Environment
Paint Party Farm offers a true multi-sensory experience. Whether it's for kids, a bridal shower, reunion or just a girls day out, everyone will love hanging out together in this unique and inspiring environment. Children will love getting messy as their senses are engaged with the smell and texture of the paint. Guests will also engage all their senses when they explore the farm and interact with the animals.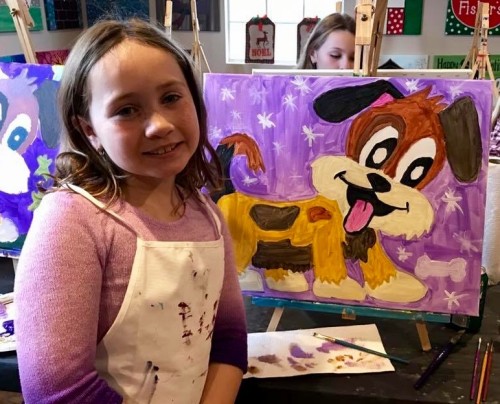 Encourages Children to Unplug
Paint Party Farm is located on a rural farm which provides a wonderful learning space as children can observe animals and ask questions. At Mommy University, we are fans of the learning that takes place on farms as it offers hands-on experiences. It also encourages kids (and adults) to unplug and be a part of nature. The peaceful sounds of the farm encourage children to be present with nature and the world that surrounds them.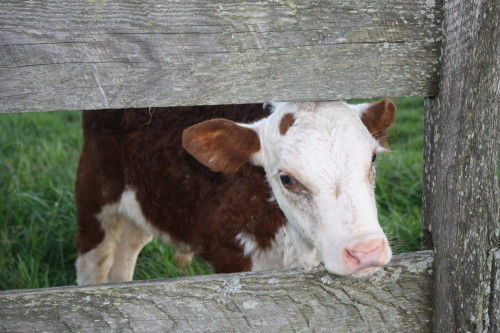 Enhances Academic Knowledge
Did you know that Paint Party Farm doesn't just offer painting classes? Kids can also participate in one-on-one instruction and tutoring to enhance academic skills and boost confidence. The sessions are catered to the student's unique needs and focuses on their areas of need. Positive reinforcement, praise and encouragement is an important part of each session which helps build self-esteem and fosters a love of learning.
Paint Party Farm is located at 24 Rosemont Ringoes Road, Ringoes, NJ. For more information about Paint Party Farm and their upcoming schedule, please visit their website.
FYI: Paint Party Farm is BYOB and bring your own food. Guests are allowed to bring any food or drinks they want to their party. This allows guests to enjoy a quick bite (or sip) while learning how to paint.