Since 1961, the Rotary Club of Denville has had a special guest visit from the North Pole. Every year following Thanksgiving, Denville invites Santa Claus to meet with families by the fireplace. Santa Land is an annual tradition that all the locals know and love that offers a unique experience.
For 2019, the tree lighting takes place on December 1 with Santa arriving in the Town Holiday Parade at 2 pm.  Santa Land has several stations where children can run outside and play while they wait their turn to meet with Santa. With the crowded malls and the overwhelming urgency we feel, Santa Land offers families the opportunity to slow down and enjoy the moment with a beautiful set up.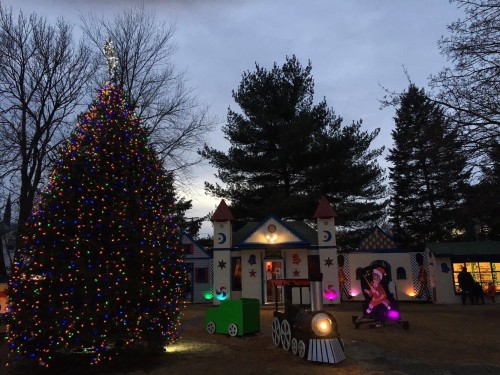 Mommy University Presents
Hidden Learning at Santa Land
Encourages Being Outdoors
My guilty confession is that once we land in December, I tend to avoid the outdoors. I love the crisp cold air for several minutes but it is a struggle to find small activities to be outside. Santa Land, however, is planned so that children are outdoors and burning energy. They can admire the Christmas tree or Nativity scene. They can climb on the train or watch movies projected on the Gingerbread House. The design allows for many children to enjoy the different outdoor stations.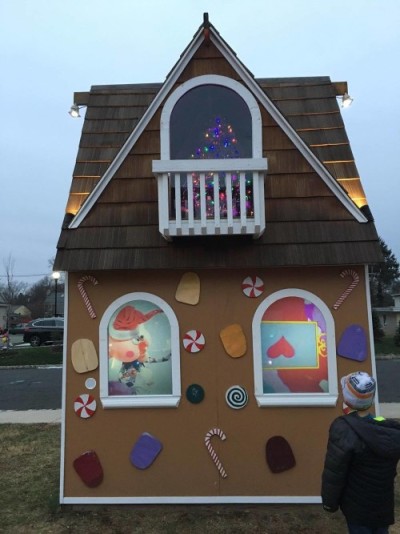 Boosts Language Development
I have always appreciated complex dioramas because they open the opportunity to introduce and reinforce vocabulary words. For young toddlers, this can be labeling all the tiny details they see in the Christmas scenes or for preschoolers it can be asking them to describe what they notice in each one. There is a little station that houses teddy bears enjoying hot chocolate next to a fireplace and Christmas tree which made my daughter squeal in delight. While my son was fascinated with the elves at Santa's workshop as he began to describe all the toys he saw.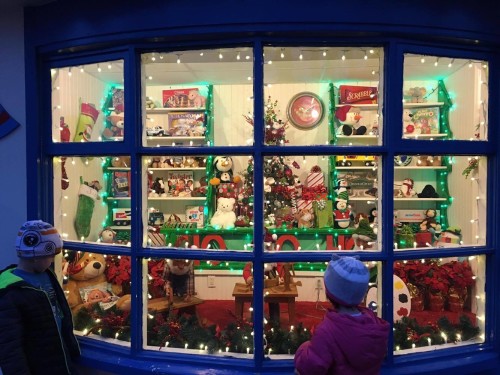 Promotes Writing/Drawing Skills
Located at Santa Land is a mailbox where children can drop off their letter to Santa. You can have them write him a letter prior to leaving. If they ask how come they are writing a letter and seeing Santa, just remind them that it helps keep Santa organized since it is a busy time of the year for him. If a letter is too much for them to write, ask them to draw a picture to give to Santa as a thank you for his hard work. Ultimately, this is an opportunity to encourage your children to develop their fine motor skills.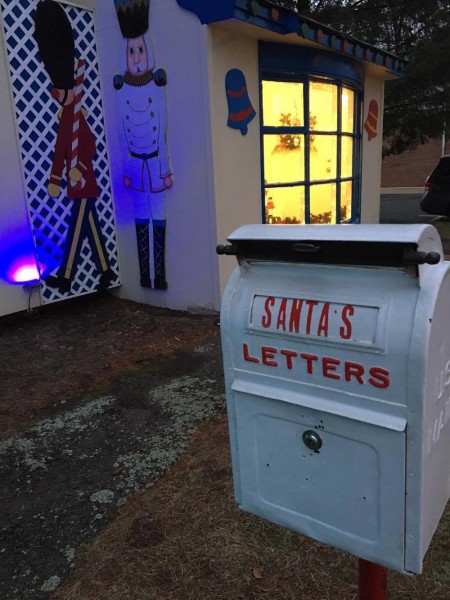 Building a Sense of Community
The Rotary Club of Denville has been hosting this community event for over 50 years. They donate their time and services to put this elaborate program together which can be perfect to introduce them to the idea of being civic minded. It is great to discuss how members of the community come together to host Santa and give back to the community.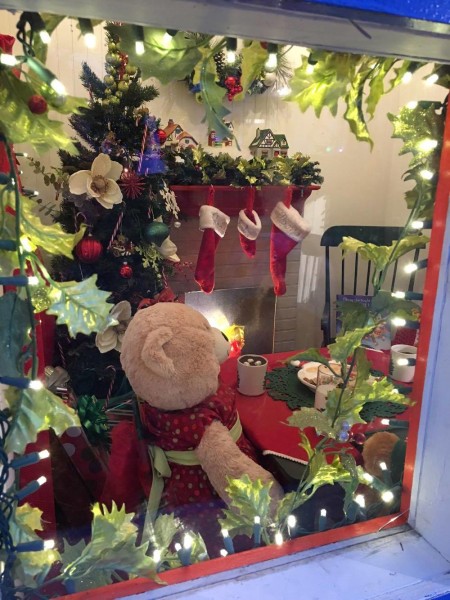 Designed for Individual Attention
Families meet with Santa Claus inside his home which allows for quality time with the man in red. Since we arrived on a weekday there was no line; however, the set up of the outdoor space allows for children to run around while a parent waits on line. Once indoors, Santa is seated in a comfy chair and behind him is a beautifully decorated tree and wrapped presents on the floor. While the fireplace he is sitting next to is not real, you feel immediate warmth and calmness in the room. For children who become overwhelmed or have sensory issues, I found this space allows children to take their time. Santa had a great conversation with my kids as they asked each other questions and talked about Christmas. For a suggested donation of $5 we received a photo of the kids with him.
We arrived at Santa Land at dusk and I have to say it is so pretty in the dark. The Christmas lights on the tree and surrounding each station makes this a great stop in the weekday afternoon. It is easy to understand the affection locals have for this rare experience.
2019 Santa Land Hours:
December 1-23
Weekdays:    3pm to 7pm
Weekends:  1pm to 6pm
Santa Land is located at 57 Diamond Spring Road, Denville, NJ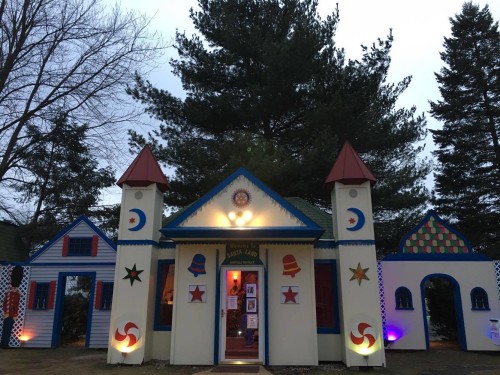 If you like this post, you might like: