Uncle Milton is known for their amazing Star Wars Science line of toys. Not only do they build on a fan's love of Star Wars but each toy offers an amazing learning through play experience. We have had the pleasure of reviewing the Death Star Planetarium, Mustafar Volcano Lab and Millenium Falcon UV Light Laser, and now we are so excited to share our experience with the new Death Star Electronics Lab.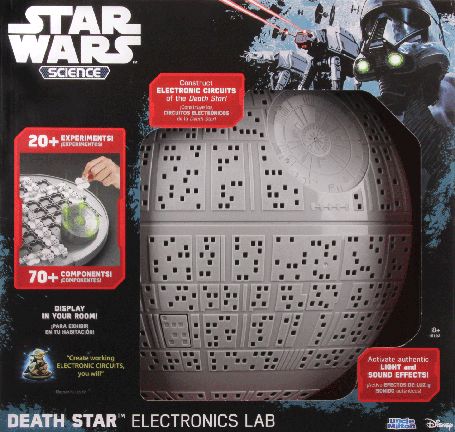 With the Death Star Electronics Lab from Uncle Milton, kids are transported into a world of STEM learning. Families and friends can work together to conduct over 20 experiments using more than 70 components which sparks their curiosity and imagination. To play, kids have to put together circuits which help activate the Death Star. It is a true multi-sensory learning experience as kids will activate lights, tractor beams and even sounds from the Star Wars movies!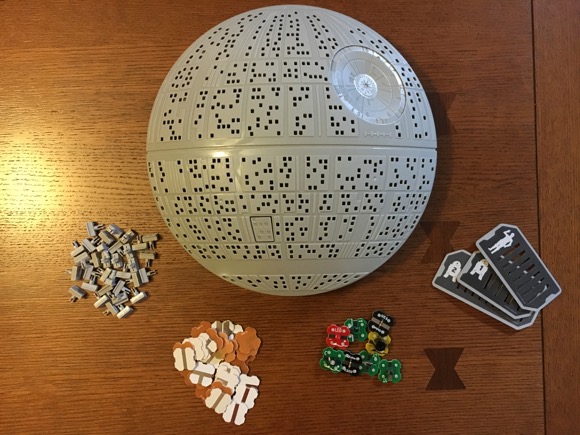 The Death Star Electronics Lab comes with 2 resistors, 2 switches, transistor, capacitor, phototransistor, red LED diode, touch conductor, 28 wire chips and 33 connectors. An activity guide is also included with full color diagrams for each experiment. The guide also includes real life scientific lesson to go along with the experiments. I loved that the guide offered a description of each circuit and electronic component. With this lab, kids don't just follow instructions, they are actually learning what they are using and WHY they are getting the result they are getting.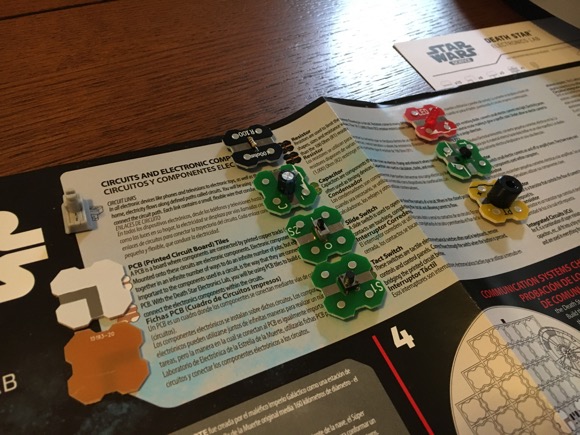 From the moment the Lab arrived my kids were begging to open it. It was hard to contain them but we wanted to save it for family game night so we could all learn together. It was easy to set up and the instructions were simple to follow as they offer visual representations of every experiment. Although the Lab is recommended for ages 8 and up, my 7-year-old had no problem independently following the instructions after only a few models provided by myself and his dad. My 4-year-old was even able to join the fun with guidance.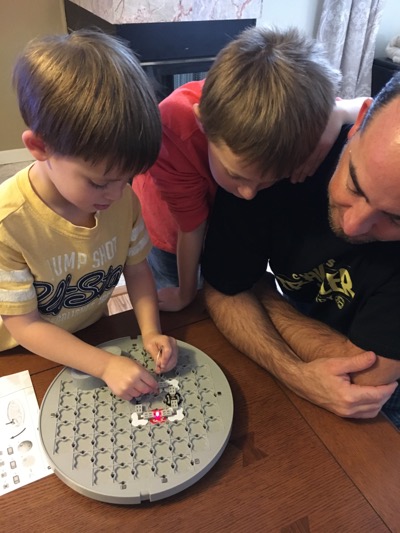 The Electronics Lab helps kids learn so many important academic skills. Every step taken to complete an experiment provides an opportunity to learn. My kids developed some amazing skills while playing with the Death Star Electronics Lab.
Benefits of the Death Star Electronics Lab
Improves Visual Scanning and Discrimination Skills
To start, I had my boys match each circuit and component to their picture in the guide. To complete this task they needed to visually scan and match each piece. In order to be successful, they had to pay attention to detail and take notice to small differences between some of the components. Next, while creating the experiments, my boys had to carefully look at each design in the guide and choose the correct components. They learned that if they put the piece the wrong way, it wouldn't work. This taught them to look at every detail.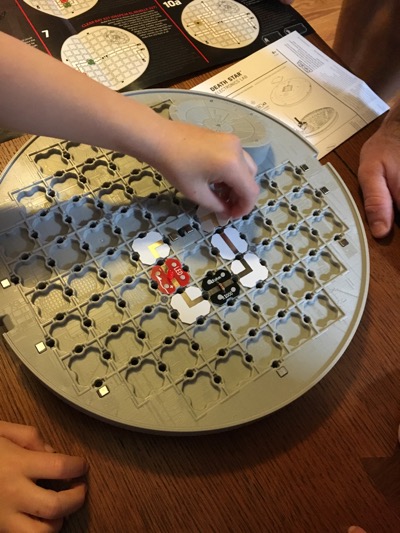 Enhances Fine Motor Development
Since the pieces are so small, placing them in the Death Star take a great deal of fine motor control and planning. Kids have to carefully grasp the components which enhances their pincer grasp. Then as they place them in the lab, they enhance fine motor manipulation. Some experiments even require the use of other materials such as a paper clip. For this experiment, my son had to very carefully pinch the ends of the clip together. This helped build motor control and strength.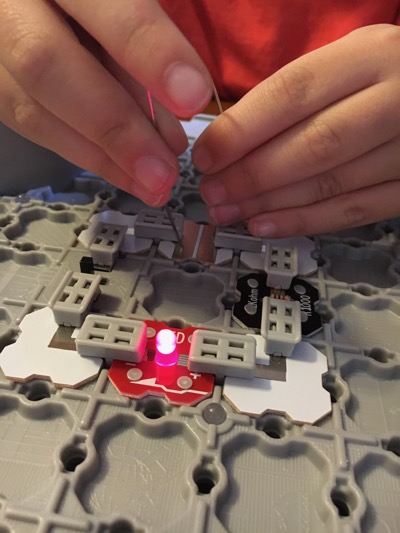 Increases Understanding of the Scientific Process
I love how the Death Star Electronics Lab teaches kids about the scientific process. Before each experiment, kids can read the directions which offer insight into the science behind the experiment. You can also ask your kids what they think will happen when they create the design. Have them make their own hypothesis. Some experiments also show what will happen if the circuits or components are placed in the wrong spot or direction. This allows kids to truly understand cause and effect. The guide also encourages kids to really pay attention to the details of the experiments like the brightness of the light or volume of the sound. This allows for a wonderful multi-sensory learning experience.
Fosters a Love of Star Wars
As my kids get older, it is so fun to watch them gain more and more interest in Star Wars. The Death Star Electronics Lab sparks their curiosity even more. This is perfect timing as Rogue One is about to be released in the theaters. Of course the Death Star design itself is cool, but what really grabs my boys' attention is the creation of lights and sounds. My son loved hearing Chewbacca as well as the alarms going off. Learning more about Star Wars helped boost my kids creativity and imagination as they pretended to be Star Wars characters the entire night after playing with the Lab!
The Death Star Electronics Lab from the Uncle Milton Star Wars Science line is a must-have for Star Wars fans as well as budding scientists. Did I mention that you can even hang the lit Death Star on your wall as a nightlight? How cool is that? You can purchase your own Death Star Electronics Lab for under $40 using our Amazon affiliate link.
You may also enjoy: