We are so excited to bring you this year's Play and Learn Stocking Stuffer Guide. We are thrilled to partner with some amazing and award-winning companies who provided some of the brain boosting toys on this list so we can share them with you this holiday season.
Ever since I was a little girl, my favorite part of Christmas morning was digging through my stocking to see what treasures Santa had left me. Don't get me wrong, I loved opening the presents under the tree too, but there was just something exciting about looking through a stocking. In fact, I still look forward to looking in my stocking to see what my husband has left me.
This season, fill your kids stocking with toys that are not only fun but also educational. As I stated in our Play and Learn Holiday Gift Guide, toys should serve a purpose and encourage growth and development. What you put in your child's stocking should be no exception! Here are some suggestions for brain boosting stocking stuffers!
Play and Learn Stocking Stuffer Guide 2016
Funrise Mini Tonka Trucks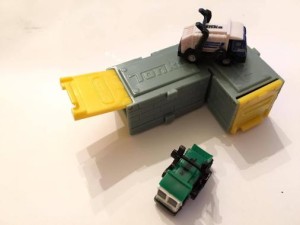 Blind bags offer wonderful opportunities to learn as they can be used in sensory bins ,and in the case of Tonka Tinys, there are so many varieties of vehicles available for the construction enthusiast in your home. Boys will love that Tonka Tinys have moving wheels as well as the garbage trucks, police cars, and fire trucks they admire arrive in a tiny version they can bring with them wherever they go.  Available on Amazon, they are also available in Target.
Creativity for Kids Teeny Tiny Tea Set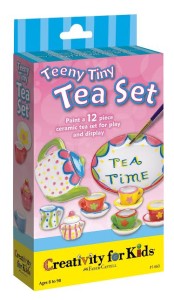 The Teeny Tiny Tea Set is adorable! Children can now decorate a miniature tea set which they can use for their dolls. This stocking stuffer is a wonderful blend of art and pretend play. I can see many children having a wonderful time painting the set expressing their artistic ideas and then using this set in imaginative play. Designed for children ages 7 and older it includes 12 pieces for them to paint. Priced less than $10 on Amazon this is a wonderful addition.
Fun & Function Scented Putty Peppermint Awakening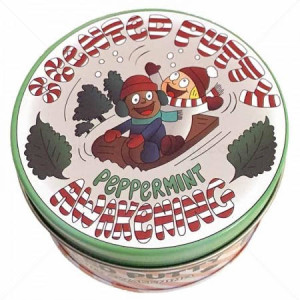 Fun & Function maintains a philosophy that all children are special.  Their products focus on enhancing children's abilities and meeting their needs.  The Scented Putty they create comes in various scents and themes including the festive Peppermint Awakening.  Putty can be therapeutic and help develop hand strength and fits perfectly in a child's stocking.  Don't be surprised if the adults want to play with this toy as well! Priced at $13 on Amazon, check out all the options available.
Creativity for Kids Make Your Own Shrink Fun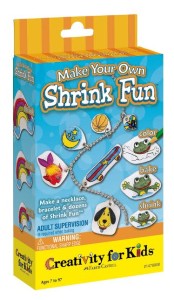 As a parent, I remember coloring sheets of paper to shrink to tiny jewelry and I am so excited that Creativity for Kids has a collection of Shrink Fun!  The Make Your Own Shrink Fun is a mixture of coloring, science, and jewelry.  As children color the sheets of paper they will have a blast watching what they made transform into charms that they will hang on a bracelet.  Designed for children ages 7 and older it is priced less than $8 on Amazon.
North Star Games Happy Salmon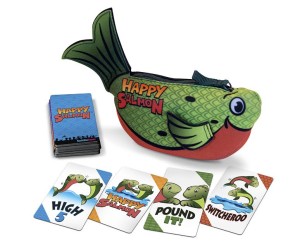 Compact but packed with lots of fun, Happy Salmon had us laughing within minutes!  Players have to match their cards with another player and act out the physical celebration.  It encourages quick thinking and has built-in celebrations as each match is made.  Everyone can participate in this game that we know will have you laughing.  It is designed for 3-6 players for ages 6 and up.  Priced on Amazon for less than $15 this fits nicely in your child's stocking.
Creativity for Kids Make Your Own Train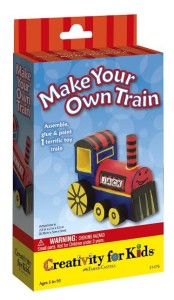 If your child likes trains, then this artistic build project is perfect for their stocking!  Children can put together this project and then paint.  It invites creativity as well as pretend play.  This is a great project for a snow day or just a lazy afternoon and priced less than $8 on Amazon it is affordable fun!
Fashion Angels Smelly Jellies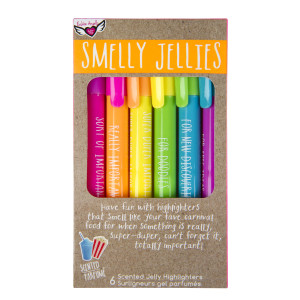 Smelly Jellies are a sensory tool that can be used for highlighting or drawing. Each stick is twistable to bring up jelly that is scented with favorite carnival food. Highlighters can be used to help kids organize their notes and to do lists. For the child who is a reluctant artist, the smooth glide requires little pressure which encourages them to draw. Priced less than $10 on Amazon, Smelly Jellies fits perfectly in the stocking!
Creativity for Kids Duct Tape Water Bottle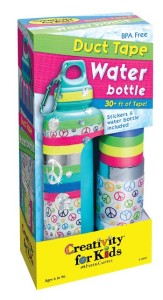 Drinking water in a reusable bottle is great for the environment and now encouraging children to be conscientious can also be fun when they decorate their own water bottle!  Creativity for Kids has this easy and engaging project where kids can express their individual style and taste using duct tape.  Priced less than $13 on Amazon this is a unique item to include in your tween's stocking.
Crayola Twistable Colored Pencils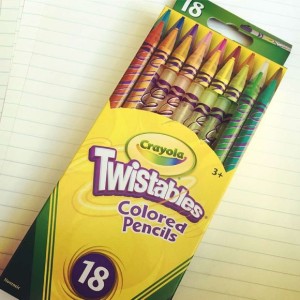 Available in packs of up to 25 pencils, these bright and bold pencils are perfect for your budding artist. No sharpening is needed as you just need to twist for more coloring fun. These pencils are perfect for adding to your child's pencil case this school year.  Twistables Colored Pencils can be found on Amazon in a variety of sets.
Fashion Angels Mini Portfolio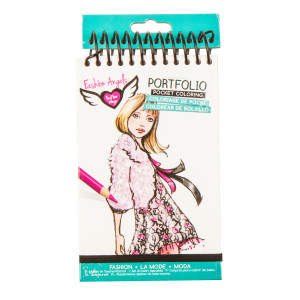 If you have a budding fashionista, artist, or doodler in your home than Fashion Angels has the Portfolio Pocket Coloring Notepad which contains many pages filled with outlines of mannequins that they can decorate!  All they need is their color pencils or markers to create their own designs that will pop off the page.  Available on Amazon for less than $12 it is overflowing with pages but will fit nicely in your tween's stocking.
Crayola Doodle Scents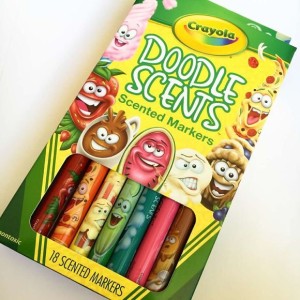 These adorable scented markers come in packs of 18 with unique smells such as pepperoni pizza, spice cake, brick oven and barn yard. Kids will love these markers so much they will be begging to draw, color and complete school projects.
Fashion Angels Tapeffiti's Mini Tubes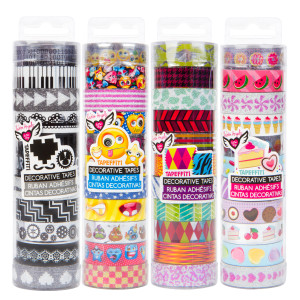 Tapeffiti from Fashion Angels encourages the inner artist to express themselves!  This mini adhesive tape can be used to adorn accessories, apparel, school supplies, and more.  There are four different themed sets: Sweet Treat Tapes, Emoji Tapes, Black and White Tapes, and Patterned Design Tapes.  Priced at $4.99 each which makes it perfect to slip into a stocking or buy all four!
You can also check out these Gift Guides: