Mommy University is excited to partner with GIANT Food Stores and Build Your Influence Summit to bring you the latest details about the Savory App.
This year my mom decided that I will be hosting Christmas. For those who don't know me, this is a BIG deal. Although I love the decorating and planning, the actual cooking part has never come easy for me. I have never really had the patience or, to be honest, the motivation to make fancy gourmet meals. As a perfectionist, this task is just too overwhelming and I prefer to avoid it all together. Luckily, I have been introduced to Savory Magazine from Giant Food Stores. What's even better is that they have launched a new Savory App which will make my holiday hosting even easier!
For those that don't know, Savory Magazine is a go-to source for entertaining, cooking and frugal living created by GIANT Food Stores. The launch of the new Savory App has opened the door to even more help during the holiday season as well as all year long. The Savory App can be downloaded on your phone or tablet easily, and it is really simple to navigate. Did I mention it's FREE?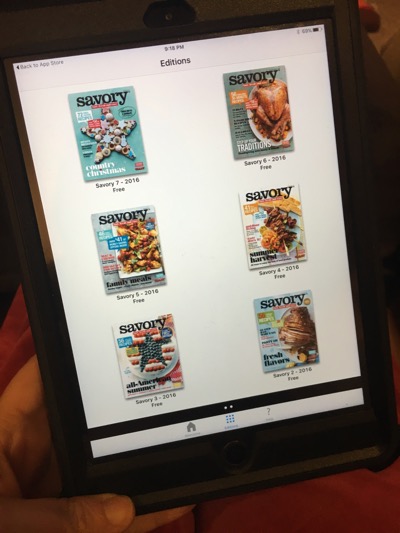 Once I downloaded the Savory App, I was so excited to see all the helpful tools it offers. It provides interactive versions of each edition of the magazine which allows for even more help during the holidays. As a full-time working mom, planning meals, let alone a huge holiday dinner, can be very overwhelming. The Savory App offers so many useful tips and ideas that it has helped alleviate a lot of my stress and anxiety. By making the holiday prep easier, I am able to enjoy more moments with my family.
There are so many features of this new app that I love especially being able to download the Christmas edition of Savory Magazine right to my phone and iPad. That means I can check out ideas and recipes during my lunch break at work or while sitting at a Cub Scout meeting. The Christmas edition offers a wide variety of entertaining suggestions including recipes, decorating tips and ways to save time and money. I love that I am able to add pages from the magazine to a my favorites so I can go back and refer to them later. This saves time and helps me organize my ideas all in one place.
One of the coolest features of the app that you can't find in the paper copy of the magazine is video access. In the Christmas edition, there are short how-to videos. For many people, like myself, having a video tutorial helps with understanding a recipe or craft instructions. I am a very visual learner so when choosing a recipe it HAS to have a picture of the finished product or I will pass it right by. Being able to see a video makes it even easier and less stressful especially for someone who struggles in the kitchen.
Another amazing feature is the recipe center. The recipes are nicely organized by category such as Holiday Baking, Savory and Kids as well as by new recipes posted each month. I can easily find what I am looking for which saves time. I especially love the Take 5 section which offers delicious recipes using only 5 ingredients. What's even cooler is that I was able to pin recipes directly to my Pinterest page from the app. How cool is that?
So what am I excited to make? EVERYTHING!
The Christmas edition of Savory magazine has so many fun holiday recipes that I cannot wait to make for the big day. I love the section on 5 ingredient meals as well as how to turn an old ingredient like Brussel sprouts into something new and fun. My favorite, however, is the Cookie-a-Day Countdown! Not only does Savory offer delicious and easy recipes, it also provides adorable decorating ideas which are such fun ways to bond with my kids before Christmas. It also sparked an idea to have a cookie decorating station for dessert on Christmas Day. This will be a fun way for every family member to show off their unique personalities!
I LOVE the Savory App and I know you will too! Visit the GIANT Food Stores website for more information!
You may also enjoy: