Mommy University is so excited to partner again this season with The Growing Stage: The Children's Theatre of New Jersey. They offer a family-friendly environment perfect for a child's first theatre experience as well as for children with some sensory needs. In exchange for tickets to each performance, we are so happy to be able to bring you all the entertainment this season as well as our honest review of each show.
Whether it's through a book, a movie or a play, A Christmas Carol is a classic holiday story that is loved by so many. While many enjoy the classic movie from 1938, others love the Disney version featuring Jim Carey. If you are like my family, then watching A Mickey's Christmas Carol is also yearly tradition. Recently, however, we have started a new tradition, watching A Christmas Carol on stage.
Last year, we enjoyed our first stage version of A Christmas Carol at The Growing Stage in Netcong, NJ. We had never seen this beloved classic as a show and was not sure what to expect, but we fell in love with it instantly. This version was even more exciting as it was a musical which added another level of emotion, excitement and holiday cheer. I was so excited when I learned that A Christmas Carol The Musical would be featured again this holiday season. A new family tradition was born!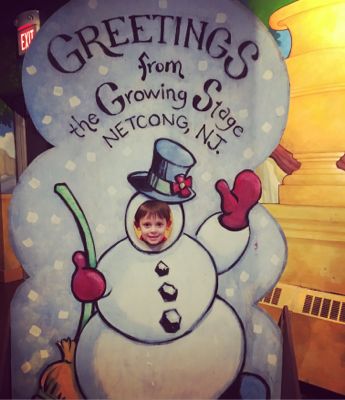 I attended the show with my boys and my mom which is the same experience we enjoyed last year. The lobby was decorated with gorgeous nutcrackers and Christmas trees glowing with lights. The house was packed with eager families ready to start their holiday season. A Christmas Carol The Musical was just as amazing and heartwarming as I remembered.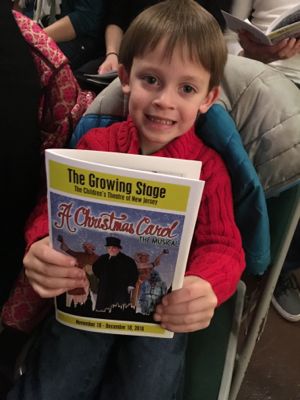 For those who are unfamiliar with the story of A Christmas Carol by Charles Dickens, this tale begins on Christmas Eve in London, England. We are introduced to the very rich but very mean Ebenezer Scrooge who shows disdain for all that approach him even his own nephew. We also learn that Scrooge is not a big believer in holiday spirit as he refuses to donate to charities and frequently responds to Christmas greetings with "Bah Humbug!"
Christmas Eve also marks the 7th anniversary of the passing of Scrooge's partner, Jacob Marley. That night, Scrooge receives a visit from Marley's ghost who is covered in chains due to his lifetime of selfish and greedy ways. He shares with Scrooge that he will be visited by three ghosts: past, present and future. This journey shows the transformation of Scrooge from a young boy to a man in love to a selfish business man. He also learns his fate and the fate of those around him as a result of his despicable behavior. This incredible journey about love and loss helps Scrooge see the error in his ways and inspires him to be a better man.
The part of Scrooge was reprised by the amazing John Patrick Clearly. He truly embodied this character and made it his own. He was so believable as we watched him go through his transformation from being a mean old man to a loving boss, friend and uncle. Every moment Scrooge was on stage was captivating. Also, reprising her role in A Christmas Carol The Musical is the talented Cara Ganski. As the Ghost of Christmas past, she lit up the entire room each time she was on stage. Her voice is angelic, and her mannerisms perfectly told the story of Ebenezer's past including the happier times in his life.
Returning to the stage this year in A Christmas Carol The Musical is also my personal favorite, Danny Campos along with Lori B. Lawrence who play Mr. and Mrs. Fezziwig. Mr. Fezziwig's Annual Christmas Ball is one of my favorite scenes in the show. It is upbeat, lively and engaging. Danny and the cast do a wonderful job of getting everyone in the Christmas spirit! Another one of my favorite scenes is Link by Link where Jacob Marly and other ghosts try to get Scrooge to see his evil ways. It was a captivating performance that used unique costuming, lighting and staging techniques to entertain the audience.
With music by Alan Menken, lyrics by Lynn Ahrens and book by Mike Ockrent and Lynn Ahrens, A Christmas Carol The Musical brings the story of Ebenezer Scrooge to life in a fun and unique way. This incredible holiday show was directed by Stephen L. Fredericks, The Growing Stage's Executive Director, and choreographed by Jillian Petrie. Musical direction was provided by the talented Stephen Fox.
A Christmas Carol The Musical is a must see show this holiday season. It runs through December 18, 2016. Tickets are $15 for all audience members on Friday evenings and $25/adult and $15/child on Saturdays and Sundays. For more information, please visit The Growing Stage's website.