Mommy University is so unbelievably excited to be chosen to be a part of Crayola's Holiday Blogger Program.
Every holiday, my boys and I enjoy making crafts to celebrate the season. We especially love making homemade gifts for family, friends and teachers. This year, we were selected by Crayola to spread some colorful holiday cheer by using the new Air Marker Sprayer. Since we are already huge fans of Crayola products and have bins full of their art supplies in our house, this was a perfect opportunity for us to get creative for Christmas.
Mommy University was first introduced to the new Crayola Air Marker Sprayer at Holiday of Play, a media event in NYC that introduced us to this year's hottest new toys. Now nominated for Activity Toy of the Year by the Toy Industry, the Air Marker Sprayer offers endless opportunities to make creative and unique projects. Kids (and adults) will have fun becoming airbrush artists right in their own home.
The Crayola Air Marker Sprayer is a electric airbrushing system that uses markers instead of paint cartridges. The set comes with one sprayer unit, 10 sheets of white paper, 2 stencil sheets and 5 pip squeak washable markers. It does not require any batteries. The Crayola Air Marker Sprayer offers hours of fun and learning as well as endless possibilities to color and create amazing art projects.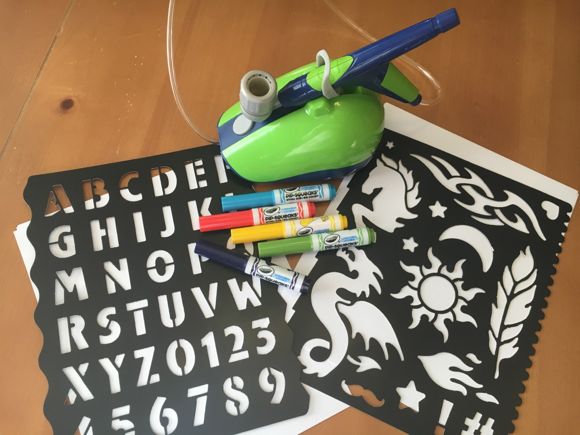 How does it work?
The Crayola Air Marker Sprayer is easy to use. It is recommended for kids ages 8 and older but my 4-year-old controlled it with ease. The sprayer uses Crayola broadline markers including the pip squeaks line. I recommend using the washable markers especially when working with young children. Here is how it works:
Set up your project materials in your workspace.
Plug in the Air Marker Sprayer. Make sure you are able to create a workspace near a plug because you do not want to tug and pull on the cord.
Insert the marker into the nozzle and twist to tighten.
Press the gray button to turn the unit on.
Aim your Air Marker Sprayer at your project and press the trigger. It's that easy!
Tip: I recommend lining the table with newspaper or extra paper to keep your furniture clean. Even though you can use washable markers, kids will still be kids so might as well add some extra protection. I also recommend testing the product out before starting your main project. To practice, we drew out a Christmas tree on white paper and sprayed it green. We also played with the stencils which was easy and fun!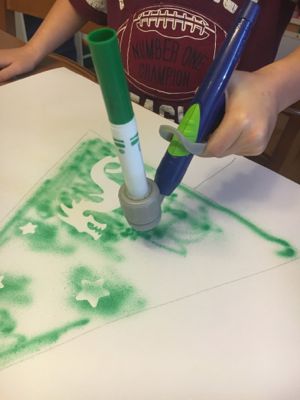 We decided to use our Crayola Air Marker Sprayer to make ornaments for our family and the kids' teachers. We incorporated other amazing Crayola products into the project for additional creativity.
DIY Christmas Ornaments
What you need:
Crayola Air Marker Sprayer
Crayola Model Magic
Crayola Markers
Crayola Model Magic Tools
Christmas Cookie Cutters
Straw
String or Ribbon
Paper or Newspaper to cover your workspace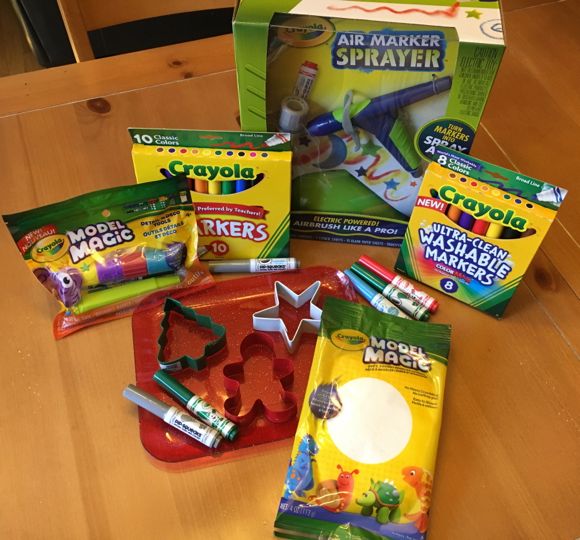 How to make the ornaments:
Use a straw to make a hole on top to add string to hang the ornaments.
Use the Model Magic tools to create designs (if desired).
Let ornaments sit for about 24 hours to "harden." It is important to note that Model Magic does not harden like clay and will still be a little spongy when fully dry. 
Spray the ornaments in your desired colors and designs.
Let the ornaments sit for a little while to dry.
When finished you can add a string or ribbon (if desired).
My boys absolutely LOVED making these ornaments! It was fun watching them add their own touches and unique designs. They loved seeing what happened when colors were mixed together as well as figuring out how to get the design they desired. We also used the stencils to add some adornments such as stars and hearts!
The new Crayola Air Marker Sprayer is the perfect addition to your at-home art studio. It enhances everyday projects and makes creating unique works of art easy and fun. We loved making ornaments but we also can't wait to make more creations throughout the year. To learn more and to purchase your own Air Marker Sprayer, visit the Crayola website.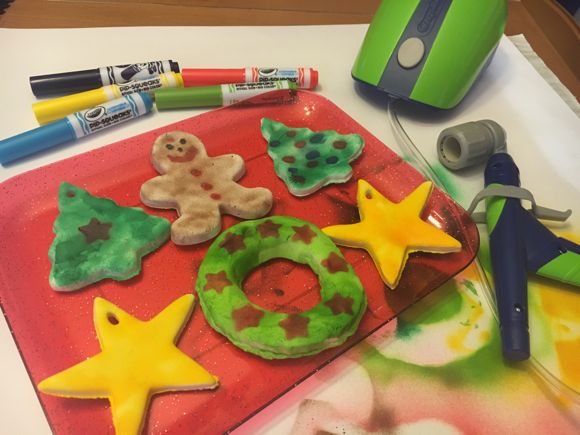 Want to win your own Crayola Air Marker Sprayer? Of course you do! We are excited to partner with Crayola to give one lucky winner their own Crayola Air Marker Sprayer. What a perfect holiday gift!
Here are the rules and conditions for this soulful giveaway:
Participants MUST live in the United States.
The winner will be chosen by Rafflecopter.
The contest will run from November 27, 2016 through 12am on December 7, 2016.
The winner will be announced on December 7, 2016.
The winner will receive the Air Marker Sprayer directly from Crayola.
The winner must respond within 1 day or another winner will be chosen.
To enter, participants can earn entries by: visiting the Mommy University Facebook page (likes are appreciated but not required), following Mommy University on Twitter, sharing the contest with friends and commenting on this blog post by answering the required question. One FREE entry can also be given when this option is chosen.
No purchase is necessary to win.
Your chances of winning are dependent on the number of entries received.
Enter here: a Rafflecopter giveaway