Taking a photo with Santa Claus is something kids enjoy doing every year, but the process of getting that perfect picture is not so enjoyable for some children with special needs. Well, not this year because the experience of meeting Santa without the sensory overstimulation is coming to a mall near you!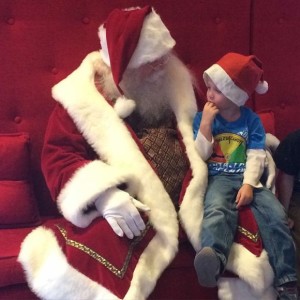 My family has visited a Caring Santa at the Quakerbridge Mall. For those not familiar with Caring Santa, it is a special time with Santa meant for families with children who have special needs. The event is held in the morning before the mall officially opens, and the environment is set up to support children with physical, sensory and other special needs. Caring Santa is a Simon Mall experience and takes place at malls all across the country. This sensory friendly event is presented by The Noerr Programs in partnership with Autism Speaks and AbilityPath.org.  However, there are a growing number of options available to families which is wonderful that more children can meet Saint Nicholas.
What we loved about the sensory friendly Santa:
No Lines
Less Noise
No Crowds
A very patient Santa
My children have some special needs and sometimes standing in long lines or being exposed to lots of noise can upset them. Visiting Santa has really never been a fun experience until we found Caring Santa. The Santa we visited at Quakerbridge Mall was very patient and sweet. My son really wanted nothing to do with Santa at first but Santa kept on trying. Eventually he gave Santa a high five and allowed the photographer to take one quick picture. It was a proud mom moment, and one we will both remember forever.
Caring Santa requires pre-registration and most malls are using an Eventbrite website to select tickets. Please click on the mall below to register.
Quaker Bridge Mall in Lawrence Township, NJ
Ocean County Mall in Toms River, NJ
Santa Cares is another sensory friendly Santa Mall experience hosted at mall locations which requires pre-registration.  Please click on the mall below to register.
The Outlets at Bergen Town Center in Paramus, NJ (TBD)
Voorhees Town Center, Voorhees, NJ (TBD)
Sensitive Santa is another option for families looking for a sensory friendly experience.
Brunswick Square, East Brunswick, NJ (TBD)
Some other options as well!
For more sensory friendly experiences in NJ, check out: