Mommy University is so excited to partner with Shutterfly this holiday season. We were provided holiday cards to help spread holiday cheer as well as share our experience with you!
For as long as I can remember, I have been making my holiday cards on Shutterfly. They offer quality products with a wide variety of design ideas to choose from. The website is simple to navigate and creating cards is easy. Since I already knew what pictures I wanted to use for my card this year (don't judge), I thought, why not make them early? This allows me to focus more on holiday planning and gift giving. It also gives me more time to address the envelopes and mail the cards out to friends and family.
This year, Shutterfly has some amazing new designs and enhancements. The holiday cards sparkle with holiday spirit especially the new glitter and foil stamped selections. I also love the new pop out photo cards which allow family and friends to keep the photos all year. The new ornament cards are also amazing as they can double as yearly holiday keepsakes.
When trying to decide on a card, you can narrow down your search list by choosing your favorite options on the sidebar such as size, theme, style and number of photos. What I love the most, however, is that Shutterfly allows you to choose photos to put in the card before you even decide on a design. On the top of the screen, you can add one or more pictures then every card you look at on your search list will have those photos in it. This made it so much easier for me to decide which card looked best with the pictures I wanted to use.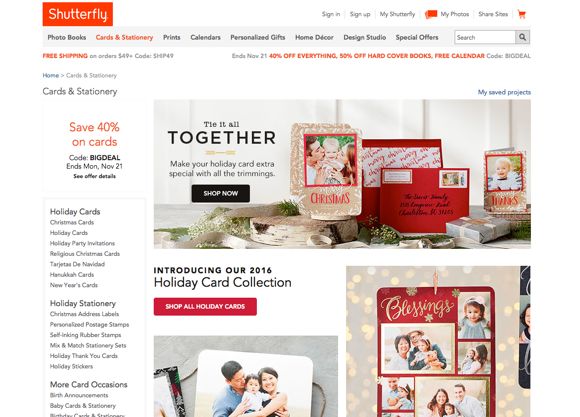 Since there were so many amazing choices I ended up making 4 different cards to choose from. There is no extra fee for designing so you can create as many as you want before making your final decision. They can be saved in your My Shutterfly account to review then order. Making cards was easy for me since I already had all of my pictures on the website. I have the Shutterfly app where I frequently upload and store my photos. If you don't have the app, don't worry! Uploading is quick and easy on Shutterfly.
I ultimately chose a 5×7 card as I like this size. I also love that it was double-sided as I had pictures I wanted to also put on the back of the card. Since I have friends and family members of all religious backgrounds and beliefs, I chose a style that simply said, Happy Holidays. Shutterfly does, however, have many gorgeous Merry Christmas and Happy Hanukkah cards to choose from as well. You can even skip the holidays all together and go directly to a Happy New Year card. That's the beauty of Shutterfly, there is so much to choose from.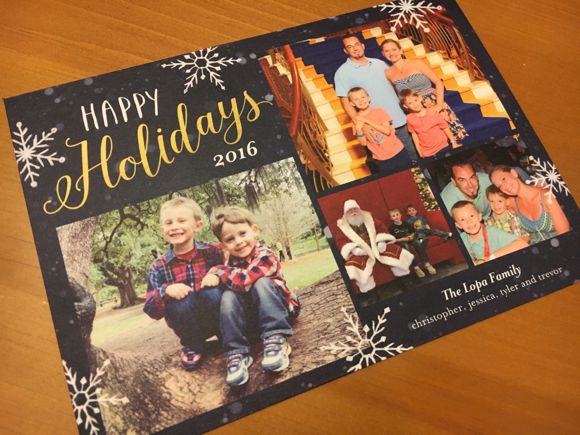 Cards can have just one photo or many. It depends on what you want to include. Whether you have a family of 3 or a family of 10, everyone can be highlighted on your card. There are many collage options to choose from, and you can even change the layout of the original card you chose. This allows customers to make a truly unique holiday card that can be cherished for years. I decided on 4 pictures on the front and 2 on the back. This allowed me to mix family pictures with photos of just my boys.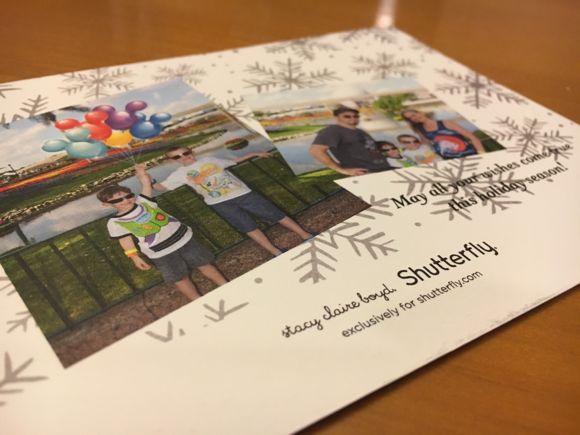 I had so much fun making my holiday card and was elated when they arrived. Shutterfly cards come with envelopes, and I was happy to find a discount coupon in the box as well. I guess I will be spreading even more holiday cheer this season with the help of Shutterfly!
Want to make your own holiday card? Visit the Shutterfly website. Oh, and don't forget to download the app too! It makes storing photos and making unique gifts even easier.