We are so excited to bring you this year's Play and Learn Holiday Gift Guide. We are thrilled to partner with so many amazing and award-winning companies who provided many of the brain boosting toys on this list so we can share them with you this holiday season.
Since even before I was a parent, when I purchased a toy for a child, I made sure it had a purpose. For me, a toy has to encourage learning, development and growth in some way otherwise what is the point? Toys and games should stimulate the brain, make kids think and reason and/or spark the imagination. Children learn through play so we have to make sure that play is meaningful!
After careful consideration, and several Mommy University reviews, we have come up with a list of over 25 toys that you are sure to LOVE this holiday season. This list is broken down into 5 categories: Academic/Cognitive, The Arts, Science and Technology, Pretend Play and Motor. Since EVERY toy chosen also encourages growth in the area of language development, a separate category is not needed for this area. Amazon affiliate links are included to make your gift buying experience easier!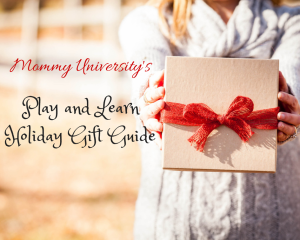 Academic/Cognitive
VTech Sort and Discover Activity Cube
Little ones ages 9 months to 3 years old will have hours of fun with this bright, colorful and engaging Activity Cube from VTech. Like all VTech toys, the new Activity Cube offers a true multi-sensory learning experience with bright lights, movable parts and over 75 sounds, melodies, songs and phrases. While playing, kids will build academic knowledge, visual skills, fine motor abilities, language skills and an understanding of cause-and-effect. This amazing learning toy is under $30 on Amazon.
Educational Insights Once Upon a Craft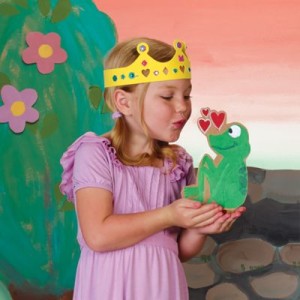 Educational Insights has released a unique and fun way to encourage learning through play. Each Once Upon a Craft comes with a colorfully illustrated storybook along with crafts to complete that coincide with the story. By adding a creative component to the story time experience, kids will gain greater comprehension skills as well as develop language and fine motor skills. Once Upon a Craft also sparks imagination and creativity. Once Upon a Craft is available in a wide variety of classic stories with all being under $10 on Amazon.
Peaceable Kingdom The Memory Palace Game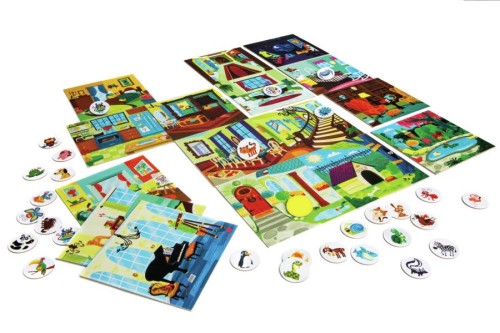 The Memory Palace Game offers a fun and unique way to enhance skills such as visual and auditory memory, vocabulary, storytelling and comprehension. When playing The Memory Palace Game, players have fun using their imaginations by creating silly stories using 27 different animal tokens. Players have to then remember each story in the order it was told. It's a fun game night experience for the entire family. Memory Palace is under $20 on Amazon.
The Original Lincoln Logs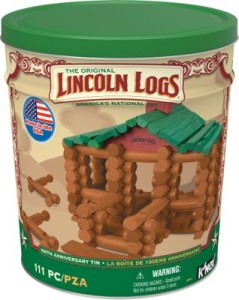 Lincoln Logs are a classic toy with amazing academic and developmental benefits. At Mommy University, we love building toys, and one of our favorites is The Original Lincoln Logs. While building, kids enhance fine motor, problems solving and visual skills while also encouraging creativity and pretend play. It is also a great introduction to design and architecture. Lincoln Logs are available in a variety of sets on Amazon.
Build & Imagine Sets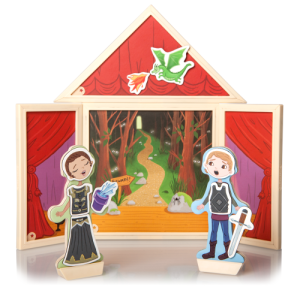 The Build & Imagine sets offer many double-sided pieces which means that there are endless possible configurations for each set. Plus, sets can be combined for even more building fun. Once children open the box, they can connect the Build & Imagine pieces to design their own buildings. They are learning through play as they find out which designs work and which ones require more tinkering.  Build & Imagine is designed for children ages 4-8 years of age and the price varies based on the set. They can be found on Amazon.
GoldieBlox Sets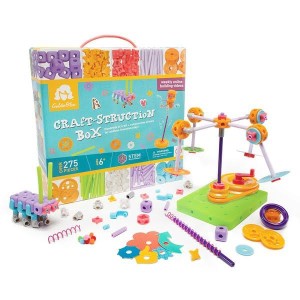 GoldieBlox kits are designed to enhance and build STEM skills. Each pre-designed set begins with a story that invites young children to envision the problem as well as the solution by exploring an engineering concept. The world of GoldieBlox introduces fun and quirky characters as much as it encourages children to engage with problem solving. Goldieblox has also introduced The Craft-Struction Box which can accompany existing GoldieBlox kits or can be played with independently. Unlike the kits, Craft-Struction is geared towards more open-ended play and building fun. Priced less than $40 on Amazon, this set is recommended for children ages 6 and older, but GoldieBlox has options for younger children as well.
Motor
Wonder Forge Marvel I Can Do That Game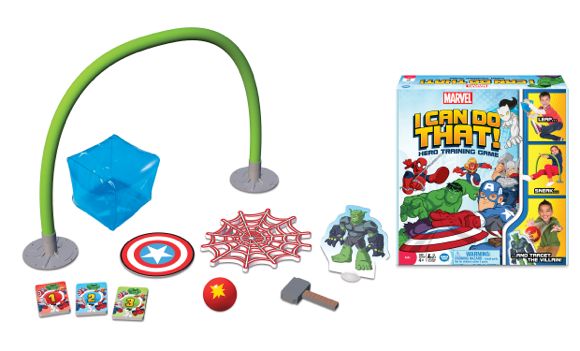 I Can Do That offers a fun and unique way to test and increase your child's "superhero" skills. To play, kids have to complete various gross and fine motor tasks that help build muscle strength, balance and coordination. Kids also enhance hand-eye coordination and visual skills while also building confidence. This game can be found on Amazon along with other amazing Wonder Forge games. I Can Do That is under $15 on Amazon.
ThinkFun Yoga Spinner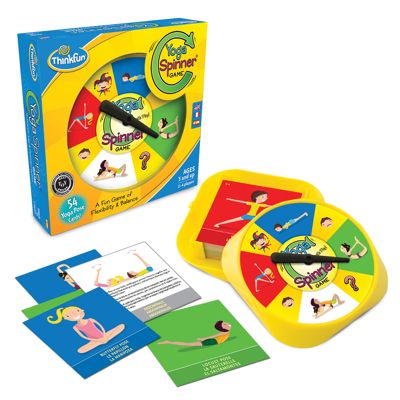 This year, help kids build balance, coordination, flexibility and motor planning with the Yoga Spinner from ThinkFun. Kids ages 5 and up will love recreating Yoga positions while having fun with family and friends. Not only will they strengthen their bodies but also their minds. It also encourages teamwork while encouraging healthy physical activity. ThinFun Yoga Spinner is under $15 on Amazon and also makes a great stocking stuffer!
Creativity for Kids Stunt Squadron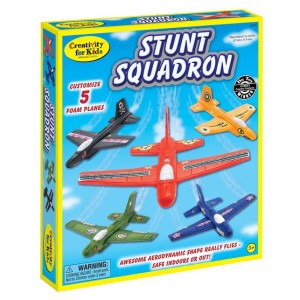 Are you looking for a toy that encourages art or how about one that promotes getting outdoors and playing? Well, Stunt Squadron might be the toy for your children. Kids are provided with the ability to put together five foam planes and decorate them however they would like. The second part of this toy encourages children to run around and play with the planes they created. Throwing the planes helps improve motor planning and hand-eye coordination as well as spatial awareness. Priced less than $20 on Amazon, this is a great toy that achieves different goals in learning.
Wonder Forge Stick Stack Game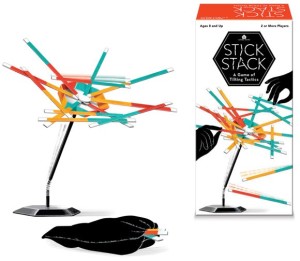 Families will have a blast playing the Stick Stack Game during their next game night. Players enhance fine motor control, motor planning and hand-eye coordination as they carefully stack sticks in hopes of not knocking over the entire pile. This game also helps build critical thinking and problem solving skills. Stick Stack is great for at-home play or on-the-go. It is affordable too as it can be purchased for under $15 at Target.
K'NEX Amusement Park Building Set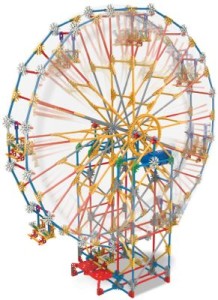 You might be wondering why a building toy like K'NEX is on the motor list, but besides enhancing problem solving and STEAM skills, building toys like the Amusement Park Building Set help kids boost fine motor skills and hand-eye coordination. Visual skills and spatial awareness are also enhanced while playing. This set allows kids to build a variety of amusement park rides including an almost 3 foot tall ferris wheel. The Amusement Park Building Set comes with 744 pieces allowing for hours of learning through play. This set is under $50 on Amazon.
The Arts
Crayola Air Marker Sprayer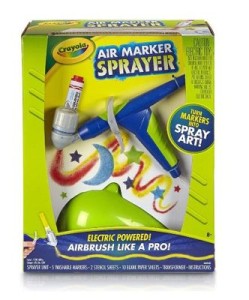 Nominated for Activity Toy of the Year, the new Crayola Air Marker Sprayer is an exciting way to get creative. Kids (and adults) can become real airbrush artists just by attaching their Crayola markers to the easy to hold and maneuver sprayer. The kit comes with the sprayer, stencils, paper and 5 pip squeak washable markers. The possibilities for creating unique projects are endless. The Air Marker Sprayer is under $30 on Amazon but can also be purchased on the Crayola website.
Creativity for Kids Hot Air Balloon Lantern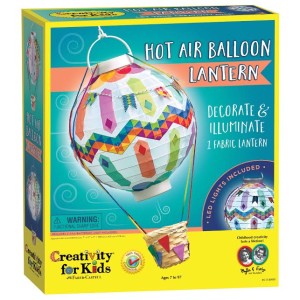 This creative project encourages tweens to decorate a hot air balloon that can be made into a lantern they use for decoration in their bedroom. Creativity for Kids has amazing kits like this one that not only invite children to express their creativity and unique personalities but can also be used for second purpose such as decorating. The kit includes all the necessary supplies except the batteries. Designed for children ages 7-17, this fun set is priced at $20 on Amazon.
Fashion Angels Znapeez!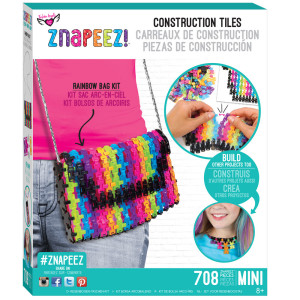 At Mommy University we have applauded the use of building toys for fine motor skills, problem solving, and promoting creativity.  Znapeez is a new toy that blends building with a three dimensional art project as children can build fashion, room décor, and accessories.  This toy encourages children to translate the two dimensional into 3D.  What makes this toy fun is that the projects can be disassembled and the Znapeez can be used again to create a whole new idea! Prices vary based on packages on Amazon ranging from $10-45.
Creativity for Kids Glow in the Dark Paracord Wristbands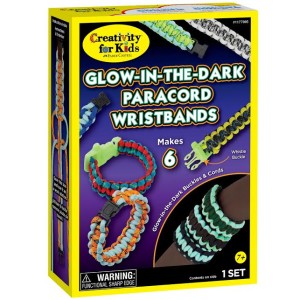 While it can sometimes be difficult to include boys with artistic activities, Creativity for Kids understands how to get them excited about art. Paracords were first used by US soldiers in World War II in suspension lines for parachutes. Creativity for Kids recognizes that paracords have been transformed into bracelets which both girls and boys wear. The Paracord Wristbands kit encourages children to make their own jewelry which is also wonderful to enhance their fine motor skills.  Priced less than $15 on Amazon this set allows for eight paracord bracelets.
Faber-Castell Color By Number Emoji Pop Art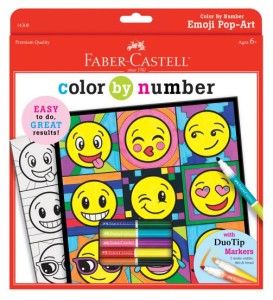 Emojis are popular with tweens and Faber-Castell has released a Color by Number set that will definitely attract their eyes while simultaneously encouraging them to start some great art. Designed for children ages six and older, it includes five Duo Tip Markers, preprinted illustration board, numbered color guide, as well as the accessories needed to display the finished product. Priced at under $10 on Amazon or at your local Michael's store, this is a wonderful present to encourage children to improve fine motor skills as well as relax.
Crayola Crayon Factory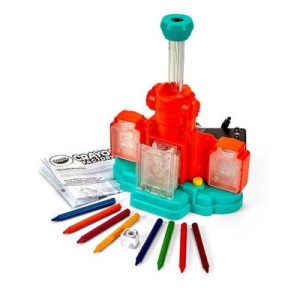 Take all those broken crayons and turn them into works of art with the Crayola Crayon Factory. Kids will melt down their crayons and fill molds to make unique crayon creations. The set comes with the factory unit, 3 molds, 8 crayons, a crayon wrapper ripper and instructions. What a fun way for kids to get creative! The Crayon Factory is under $30 on Amazon. It can also be purchased on the Crayola website.
Faber-Castell Do Art Watercolor Pencil Set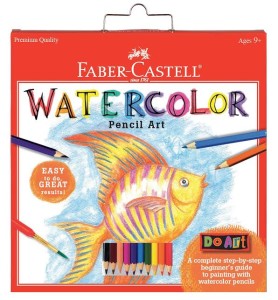 For the budding artist in your family, the Faber-Castell sets offer them condensed projects with endless opportunities to improve their artistic skills. It is an avenue that allows the artist to explore a new method or skill that they may wish to pursue in more depth. The Do Art Watercolor Pencil Set includes 10 Watercolor Pencils in a plastic pouch, a watercolor paper pad and an instruction booklet. Priced less than $15 on Amazon or at your local Michael's store makes it an affordable gift for children ages 9 and older.
Fashion Angels Trolls Chalk Sketch Set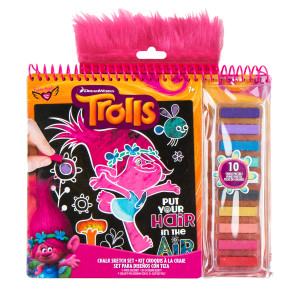 If your child loves the new Trolls movie, then the new Chalk Sketch Set is a wonderful gift!  The set includes black velvet flocked sketch sheets are filled with their favorite characters and 10 pastels which can fit in a travel bag attached to the set.  This is a fun and creative set that encourages children to experiment with colors and improving fine motor skills.  Recommended for children ages 7 and older it is priced at $18 on Amazon.
Science and Technology
Learning Resources Coding & Go Mouse Activity Set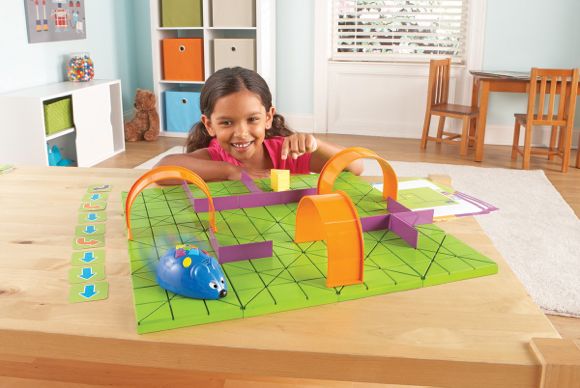 With Coding & Go Robot Mouse Activity Set children are programming step by step each move the mouse "Colby" needs to do in order to get the cheese. The mouse can be placed in a maze that is created using the 16 maze grids, 22 maze walls, and 3 tunnels. Learning Resources provides 10 double-sided Activity Cards which gives ideas on different challenges for children to do. This toy is perfect for independent or collaborative play.  Priced less than $60 on Amazon, it is designed for children ages 5-10 to introduce coding concepts.
Meccano Meccasaur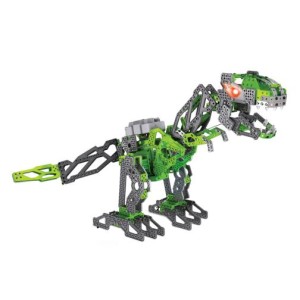 While some children dream of dinosaurs, your children can now build a T. Rex! When completed, Meccasaur is three feet long and overflowing with personality. Not only do children work on their fine motor skills as they put the components together, they also work on their coding skills as they can program it. T. Rex can roar, burp, and do many other engaging activities. Designed for children 10 years and older and priced at $99 on Amazon it is a toy that challenges children to think on so many levels.
Educational Insights My First Telescope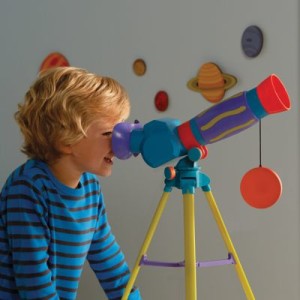 Like all Educational Insights scientific tools, My First Telescope offers an amazing hands-on learning experience for kids. Recommended for children ages 4-6 years old, this colorful and durable telescope lets kids see beyond the world they know. With a 10x magnification, wide field of vision and a focus-free lens, My First Telescope is the perfect way to introduce kids to astronomy. It is designed specifically for young children as it is easy to set up and maneuver. The soft eyepiece makes examining the world comfortable which allows kids to explore for longer periods of time. My First Telescope is under $30 on Amazon.
Spark!Lab Smithsonian Inventor's Studio

In partnership with the Smithsonian, a new product line was designed to spark a child's imagination while promoting STEAM skills. The Inventor's Studio follows the philosophy of Think it! Explore it! Sketch it! Create it! Try it! Tweak it! Sell it! Included in the set is a journal and supplies for children to follow the process to invent. Ideal for children ages 8 and up, it will encourage children to think outside the box.  It is priced at $20 on Amazon
Uncle Milton Star Wars Electronics Lab
Enter the world of STEM learning with the Death Star Electronics Lab from Uncle Milton. Children ages 8 and up are invited to conduct over 20 experiments using more than 70 components which sparks their curiosity and imagination. Kids have to put together circuits to help activate the Death Star. It is a true multi-sensory learning experience as kids will activate lights, tractor beams and even sounds from the Star Wars movies! An activity guide is included with full color diagrams for each experiment along with real life scientific lessons. The Lab can be found on Amazon for under $50.
Ravensburg Science X Smartscope
SmartScope is a scientific tool that allows your family to enhance their understanding of the world around them. It uses your smartphone or tablet to magnify objects, and no app or eyepiece is needed since it uses the camera from the smart device. This allows everyone (adults and kids) to look at the object together at the same time. The objects can be magnified at two different levels which is fun for kids to explore. Once all done, the SmartScope can be put away in a travel bag and easily stored for the next invitation to explore. SmartScope is under $30 on Amazon.
ThinkFun Circuit Maze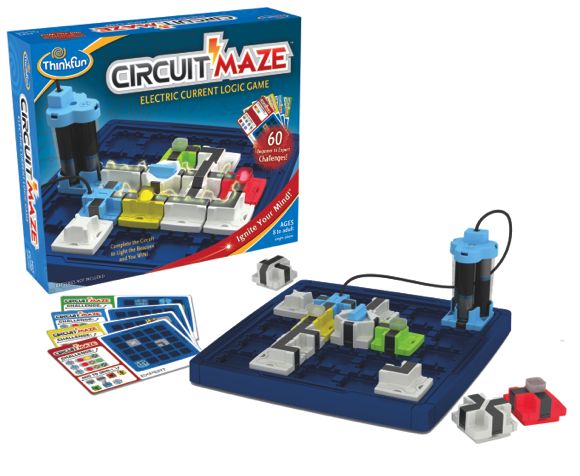 Nominated for Activity Toy of the Year and Game of the Year, Circuit Maze from ThinkFun is an electric current logic game that boosts STEM knowledge. As kids play, they will enhance problem solving, critical thinking and spatial-organizational skills. The set is recommended for kids ages 8 and up, and it comes with 60 challenges which allows for hours of learning through play. Circuit Fun Maze is under $20 on Amazon.
Pretend Play
Just Play Lion Guard Training Lair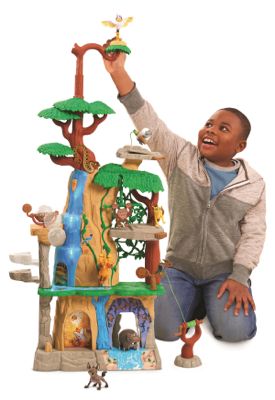 Just Play Toys is known for their amazing Disney Junior line of toys and this holiday season is no exception. We recently fell in love with the new Lion Guard Training Lair Playset. This adorable toy is over 3 feet tall and offers a true multi-sensory play experience as it offers lights, sounds and surprises around each corner. Kids will build fine motor, problem solving and language skills all while having fun. The set comes with 2 figures, Kion and Janja, to help spark the imagination and create new Lion Guard adventures. This playset is under $40 on Amazon.
Build & Imagine Career Dolls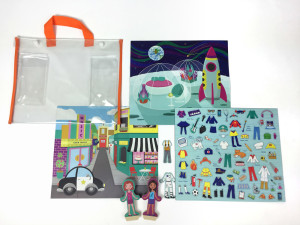 The newly launched Career Dolls from Build & Imagine approaches imaginative play with a whole new approach as children can act out different careers.  Equipped with two wooden dolls, magnetic scenes, twelve different professions, as well as a carrying case children can explore different fields such as the president, police officer, and fire fighter.  Like other Build & Imagine toys, storytelling is an active component.  Adding accessories into the scene, they will create their own narratives for this fun toy.  Priced less than $15 on Amazon this is ideal for children ages 4-8.
VTech Go! Go! Smart Friends Twinkle the Magical Unicorn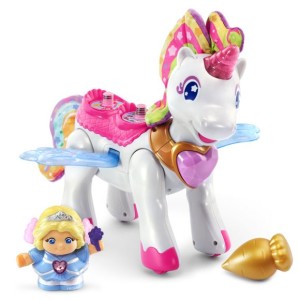 Twinkle the Magical Unicorn is a wonderful way to encourage pretend and imaginary play. As kids play with Twinkle, they create imaginary worlds which helps enhance language and social skills. Multi-sensory play and learning also takes place as Twinkle lights up, talks, moves and even changes color. Twinkle can be used with other Go! Go! Smart characters as they attach to the 2 MagicPoints on her back to allow for even more play and learning. Twinkle comes with one character and a golden carrot. The set is under $20 on Amazon.
eKids Trolls Selfie Star Video Recording Mic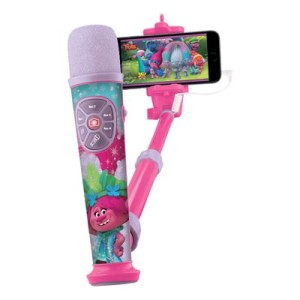 Based on the hit movie Trolls, this microphone takes singing to a whole new level! Designed for children ages 5 and older, this toy lets kids record themselves singing to their favorite songs. With the app, children can make their own videos and animation. Already pre-installed is the song "Get Back Up Again," but if you don't want to use the app, the microphone is still a great toy and especially helpful for children who need to improve their language development. Priced at less than $50 on Amazon this is already a popular toy in 2016!
Yummy Nummies S'Mores Maker Playset
This winter, enjoy a fun indoor campout with the adorable S'Mores Maker Playset from Yummy Nummies. No need for fire, sticks or even an oven. All you need is this set which makes 10 mini s'mores. The kit comes with a spatula, mix packets, magic tray, measuring scoop and instruction sheet. Get cookin' now for under $20 on Amazon.
Great Pretenders Costumes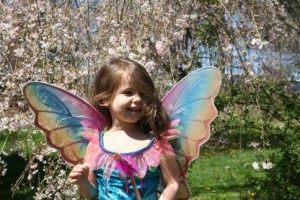 Great Pretenders is a small Canadian company that produces quality costumes. The costumes are well made, comfortable, and with a beautiful design. Costumes are wonderful to encourage pretend play as children easily imagine themselves in the roles they are dressed, and Great Pretenders has an extensive line for girls and boys. From professions to characters to superheroes, all of these costumes are sewn at an affordable cost.  You can find a variety of costumes on Amazon including the wings featured above. Read more about our little fairy here.
K'NEX Mighty Makers Director's Cut Building Set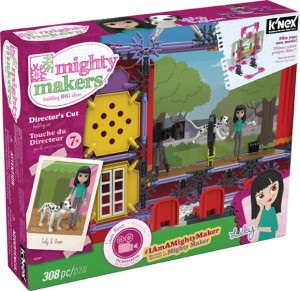 K'NEX has taken the world of STEAM learning to a new level by encouraging STEAMagination with the Mighty Makers Director's Cut Building Set. This set not only promotes a love of building and creating designs, it also sparks the imagination and encourages pretend play. With over 300 pieces, kids can create their own film sets then record their movies. What a fun way to introduce kids to the world of movie making! This set is under $25 on Amazon.
You may also enjoy these gift guides: