Santa Claus is coming to town….we have some suggestions of where to see him!
A rite of passage each holiday season is the photo with Santa Claus! While some families enjoy the same place and location each year which is a wonderful tradition, there has been a recent shift in Christmas experiences to visit Old Saint Nick in a fun and unique way. The new spaces offer interactive and immersive experiences that engage children as they wait on line. At many locations, children can engage in online apps or stop at interactive play stations that help build the excitement for their photo.
While there are several different experiences in NJ that offer this, we also appreciate locations that are unique and interesting. Some locations have existed for decades raising money for charity or just have a hands down good-looking Santa that has the magic touch to engage with your child. We have compiled this list of spaces for you to consider for a photo with Santa. We will be updating it as we find new experiences so please check back often.
2018 Amazing Places to See Santa Claus
HGTV Santa HQ at Freehold Raceway Mall, Freehold
We recently explored the HGTV Santa HQ which exists in 15 malls throughout the nation including Freehold and Deptford. This beautifully designed space takes us to Santa's headquarters in the North Pole where children are invited throughout the spaces to engage and learn. In addition to seeking out the elves using electronic devices, they can be scanned on the Naughty or Nice Meter as well as take Elf Selfies. Reservations are recommended to attend this event.  Don't forget to read our review here!
Williams Harley Davidson, Lebanon and Morris Plains
Every year, Williams Harley Davidson offers a weekend where you can bring your child to take a photo with Santa on a Harley. This is hands down our favorite annual holiday tradition for my family. The Harley used changes color every year and the money is always donated to charity. I have always been impressed with generosity of this event as you are usually greeted by a 6 foot Elf wearing a leather jacket (isn't that how all Elves should look?) and cookies. If you arrive at the opening, Santa has been known to ride in on his Harley. It should be noted that dogs are welcome at this event. Check their website for upcoming dates!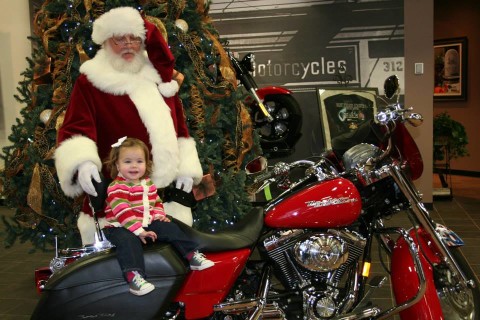 Santa's Flight Academy at Short Hills Mall, Short Hills
Short Hills Mall has always had a massive draw for unique Santa experiences and this year is no different as they usher in Santa's Flight Academy. Families can register prior to make an appointment time and offer information which will be used to create a customized badge. Children can make a virtual flight suit and learn about navigation as they attempt to maneuver his sleigh. As always, there is their iconic snow fall which children love to dance under!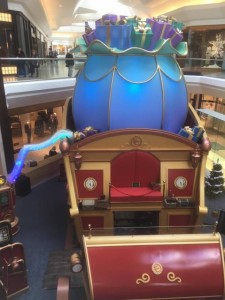 Christmas Ice Caverns
The Christmas Ice Caverns has existed for three decades and has been a hidden treasure until recently. In addition to a jolly looking Santa Claus, he actually has two different outfits (traditional or Victorian) which are changed based on the day of the week. They also have the Ice Caverns which is an elaborate light display that for a nominal fee you can pay to walk through as many times as you want. Read our review on Christmas Ice Caverns here.
Santa's House at Six Flags Great Adventure, Jackson
Six Flags Great Adventure has been well-known for thrilling roller coaster rides and safari, but it also offers other immersive experiences like Santa's Home. As part of the Holiday in the Park celebration that still offers adrenaline filled rides, there is magical lights throughout the park, lights on the Christmas tree coordinated to music, reindeer and kids can send letters to the North Pole.  However, children can also visit Santa in his home for a photo to capture this multi-sensory experience.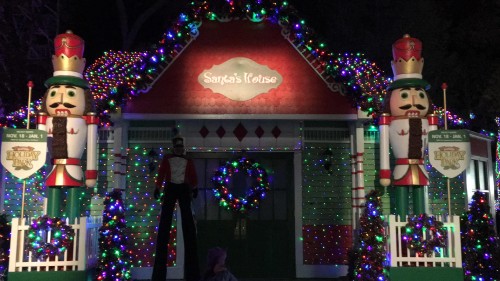 Keep checking back to see what new and unique places we have added to our list. Know of an amazing santa experience, let us know in the comments section below!
Here are more ways to experience holiday magic in NJ