If you are looking for a unique and engaging Santa Claus experience then make the trip to Freehold! As guests of HGTV Santa HQ, we were able to see what this new fully immersive experience offers children! While the HGTV Santa HQ existed in ten locations last year, it has been added to five new malls this year including The Freehold Raceway Mall. Children have many opportunities that invite them to play before taking a photo with Santa Claus. This state-of-the-art display invites children to use their imagination as they step into the North Pole. The stunning environment encourages them to explore all corners of the space as they realize how much fun can be had in this space!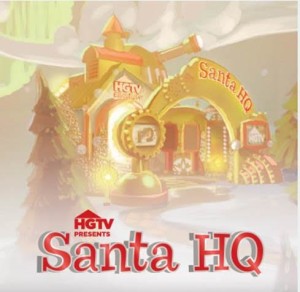 Must Do Experiences at HGTV Santa HQ
Elf-Ray Vision
Similar to the technology that powers Pokemon Go, the Elf-Ray Vision enables children to find hidden elves in Santa HQ using electronic devices. You can download the Elf-Ray Vision app for free and have your children locate Elves or borrow one of the iPads they have on site. There are eight trigger spots which will reveal Elves, and in some instances, if you touch Santa's helpers on your device it will make them move.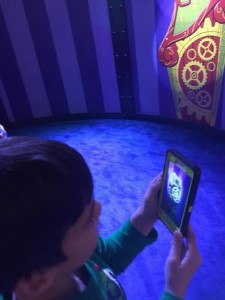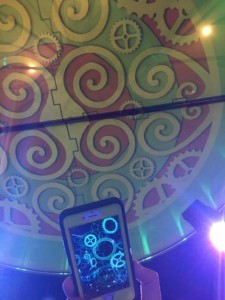 Elfie Selfie
As you walk into the warmly decorated home of Santa Claus, you can enjoy clips from HGTV but your children will want to make their own Elf movie on iPads. At this station, children will take a photo which will be inserted into a mini video of Elves dancing. After you complete the video, enter your address to have it emailed to you.
Naughty or Nice Meter
Are your kids naughty or nice? Children will line up to have the Naughty or Nice Meter scan them to learn how their behavior has been. Their name will appear on either screen which made my children ecstatic to find out which screen they would appear.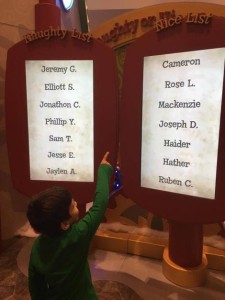 The Observatory
Not only are trigger points hidden in the Observatory for Elf-Ray Vision but children can see a peek into the North Pole. They can select different spots at the Control Station including maneuvering the sleigh!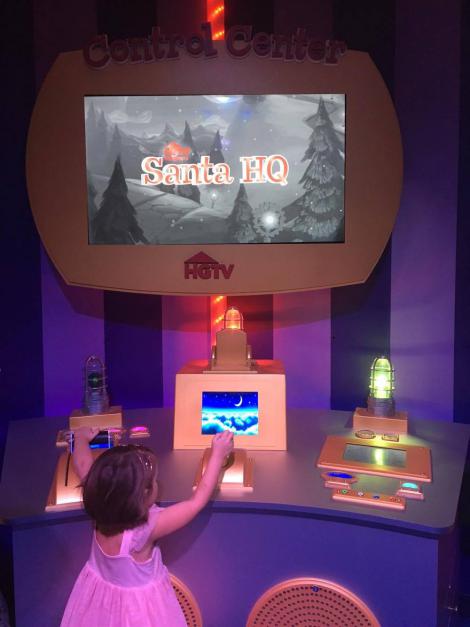 Visit Santa Claus!
The last stop is of course saying hello to Old Saint Nick on his sleigh. Children will have the opportunity to tell Santa what they would like before they take the photo; however, afterwards they will treasure the activity book they receive as well as stickers that identify if they are Nice or Naughty.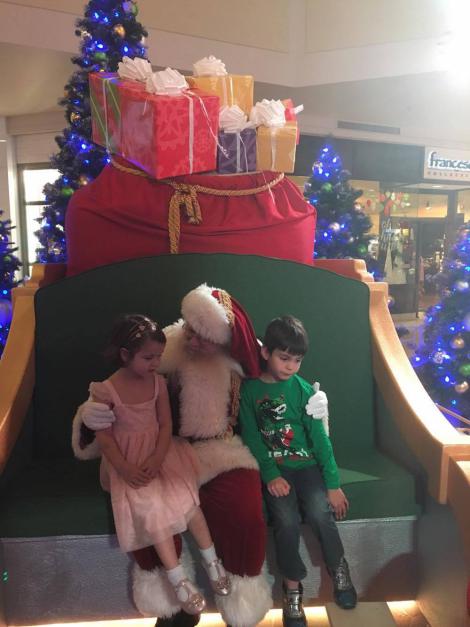 Santa HQ Details
It is recommended to make reservations at http://www.santa-hq.com/ otherwise you can visit but may need to wait on line.
Fur Babies? On Monday nights, beginning an hour before closing, four-legged friends are welcome to take photos with Santa.
On December 10 and 11, random customers will be surprised to receive promotional gift cards at each Santa HQ.
Starting November 28 through December 16 unwrapped gifts can be dropped off by the Santa HQ set.
Freehold Raceway Mall is located at 3710 U.S. 9, Freehold, NJ 07728
In full disclosure, Mommy University visited HGTV Santa HQ as guests for a media preview and received complimentary photos. The opinions are honest and belong to Mommy University.
You may also enjoy:
Brain Boosting Holiday Events in NJ