Mommy University is excited to partner with Hayneedle.com to help families get organized!
As a mom of 2 boys, I find that I am always stepping on something, picking something up or trying to find a good spot to store new and old toys. I have been looking for quite some time for a way to organize my kids art and school supplies so that I am not constantly cleaning up crayons and finding paper all over the house. I have tried many solutions but none have seemed to work or encourage my kids to actually clean up after themselves. That is why I was so excited when I was contacted by Hayneedle.com to try them out!
For those that don't know, Hayneedle is an online store that offers home furnishings and decor for every style, interest and, most importantly, budget. From beds to dressers to storage benches to even ideas for a man cave, Hayneedle has everything you could ever want or need for your house. The website is easy to navigate so you can search for exactly what you need for the room you need it for. There is so much to choose from so if you have trouble making up your mind like me, make sure you have time to look around.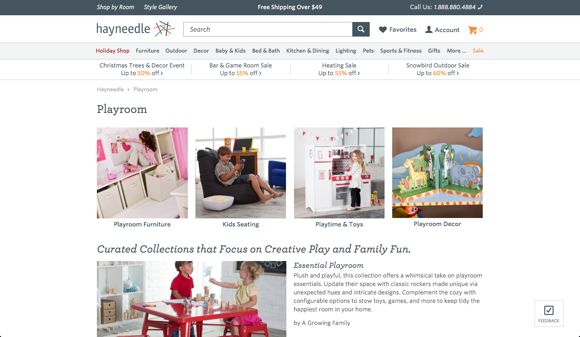 I fell in love with almost everything I saw on Hayneedle.com in terms of storage units for kids so I struggled narrowing my list down. I would have my mind set on one thing then see something else I liked too. I loved the diversity of styles including sizes and colors. Each item can also be used in a wide variety of ways. In fact, the items I finally ordered I ended up using in different ways than intended. That's the beauty of storage furniture. It can be used in so many ways especially since it can "grow" with your child.
I ultimately decided on 2 items: Honey Can Do Kids Storage Organizer with 12 bins and RiverRidge Kids Super Storage with 3 colored bins, book holder and 6 slot cubby. Each item was shipped quickly and arrived sooner than predicted. My husband found them easy to put together too. Here is how I decided to use these items to get organized!
Storage Organizer
I chose the storage organizer not only because it was perfect for storing art and school supplies but because when my son saw it on the website he said he had to have it. The day it arrived he was so excited and could not wait to put his toys in it. It's not every day that a child gets excited to organize his toys! I was originally going to use the organizer for small toys but decided it would be perfect as a learning center.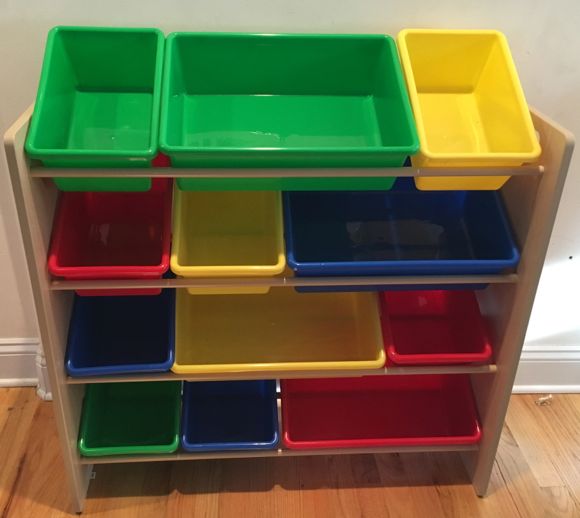 I used the top bins for crayons, markers and paper. The second row houses all our paint, flash cards and various learning tools. Row three has coloring books and building toys. The bottom row consists of learning games, musical instruments and educational books and projects. The baskets are the perfect size to hold all our learning supplies and are easy for small hands to pick up and take out for activities. I was amazed by how much I was able to store in each of the bins.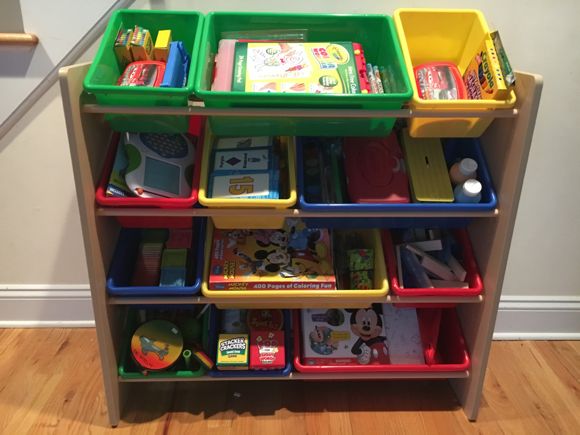 I also love how versatile the storage organizer is. Here are some other ways to use it:
Building Toys: Each bin can contain building toys such as Lego bricks, K'Nex, blocks and Brackitz.
Books: Have your kids organize their books by difficulty, genre or interest.
Pretend Food: These bins are perfect for organizing pretend food. Younger kids can sort by color then food groups while older kids can create their own vegetable stand or farmers market.
Vehicles: The bins are a great size for storing toy vehicles such as cars, trucks and airplanes. It can even hold trains and their tracks!
Kids Super Storage
The Kids Super Storage set is a unique storage unit that can meet a variety of storage needs. The 6 cubbies are perfect for shoes, while the bins are great for storing school and art supplies. The book holder is not only great for books but also homework folders and projects.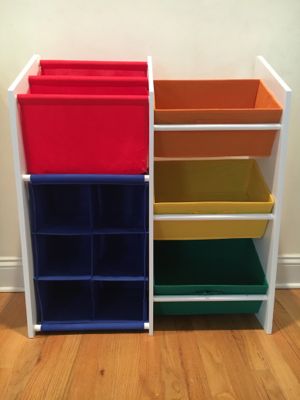 Our Kids Super Storage unit fit perfectly in my kitchen under our calendar that keeps track of all our school and sporting events. We discovered that the book slots are perfect for storing backpacks, and the bins perfectly hold lunch boxes. We use the cubbies to store cleats and soccer gear. When my kids come home from school and practice, they know exactly where to put their stuff so it does not get lost. We also use one of the bins to store CCD and Cub Scout workbooks as well as additional school supplies for projects like paper and glue.
I absolutely LOVE how Hayneedle has helped organize my home. I cannot wait to explore the website for more ideas on how to organize and decorate my house!