I absolutely LOVE seeing the leaves change colors in the fall. My boys and I often go for nature walks to point out all the colors we see while collecting leaves of all shapes and sizes. For the past several years, we have turned these leaves into fun learning activities and crafts. I love how crafts using fall leaves spark creativity, enhance fine motor skills and increase academic knowledge. Here are some of the crafts we have enjoyed over the past few years:
5 Fun Fall Leaf Crafts
Crushed Leaves Name
Fall leaves offer wonderful sensory experiences for kids. The feel of crunchy leaves under their feet and in their hands offers sensory input that many kids seek and enjoy. This fall, turn those crunchy leaves in to a fun art project. First, we collected leaves during a nature walk. Next, I drew my son's name on poster board. Third, we filled in the letters with glue. Last, my son crushed the leaves with his hands and sprinkled it on the glue. He had so much fun with this project!
Fall Wreath
This craft is not only super easy to make, it also inspires creativity. To make this craft, you need a paper plate, scissors, glue, paint and leaves. We started by cutting the center out of a paper plate. Then my son painted it brown (but you can paint it any color you want). While the paint was drying, we went outside and collected leaves. My son then chose his favorite leaves and glued them to the plate. The beauty of this project is that it improves so many skills such as cutting, painting and gluing. Also, each wreath will never look like the next so you can make as many as you want and give them to family members to hang up in their house!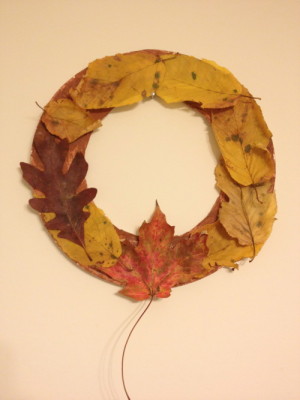 Scavenger Hunt Tree
In the fall, we love going on scavenger hunts. We look for sticks of different sizes, leaves of different colors and acorns. One year, we decided to take our collection and turn them into a fun art project. My son glued down his sticks and leaves to make an adorable tree. He also glued some acorn tops on the bottom to add to his design. He had so much fun with this project.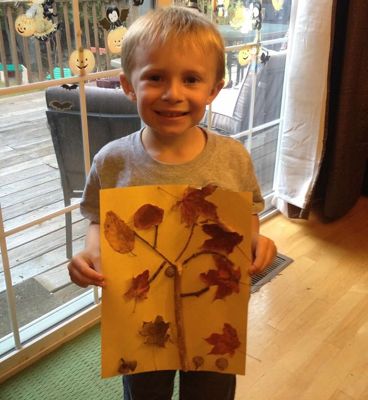 Giant Tree
Last fall, we expanded our fall tree idea by making an even bigger one. We grabbed some giant white paper and drew out a tree. My son then colored it in. You can use crayon, marker or paint. Next, we collected some colorful leaves outside. Third, my son glued leaves down on the paper. I love how he made it look like the leaves are falling off the tree. Last, he added some Jack-o-Lantern stickers. This craft really sparks creativity while enhancing fine motor skills!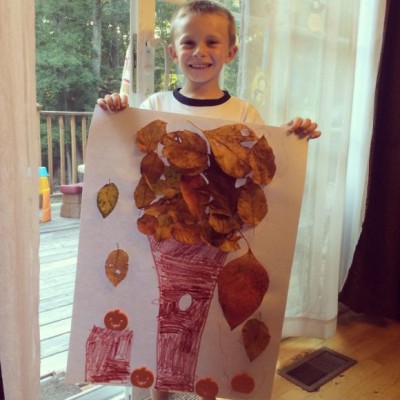 Leaf Stamping
Last year, my son came home with this beautify leaf project. He told me that in art class, they painted leaves then used them as stamps. This sounds like such a fun activity. All you need to do is collect leaves of varied sizes, paint them in all different colors then "stamp" them onto paper. What a unique and creative project!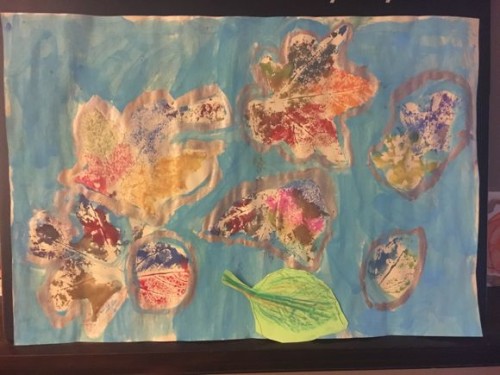 I hope you enjoy making this leaf crafts as much as we have!

For more fall craft ideas check out: