Mommy University is so excited to be chosen to help spread the word about Crayola Color Wonder. The Crayola product, information and contest rules have been provided by Crayola; however, all opinions expressed are my own.
Remember that time when your son colored all over the walls in your living room? Or how about that time when your daughter painted a beautiful rainbow on your new dining room table? And who can forget when the twins took out the markers and decided to see who could draw the most on each other?
As parents, we have all been there. We all have had those moments when we turn our backs for 5 seconds to return to an art masterpiece anywhere other than on the paper. This is why I have always been a huge fan of Crayola Color Wonder. This innovative product has saved the walls, furniture and clothes of countless families including my own.
For those that don't know, Crayola Color Wonder is art magic. Color Wonder markers, paint and stamps can only be seen on special Color Wonder paper, and when used on anything else, it will be clear! How cool is that? The tips of the markers and the paint appears white or clear but once it touches the special paper, the color magically appears. Kids see it at as a magic trick every time they color, create and paint!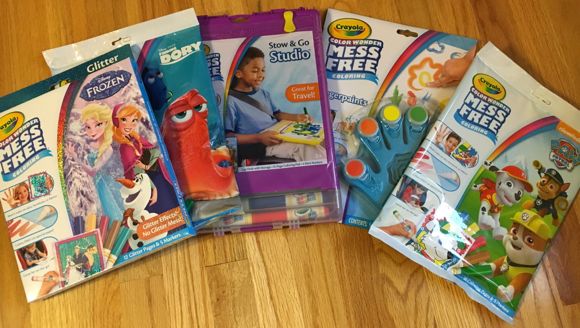 When using Color Wonder, not only do your walls stay clean but so do your little ones. Parents no longer have to worry about clothes or adorable faces getting covered with marker when they use Color Wonder. This product is also wonderful for lefties. Both my boys are lefty so they usually end up with a left hand covered in marker along with smudged art work. When using Color Wonder, this doesn't happen. It allows them to focus on their work instead of worrying about marker stains and smudges.
Besides being mess-free, Color Wonder also provides amazing developmental and academic benefits for children. Of course kids enhance their color recognition skills and improve language as they label pictures but there are even more skills they will develop as they color and create.
Benefits of Crayola Color Wonder
Increases Focus and Concentration
Products such as the Finding Dory and PAW Patrol Color Wonder coloring books offer kids the opportunity to color for hours! Each book has 18 pages full of their favorite characters which immediately sparks their interest and attention. The set also comes with 5 Color Wonder Broadline Markers in colors that compliment the book. You can also use markers from other Color Wonder sets to enhance creativity.
I love watching my son as he colors because I can see the focus and determination in his face. Each time he colors he is able sit for longer periods of time as the pictures really capture his attention and he wants to see what surprises he will find. This increase in focus and concentration is key to future academic success.
Sparks Creativity
Art allows kids to use their imaginations and tap into their creative side. With Color Wonder, kids can focus on their art rather than the mess. The Color Wonder Mess Free Fingerpaints, for example, offer a fun sensory learning experience that lets kids use their imaginations to make any design they want. Kids can use their fingers to make shapes and rainbows or be even more creative by turning a handprint into a dinosaur. The creative possibilities are endless! The paint is a clear, fast drying gel so art pieces can be happily displayed without the wait.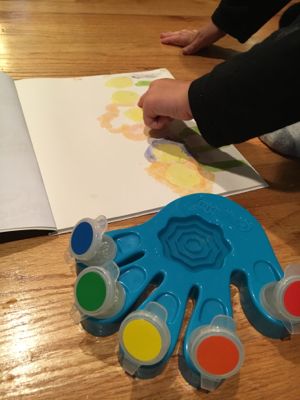 Enhances Fine Motor Skills
As kids color, they are building important fine motor skills. They learn proper pencil grip while building muscle strength and control. The fingerpaints teach kids to isolate fingers which build strength and dexterity while the markers improves writing skills. I really love the mini Color Wonder markers because they are perfect for little hands just learning to color and draw. It allows them more control over the writing tool which improves grip and stability.
Offers Learning On-the-Go
Did you know that Color Wonder can be used on-the-go too? We love bringing our Color Wonder Stow and Go in the car for short and long road trips. The set comes with 4 Color Wonder Mini Markers, a 12-page coloring pad and lap desk with storage. It's perfect for keeping kids entertained in the car, at restaurants, on an airplane or even in the waiting room of a doctor's office.
You can purchase your own Crayola Color Wonder art products here: http://bit.ly/ColorWonder16. You can also enter to win up to $1000 worth of Color Wonder product! All you have to do is follow @Crayola on Instagram then post a picture of your child in a messy situation that could have used a Color Wonder intervention tagging @Crayola and using the hashtag #MessyKidsContest. Winners will be chosen weekly for $250 in prizes through 11/21/2016! There will be one grand prize winner of $1000!
For more information visit the contest website. (For rules visit: http://www.crayola.com/splash/products/colorwondermessykidscontestrules)