Trunk or Treats have recently popped up as a popular alternative to trick or treating. For those who don't know what a Trunk or Treat is, let me explain. Families park their cars (usually in a parking lot) then open their trunks which are decorated with a theme. Kids can walk from trunk to trunk to get treats. Families enjoy attending Trunk or Treats as they keep kids in one location and are usually organized by a group. Sometimes they also serve as a fundraiser.
Last year, we participated in our first Trunk or Treat through my children's daycare and embraced the opportunity to have the trunks reflect each of my children's unique taste. While my son embraces the dark side of Star Wars, my daughter channels the free and colorful spirit of all things Lisa Frank. As we sat around brainstorming ideas, she stated, "Let's have rainbows, horses, cupcakes, puppies, and sprinkles!" Trunk or Treats are great for sparking your kids' imaginations!
The best part about a Trunk or Treat is you can make the trunk's theme about whatever you want! It is also a fun way to spend time together as a family. To help make your next Trunk or Treat experience successful, I have put together a list of tips. I have also included some Amazon affiliate links to make your planning easy and affordable!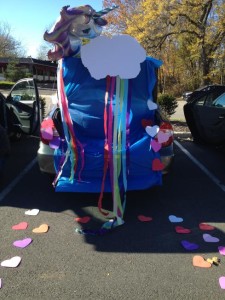 Mommy University Presents
5 Tips for Trunk or Treats
It's About the Theme
You might be a creative individual who brainstorms magnificent ideas of how you want to decorate your trunk and if so – go for it! For my daughter's Lisa Frank theme, we didn't have any of these items in our home so we designed this trunk after sketching an idea knowing supplies available at the local craft stores.
You can also think about items you have in your home to see if there is a common theme. As a Star Wars family, it was easy to compile some figurines and toys we have to decorate the trunk. Our largest obstacle was the background which was easily achieved by putting Christmas lights through a black cardboard.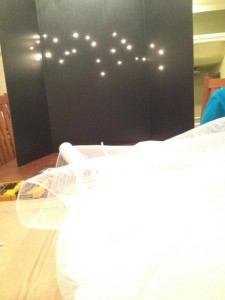 Make It Interactive
Think of how you can make the Trunk feel part of the display. If you have a superhero trunk, kids can toss rings around cans.  Here are some ideas that can make the trunk interactive:
Dance Off
Ring Toss
Fishing Game
Wear the Costume
Find a way that you can be part of the Trunk or Treat! If the adults can wear a costume related to the trunk's theme, that is perfect. Kids find Halloween to be a mystical time, and when adults show they are children at heart, it adds to the fun!
Bring Music
If you have a themed trunk, it is easy to  create a playlist that matches the mood. While we debated putting together a Ghostbusters trunk our first thought was of course having music from the movies mixed into our soundtrack. We brought a wireless Bluetooth speaker that ran on batteries and connected to my husband's cell phone and played the soundtrack to all the Star Wars films.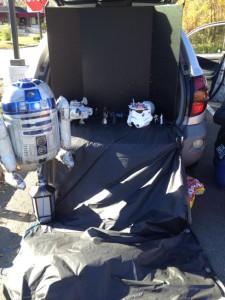 The Back Up Plan
It is easy to think of large-scale plans for a Trunk or Treat, but it is always a good idea to have an alternative plan for your design if life gets in the way. If all fails, go to the dollar store and pick up a bunch of Halloween decorations. Call it Dollar Store Chic.
As always, the first and most important tip is to HAVE FUN!  
You may also enjoy:
Spooktacular Brain Boosting Halloween Events