I absolutely LOVE the fall. The season of pumpkin spice coffee, apple pie and colorful leaves. It is the time of year when families love exploring farms, picking pumpkins and finding the best Halloween costume. There is so much fun to be had, but there is also so many opportunities for learning. We have already brought you benefits of visiting farms and a list of fall learning activities, and now we will talk about one of the best fall learning experiences around, Corn Mazes!
Beginning in late August, families can enjoy exploring corn mazes. For those of you who have not been to a corn maze, they range from easy to very difficult paths through giant corn stalks. Mazes vary in length, size and intricacy. Some mazes are included with farm admission while others are a small additional fee. You can even explore some mazes at night. Whenever and wherever you decide to explore, corn mazes offer amazing developmental and educational benefits!
10 Benefits of Exploring Corn Mazes
Enhances Problem Solving Skills
One of the greatest benefits of exploring corn mazes is the enhancement of problem solving skills. In order for families to successfully make their way through the maze, they have to problem solve. Many mazes offer clues throughout the maze to help guests make it through to the end. Some also offer additional problems that need to solved using various check points along the way. Whichever activity the maze provides, be assured that your kids are definitely boosting brain development.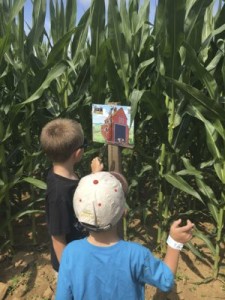 Improves Spatial Awareness
There is nothing better than a corn maze to help boost spatial awareness. As you make your way through the maze, you are enhancing your awareness of where you are in space. Do you go right? Do you go left? Have you been on this path before? This skill is important to be successful in math!
Keeps Kids Active
Exploring a corn maze a great form of exercise. Whether you run or walk through it, you are building stamina and endurance. Some mazes can take a long time to complete so it is wonderful way to get active this fall.
Encourages an Appreciation for Nature
You can't help but take in the beauty of nature while exploring a corn maze. It is chance to unplug and just explore and discover nature. From the beautiful corn stalks to the magnificent sky, there is so much to take in during a walk through a corn maze.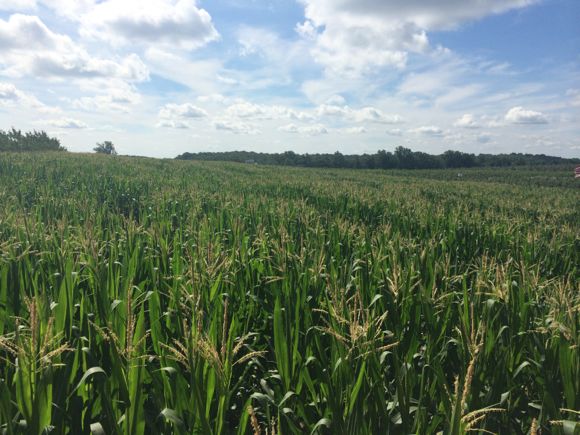 Enhances Memory
As you explore a corn maze, you have to remember where you were in order to figure out where to go next. This helps enhance long and short term memory. You also have to remember the clues along the way so you can solve the problems presented. This enlists the help of working memory. Plus, don't forget the importance of visual memory to get through the maze successfully!
Increases Academic Knowledge
Many corn mazes help enhance kids' academic knowledge by posting various facts throughout the maze. For example, the maze at Fosterfield's Living Historical Farm offers information about the history of the farm and facts about corn. Other mazes with themes offer trivia questions to answer about the theme along with factual information. For instance, last year, we enjoyed a dinosaur themed maze that offered facts about different dinosaurs at each stop in the maze.
Promotes Family Bonding
Corn mazes offer wonderful opportunities for family bonding. It is so much fun for kids and parents to work together to find their way through the maze and solve problems. Watching and listening to your kids make decisions and solve problems offers wonderful insight into their way of thinking. Parents, it's okay to give up some control, and let the kids lead the way. You never know where you might end up!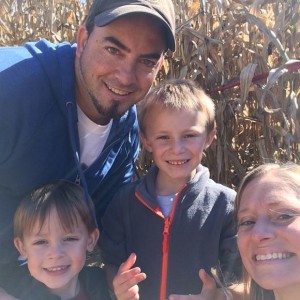 Offers a Sensory Experience
The smell of the fresh air, the feel of the stalks, the sound of the leaves crunching under your sneakers and the gorgeous view of the farm, these are all ways to engage your senses while exploring a corn maze. Engaging all the senses is a wonderful way for kids to learn and grow. In fact, sensory learning is the best way for little ones to discover and understand the world.
Enhances Language Development
You are probably wondering how a corn maze can build language but, in fact, exploring a corn maze offers a number of ways to expand vocabulary. While walking, encourage your kids to describe what they see, hear and smell. You can also focus on directional words like right, left, forwards, towards and away from. Receptive language is also enhanced as kids learn to listen to and follow directions.
Sparks Creativity
As kids explore corn mazes, they often make up stories about where they are going and what will happen next. My boys often work together to develop stories about what they might see at each turn and what they will find at the end of the maze. You can also use corn mazes as writing prompts for journal or story writing when you get home. The creative possibilities are endless!
Looking for a great corn maze in NJ? Check these out: