Mommy University is so excited to renew our partnership this season with WP Presents! In exchange for tickets to performances, we are so happy to be able to bring you all the entertainment this season as well as our honest review of the shows.
The steps of Shea Center for Performing Arts welcomes not only the students of William Paterson where it resides, but also the families of New Jersey. This community continues to invite musicians, actors, and dancers to further expose our children to diverse artistic expression. At Mommy University, we have witnessed how bringing children to the theater has not only stimulated an appreciation of the arts as well as encouraging their imagination.
The family performances are one day engagements that can be a minimum of 45 minutes in length and designed to balance educational components with engaging stories. Prior to Pinkalicious: The Musical and A Very Electric Christmas, there is a free craft activity that will relate to the story the children will watch. After select shows, children can meet the performers, receive an autograph and take a photograph with them. The program offers many layers that will appeal to the various family members.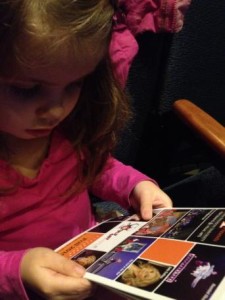 Fall 2016 Season of WP Presents!
Hypno Hype – The Ultimate Hypnosis Show!
Asad Mecci
Oct 14, 2016 at 8:00 PM
Get hypnotized by Asad Mecci's mesmerizing performance in this new show written by Colin Mocherie. Come to WP Presents! to see this stunning hypnotist that has performed on Entertainment Tonight, MTV, Maxim Online and even on the radio!
Star Wars Extravaganza!
The William Paterson Symphony
Oct 15, 2016 at 8:00 PM
The force is strong at Shea Stadium as the William Paterson Symphony performs the entire John Williams film score to Star Wars. Don't be surprised if creatures from out of this world stop by to enjoy the music of this classic film. This show will certainly be something that the padawans in your family will enjoy!
Imagination Movers
October 21, 2016 at 7:00 PM
The highly rated Emmy winning and family favorite Imagination Movers brings the family friendly rock music made popular on Disney Junior! As huge Disney fans, we can't wait to see this band perform the music that makes our kids dance and smile!
Pinkalicious the Musical
Nov 5, 2016 at 2:00 PM
The well-known series Pinkalicious by Elizabeth Kann and Victoria Kann is brought to life in this story where Pinkalicious can't stop eating pink cupcakes. While her parents tell her to stop, she can't which leads to her Pinkititis. Turning pink from head to toe may seem fun at first but quickly isn't anymore. What is the cure for Pinkititis?
The Moscow Ballet presents The Great Russian Nutcracker
Dec 8, 2016 at 7:00 PM
From the story to the music, the Nutcracker has impressed families for generations. The Moscow Ballet will present The Great Russian Nutcracker which is filled with stunning scenic design, spectacular costumes, and the talent of 40 top Russian dancers.
Theater for Children with Autism Theatreworks USA presents Click Clack Moo*
Dec 9, 2016 at 10:30 AM
Who knew the farm could be so stressful, but with Farmer Brown he has some demanding animals. This sensory friendly musical explores negotiation and compromise based on the Caldecott-Award winning book that has charmed families.
*Please note:  This performance is only open to classes and families with children with autism. Please call the University Performing Arts office at 973-720-3178 for ticket reservations and information.  You can check our review of last year's sensory friendly Seussical at WP Presents!
A Very Electric Christmas
Lightwire Theater
Dec 17, 2016 at 2:00 PM
Look past the traditional colors of the holidays at Lightwire Theater's A Very Electric Christmas puts bold colors to the stage! The bright colors will wow audiences of all ages with the captivating tale of friendly, hope and family with the backdrop of the musical favorites of Nat King Cole, Mariah Carey, and Tchaikovsky.
See something you like? Everything I'm sure! You can purchase tickets on WP Presents website at wp-presents.org. We look forward to bringing you reviews of some of the performances listed here as well as the various benefits of programs WP Presents!
WP Presents! Performing Arts at William Paterson is located at 300 Pompton Rd. Wayne, NJ.