Do you love the dark side?
Do you imagine yourself with wings sprinkling pixie dust everywhere?
With SoulKix, it doesn't matter what you love, you can always express yourself with these customized sneakers. As parents, we can often times forget to express ourselves. We wear our professional attire to our jobs or outfits like a uniform but SoulKix invites us to express what we are passionate about and what we love. SoulKix invites us to express our souls. It allows us to introduce this in a unique manner that is also quirky and often times overlooked. At Mommy University, we have fun with our different and unique persnalities, so we thought a separate testimonial would help to highlight how SoulKix has helped us express ourselves.
Use the Force (Monica)
While generations of families flock to Disney World to marvel at Magic Kingdom, the one location that was my "Must Do" experience was everything Star Wars related. If there was a Wookie or Stormtrooper, I was in. My family leans more to Science Fiction like Star Trek, Dr. Who, and the iconic Star Wars. My husband has a Star Wars t-shirt for every holiday, I have a Yoda bobblehead dressed as Santa Claus that makes an appearance every Christmas and my son has a collection of light sabers for each day of the week. We are that family.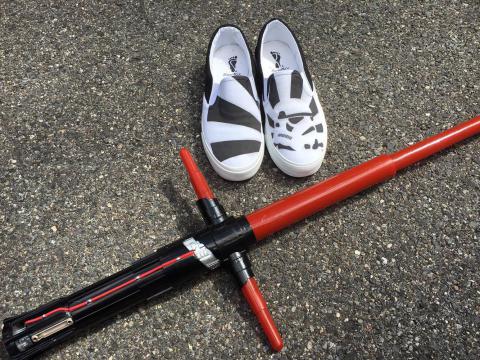 We are all about Star Wars and the idea that I can wear canvas sneakers with a Stormtrooper on them to reflect something I love means casual Friday will now have a new accessory. What I love even more is that in a world where Star Wars accessories are everywhere, my SoulKix sneakers will be unique.
Put Some Pixie Dust On It (Jessica)
While Monica loves to use the force and explore the dark side, I am that person she spoke about that runs to Magic Kingdom and can't pass up a great picture with a Disney Princess. In fact, I have been known to wear my own wings on occasion and sprinkle some extra glitter on my eyes. That is why I love SoulKix so much. It allows me to show off my love of the light side while hanging out with friend on the dark side.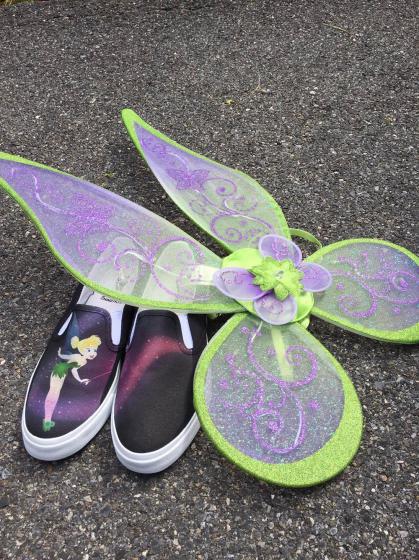 I LOVE my new SoulKix shoes not just because they fit to perfection and are super comfortable, but because they let my Disney Side shine. They let me be unique and stylish at the same time. As an adult, it is not always easy to show off my Disney Side without it seeming a little childish, but with my new SoulKix, I can be a Disney Kid with adult taste! I cannot wait to wear my shoes on our next Disney vacation, but they are also perfect for a day at the park or hanging out with Monica and her Star Wars family.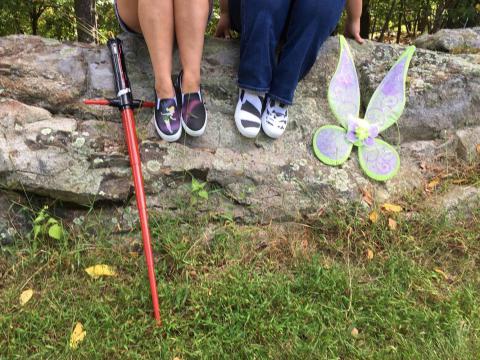 No matter what you love, you can wear it! SoulKix has an easy to use website. To start, you upload a high resolution graphic and decide whether to place it on white, black or black and white sneakers. You choose if the image will be split screen (splitting one image on two sneakers), mirror image or two different images. The last piece of information needed entered into the website is your shoe size. Shortly, you will receive your customized SoulKix sneakers that you have now designed.
Another element we love about SoulKix is that for each pair of shoes purchased another is donated. SoulKix is partners is Soles4Souls which delivers a pair of sneakers usually in a third world nation for each pair that is sold.  Recently, 4,000 pairs of sneakers were delivered.  Can SoulKix increase the cool factor any higher? Why yes, yes they can. They have launched SoulKix for Kids which allows children to express themselves as well!
How would you "express your soul" on SoulKix sneakers?