We are so unbelievably excited to partner with Zazzle to help show off our Disney Side!
We recently enjoyed our 7th trip to Disney as a family. Yes, I said 7! Crazy right?! We also experienced our very first Disney Cruise. Before every trip I talk about making custom Disney shirts for my family but for some reason I never do it. I often don't know where to start and then become overwhelmed with the process. Just before this Disney vacation, however, I was introduced to the amazing company Zazzle while at Blogger Bash NYC. I immediately became excited about all the possibilities for our family to show off our Disney Side on our first Disney Cruise.
For those who don't know, Zazzle is an online store where you can create just about any custom design on just about any product you can think of! From coffee mugs to shirts to luggage tags to jewelry to tote bags, the list is pretty much endless. Whether you are planning for a wedding, vacation, family reunion or corporate event, Zazzle has everything you could ever want or need. What was exciting for me was that they have their own Disney page. That's right! It is a Disney lover's dream.
Zazzle's Official Disney Store offers everything you could ever want for your Disney family. Although I could have purchased everything on there like the MacBook sleeve and iPhone case, I decided to stick with shirts for our first custom order. Zazzle offers a huge variety of designs to meet every need and interest. Since we were going on a cruise, I decided to look for an ocean theme (or in Disney terms a Nemo or Dory theme). It wasn't long before I found the perfect shirt. It was like the shirt was made just for our adventure!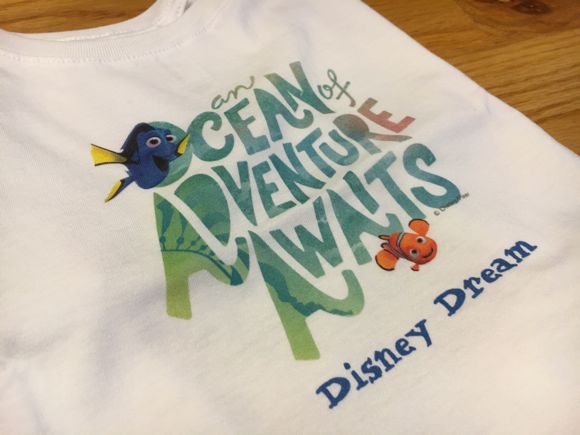 Since the shirt was already perfect, I didn't need to add much in the way of customization. I decided to just add "Disney Dream" to the bottom since that is the name of our cruise ship. The process was very easy. I just added the wording, changed the font and picked the color blue to match the shirt. I designed the shirt on a plain white T-shirt but Zazzle does offer a wide variety of colors to choose from. What made the process even easier was that I was able to order shirts in different styles and sizes with that design without having to recreate it for each family member. In other words, I was able to just choose another shirt option on the side of the page and hit order! This was really helpful since I needed 4 different types of shirts including a racer back tank top for myself.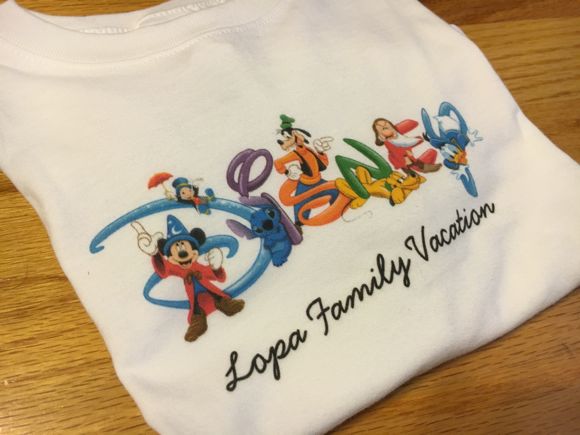 When searching through the site, I instantly fell in love the Disney logo design. I knew it would be perfect for this trip as well as future Disney vacations. The logo has beloved Disney characters within the word Disney so it was perfect for all of us. I added "Lopa Family Vacation" to the bottom which was very easy to do. I love how colorful this shirt is making it very versatile!
If you have ever visited Disney World then I am sure you have seen dozens of families wearing matching shirts. I have always wanted to be one of those families, and finally, thanks to Zazzle, we were! Disney offers so much fun, magic and wonder that wearing matching shirts doesn't feel "cheesy," it feels exactly right! Our Zazzle shirts were a fun way to show our Disney Side while spending time together as a family.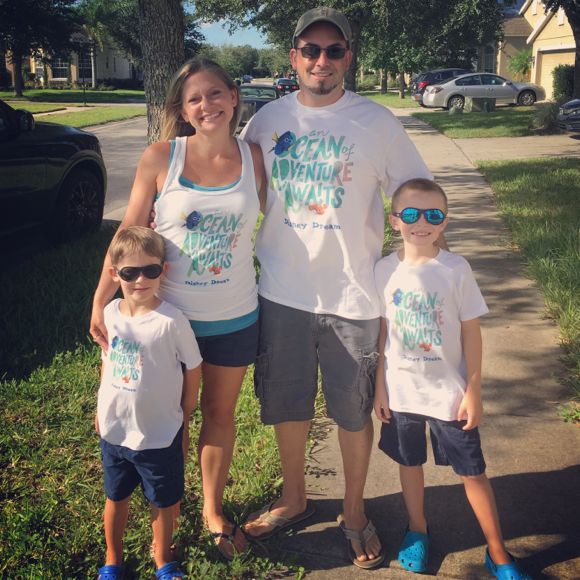 How Zazzle Helped Us Show Off Our Disney Side
All Aboard
Our Zazzle shirts were perfect for boarding the Disney Dream! It got us even more excited for our magical adventure. We had so many compliments on our shirts especially from Disney staff members and photographers. It was the perfect shirt to celebrate our first Disney cruise!
Sail Away
We all wore our shirts for the fun and exciting Sail Away Party on the ship's top deck. We exploded with Disney magic as we proudly wore our shirts as we waved goodbye to Florida and hello to our ocean adventure.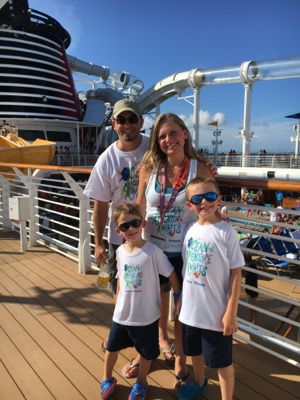 Meeting Characters
Who doesn't love meeting Disney characters and taking pictures to make the moment last forever? With our custom shirts from Zazzle, our pictures had even more Disney magic!
Pirate Night
I knew our new shirts would be awesome but I had no idea how perfect they would be for Pirate Night on the cruise. The colors matched the boys' pants, bandanas and vests perfectly.
Just Hangin' Out
You don't have to be enjoying a grand adventure to show off your Disney Side. Our Zazzle shirts were also perfect for just hangin' around the boat and our room. They were even perfect for nap time as the material is very light and comfortable!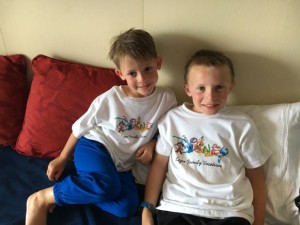 We cannot wait to create more custom products using Zazzle! How will you show your Disney Side using Zazzle?
*In full disclosure, we were provided shirts in exchange for our honest review.