Building toys encourage children to problem solve, promote creativity and help develop their motor skills, and while the options are numerous, we have found that magnetic toys captivate our children's attention. Magnetic building toys have magnets at the joints or sides that enable the pieces to stick together which makes for easy assembly. Thus, when Shape Mags offered us samples of their product Magnetic Stick N' Stack we were ecstatic to write an honest review.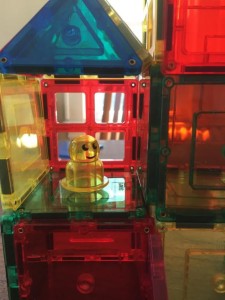 Magnetic Stick N' Stack are highly durable plastic toys that come in different geometric shapes. In between the plastic are magnets which allow them to connect to other shapes. Children can put them together to build 1 and 3 dimensional objects. Essentially, what your child imagines, they can build!
Building toys are always easily accessible in our home. In fact, we have two bins set up in the dining room and one includes a magnetic building set. Adding Magnetic Stick N' Stack into the mix is simple because it is compatible with other toys. Here are several reasons why I believe Magnetic Stick N' Stack would make a fabulous toy addition in your home.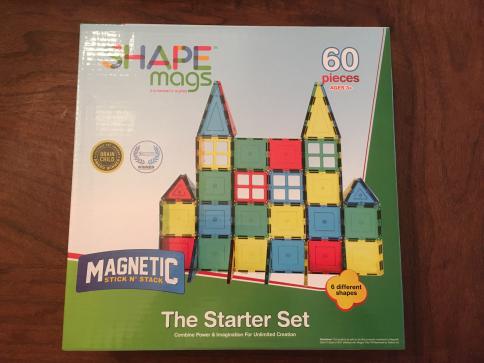 Mommy University Presents
Reasons We Love Magnetic Stick N' Stack
Builds Motor Skills
Connecting the different pieces will help develop visual spatial awareness as well their fine motor skills. From simple to complicated, they will have to align the different pieces which helps young children hone in on these skills all while having fun. Since these are magnetic pieces, it doesn't require significant challenges for young children which invites them to play with a building toy and not feel overwhelmed or frustrated. In fact, this is perfect for children ages three years and older.
Fosters Imagination
Shape Mags offers a large number of ideas to create objects in their publications. For example, I never thought to make a basket but once my daughter saw that image she wanted to make a basket for her pretend food so she can have a picnic. This project transformed into an airport (please don't ask me to recall how that happened but that is the beauty of a child's imagination) so she and her brother began debating how to accomplish this task. From castles to houses to tents to an animal shelter, I attribute my children's imagination to building toys.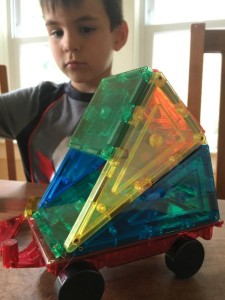 Promotes Problem Solving
Since Magnetic Stick N' Stack utilizes magnets in between the plastic walls, buildings do not stay together permanently. When first building a tower, they may not put enough pieces to help reinforce the structure and thus it collapses. This is how children learn how to problem solve through play and experimentation. As they are imagining the peacock they want to make, they need to reassess their plans when it doesn't work. It encourages children to solve problems.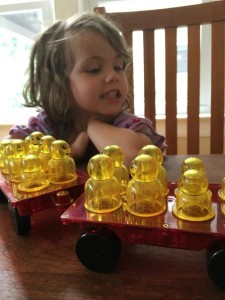 Valuable Investment
Most children's toys have a short life span; however, building toys tend to have longevity. Magnetic Stick N' Stack is recommended for children who are 3 years old; however, it is a durable toy that children ages 5 and older will still enjoy playing with which means, coupled with its low price point, it is a valuable investment.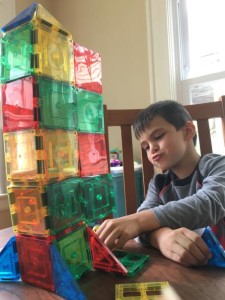 Magnetic Stick N' Stack has many options so if you feel more comfortable beginning with a smaller set that is possible or if you feel you would like to add on to an existing set then there will be sufficient choices. My children have played with this toy as a standalone as well as mixing with the existing magnetic building sets we have and the possibilities are endless.
Magnetic  Stick N' Stack 60 piece set is available on Amazon (affiliate link) for less than $50, and for less than $10 you can add on the set of two wheels and 16 people which is also available on Amazon (affiliate link).
You may also enjoy: