Do you need to catch them all?
Pokemon Go has been talked about on social media and television as millions take steps outside of their home in search of rare and unique creatures. Pokemon was originally a video game in 1996 which had kids glued to screens or exchanging cards. However, in July 2016 that all changed when teenagers picked up their smartphones to find they could capture Pokemon in our universe.
It is a clever idea as you need to walk around to grab different Pokemons (some gravitate towards water and others to specific areas). Eventually, you can evolve and power up your Pokemons and have them train or battle at a gym (which you can find within the game). To stock up on supplies, you can buy them or visit Pokestops which are physical locations.
We play Pokemon Go together as a family. It has been a wonderful way for us to engage with our surroundings as well as make memories. What I have found, however, is that playing Pokemon Go at these spaces has led to new discoveries and extended time at all these locations. As we have been exploring, here are places that offer brain boosting experiences as well as Pokemon Go attractions (stops, lures, and interesting Pokemon).
Mommy University Presents
Amazing Places to Play Pokemon Go in New Jersey
Grounds for Sculpture, Hamilton
Grounds for Sculpture might win this battle with forty Pokestops available on their stunning sculptural garden. However, visiting this location is still possible for your family as you take in the beautiful sculptures an amazing landscaping. It is truly inspiring no matter what Pokemon you catch.
Liberty Science Center, Jersey City
Boasting four PokeStops and a Gym, Pokemon Go was quickly and fully embraced by Liberty Science Center. One of the PokeStops includes going outside to the dinosaur sculpture next to the Wilderness Challenge which is a perfect spot for kids to then run around.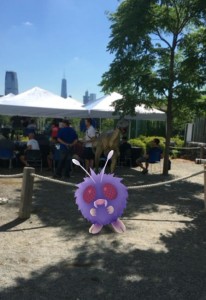 Turtle Back Zoo, West Orange
Turtle Back Zoo is proud of the 17 Pokestops and 1 gym they offer visitors. Coupled with animal exhibits it certainly invites unique Pokemon to visit! Turtle Back Zoo is certainly having fun with this online program hosting Pokemon Go nights during their Family Fun Nights. Who can resist 17 Pokestops with lures being released every half hour on these special events?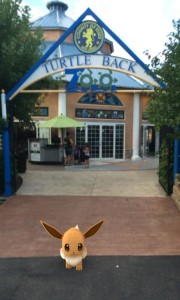 Battleship NJ, Camden
If you love history then the historic Battleship NJ is a fun place to play Pokemon Go. These sailors have set up three Pokestops and a gym for the Pokemon trainers. While we learned about naval history and iconic figures like Admiral Bull Halsey, we also found a few aquatic Pokemon.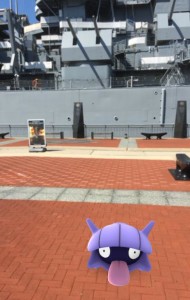 Field Station Dinosaurs, Leonia
We are huge fans of Field Station Dinosaurs and while they don't currently have Pokestops registered, we are fascinated with the idea of playing PokemonGo here!  It is very simple: prehistoric creatures meet creatures of another realm.  Taking a photo of a Bulbasaur next to an Stegosaurus sounds like a perfect combination.
Your Local Library, Your Town
The first place I learned of Pokemon was on my local library's Facebook page as they posted photos of Pokemons by the books. What a fun way to encourage your children to take a book out. Your children can release a lure to attract some Pokemons as they explore the library!
Bonus: Philadelphia Zoo, Philadelphia
Philly Zoo is a family favorite so we were happy to hear that they have 35 Pokestops. To visit the animals and activities as well as catching a Slowpoke makes for a fun family day.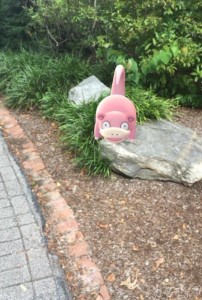 Tips for Pokemon Go
Bring a portable battery charger and an extra cable as playing Pokemon Go uses a lot of battery life.
Don't be surprised if teenagers (and adults) ask you if you are playing Pokemon Go and what team you are on (Mystic, Valor and Instinct).
Talk to your children about playing Pokemon Go responsibly. There is a time and a place for everything. Driving in a car and playing is dangerous. Pokestops may exist in places that it is considered inappropriate to play the game.
Although, Pokemon Go does open up conversations and encourage strangers to talk to each other, it would be prudent to review how to interact with strangers and not sharing too much information about themselves. This conversation depends on the age and independence of your child.
If you like this post, you might like: