At Mommy University, we love building toys. They are truly the "building blocks" of learning. There are so many amazing skills kids can develop from playing with building toys. From fine motor development to patience to critical thinking skills, there are so many amazing reasons for kids to build, create and play!
My kids love all kinds of building toys. One set they play with almost daily is Brackitz Creator Set. They always find unique and inventive ways to use the pieces in conjunction with other toys. It amazes me the ideas they come up with and the designs they build. While they have fun, I know they are learning. Since my boys love this construction toy so much, I was really excited to be offered a sample of their new building toy line to review.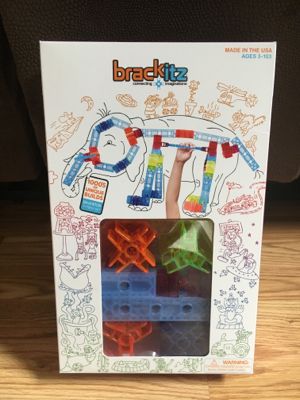 Brackitz has recently released the Inventor Set. This set is similar in design to the Creator Set as it has planks that attach to brightly colored connectors. The difference is that this set has plastic instead of wooden planks plus it adds the element of movement! The building possibilities are truly endless with Brackitz Inventor sets.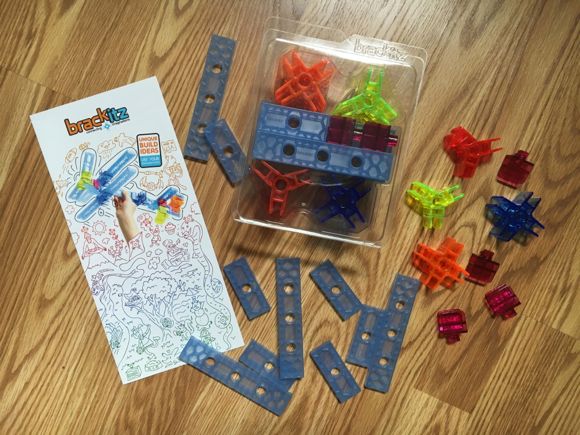 The Inventor sets come in 4 sizes which can all be found easily on Amazon (affiliate link included): 28 pieces, 44 pieces, 100 pieces and 170 pieces. Each set works with each other so you can always start off with the small set then add the larger sets. The sets can also work in conjunction with the Creator sets which makes it a versatile building toy. We were provided the 44 piece set which includes long and short planks, 3 and 4-way colored connectors, magenta motion connectors and a Brackitz brochure.
My boys were so excited to open the box. To me, it's never-ending learning. For them, it's never-ending fun! At first, my boys tried to make the designs on the box and those pictures in the included brochure, but they quickly began to use their imaginations to make their own unique builds. My boys worked together with their cousin to make rockets, helicopters, towers and more! While watching them play, I could see the skills they were developing and the knowledge they were gaining. It was a proud mom moment.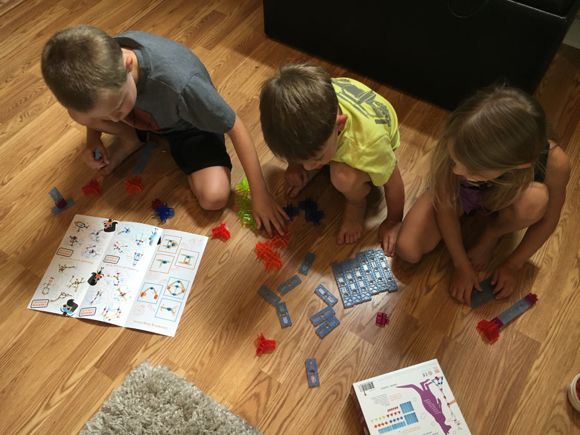 As stated on the Brackitz box, this innovative construction toy is "connecting imaginations." What a great vision as it has so many meanings and possibilities. Brackitz offers so many connections in life and academics. Here are a few I observed while watching my boys play as well as playing with them.
3 Ways Brackitz Connects Imaginations
Connects Family
What I loved most about watching my boys play was the way Brackitz connected them with family. Building toys are a great way to get kids to unplug and just play. It inspires them to work together and create new imaginary worlds. My son and his cousin learned to work as a team to build amazing designs. They had to problem solve together as well as combine their imaginations to make a final product.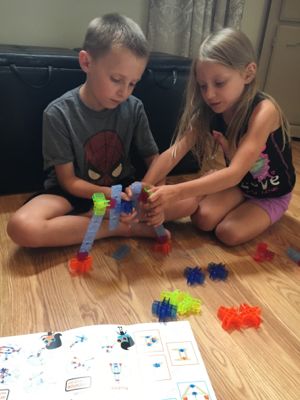 Brackitz is also perfect for bonding with older family members. Parents, grandparents, aunts and uncles, anyone can build, create and play with Brackitz. My son had so much fun creating spaceships when he was in town visiting from Louisiana. It was a fun way for them to spend time together while also learning important lessons in design and architecture.
Connects Science, Math, Art, Architecture and Engineering
Also stated on the Brackitz box is the following: "Brackitz brings real-life art, math, science, architecture and engineering principles into play!" This can be seen from the moment kids start playing. Kids learn what happens when a structure is too heavy on one side and what happens when a tower is too tall. Then they learn how to fix it! Brackitz connects academic concepts plank by plank. It can start as small as counting the number of planks and labeling colors to figuring out how to make a tower as tall as a 7-year-old. The motion connectors add another element of design and architecture that helps kids understand engineering principles.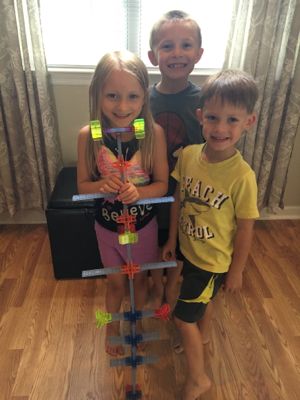 Connects Creative Designs
What was really fun to watch and be apart of was the creative process. Kids ideas change and develop as they play and new ideas are introduced. A build may have started as a plane but turns into a spaceship or a turtle turns into a dinosaur. As kids share and connect ideas, the designs become more inventive and unique. While playing, kids are learning to cooperate, compromise and accept other people's ideas. It is a great lesson needed to be successful in school and in life.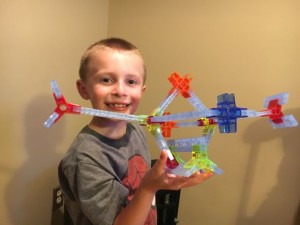 What connections will your family make with Brackitz?
You may also enjoy:
Endless Building Fun with Brackitz
Benefits of Playing with Building Toys